Photos by Rick Nation
A strong first half spurred the North Little Rock Charging Wildcats freshman team to a[more] 42-35 win over the Bryant Hornets at the Bryant High School gym Thursday night.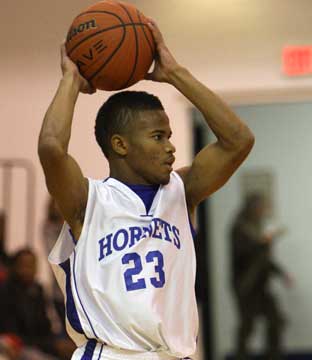 The Cats held an 11-9 edge after a quarter and expanded that to 25-18 by halftime. The two teams played evenly in the third quarter. It was 33-25 going into the final period. Bryant made a run but North Little Rock held on for the victory.
K.J. Hill led the Hornets with 17 points. John Winn added 7, Ryan Hall 4 and J.C. Newborn and Brandan Warner finished with 3 apiece.
Robert Verges led North Little Rock with 14 points. Kavaughn Allen had 10 and Khalil Hill 8.
The Hornets, now 6-3, will wrap up their pre-Christmas schedule on Monday at home against Little Rock Catholic.