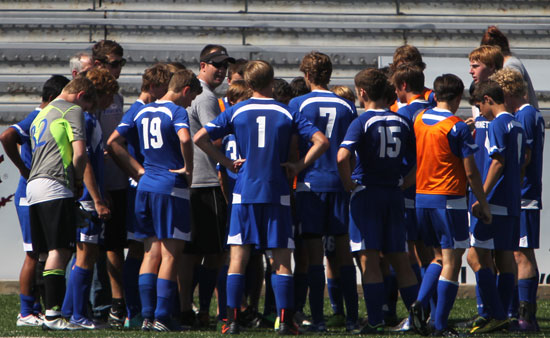 Photos by Rick Nation
NORTH LITTLE ROCK — The Bryant Hornets' record-setting season, highlighted by a state record[more] 43 goals by junior forward Bryce Denker, came to a gut-wrenching conclusion Saturday a win away from playing for a State championship.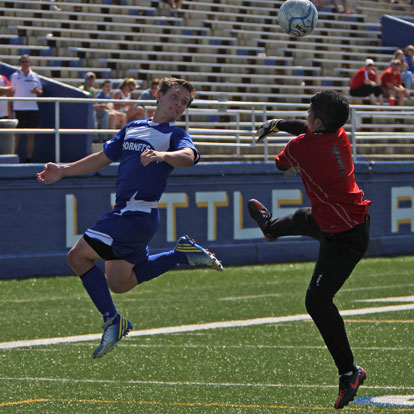 The Fort Smith Northside Grizzlies, champions of the Central Conference, scored a goal in sudden-death overtime to escape with a 2-1 win that ended the Hornets' 20-win season.
"Northside's a very good team, there's no doubt," stated Hornets coach Jason Hay. Technically and skill-wise they're way up there. There's a reason why they're 23-1."
The match was scoreless until there was about seven minutes left in the first half. The Grizzlies broke the ice.
They had a chance for a second goal on a penalty kick but Hornets' keeper Slade Lewis stopped it.
"That was huge," Hay stated. "It was a great save."
So that lone goal held up until the final five minutes of the game when Bryant's Justin Travis crossed to Corey Ballew, who tied it up.
The phenomenal Denker had eclipsed the state record of 42 goals in a season during the regular campaign. But he was unable to find the back of the net in the Hornets' two tournament games. Travis had the lone goal in Friday's 1-0 win over North Little Rock.
"Northside controlled a lot of the game but we had a little momentum change (after the goal), Hay mentioned. "They don't sub a lot and we've got some depth so we tried to run them. They were gassed. We had a couple of chances after we scored that first one, we just couldn't put it in."
During the break before the overtime, Hay said, "(Northside) kind of got their feet back under them."
The winning goal came with just four minutes left in the overtime.
"I was real proud of our effort," Hay stated. "That is the hardest I've seen us play. We knew it was going to take our best to beat a team like that. Our best wasn't good enough today but it wasn't for lack of effort. It was a good as I could've asked for.
"We could almost smell Fayetteville a few minutes away," he added, referencing the site of this Friday's State championship match at University of Arkansas' Razorback Field. "But, in the end, we got beat by a really good team and I think our guys should be proud of that."
Bryant finishes 20-3-1, the victory total and new high for the program, which had a stretch of five losing seasons in six years before breaking through in 2010, making State every season since.
"Five years ago, I think people would've laughed at anyone that said we'd make it to the semifinals and win 20 games," Hay said. "I think that's a testament to these guys, the work they put into it. I'm proud of them."
The match marked the end of the BHS career of seniors Jeremy Anderson, Cameron Furton, Josh Lowery, Austin Powell, Dylan Rives, Chase Stuart, Travis and Francisco Zamora.