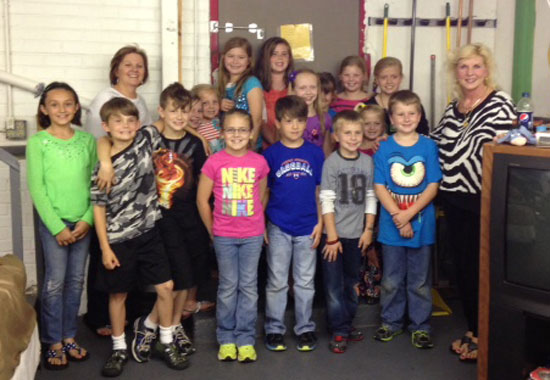 As part of their study of Economics, the third-grade Gifted and Talented class of Cindy Broadway[more] at Salem Elementary School held a fundraiser, earning $300 that they donated to the Benton Care Center.
"Some of the topics that we discussed were wants, needs, dependence, commercials, profit and advertising," Broadway said.
"We had planned to donate the money so, after purchasing a small treat for our class, it was suggested to us that we make the donation to the Benton Care Center, which is a non-profit organization that provides free meals to anyone in need every Thursday night. They also help by supplying diapers, formula, prescriptions and clothes along with providing special events for Thanksgiving and Christmas."
Twenty-five students and parents attended the presentation at the Care Center on Thursday, May 2. Parents provided individually wrapped desserts for the students to pass out to the families.
"The people that come to the Center range from elderly to very young families with children," Broadway noted. "Some are mentally ill, struggling financially or even homeless.
"The coordinator of the facility gave us a tour and explained a little about how it works and what they do for these needy people," she added. "This was a very good opportunity for our kids to see a different part of our community as well as a great opportunity to help some that are less fortunate."