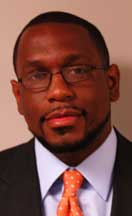 By Martin Couch
Sam O'Bryant's qualifications to be an alderman for Ward 4, Position 1 speak for themselves.
He began his career with Pulaski County government as an Assistant Program Coordinator for Pulaski County Youth Services in 2005.
His work with Pulaski County Youth Services has included expanding and developing programs, grant writing, community outreach, and public relations. During his time in the position, O'Bryant has been instrumental in expanding and developing youth programs. Among his accomplishments are the creation and development of a five-week ACT training program; the creation and development of the Public Service Internship Program, a six-week summer employment program; and serving as the Project Leader for the VILLAGE Initiative, and a mentoring program for minority males.[more]
In 2008, O'Bryant made the transition to Pulaski County Community Services as its Brownfields Program Administrator. His primary duties involve the administration of $3.6 million in federal grant funds used for environmental redevelopment, marketing and outreach for the program, and collaborative efforts to protect public health and promote economic opportunity through Brownfields redevelopment. The Pulaski County Brownfields Program has been instrumental in the environmental redevelopment of the urban core of downtown Little Rock and North Little Rock. Some developments in which the Pulaski County Brownfields program participated in are The Dickey Stephens Ballpark, the 6th Judicial District Criminal Justice Building, and Heifer International Headquarters.
In the community, O'Bryant is a member of the City of Bryant Water/Wastewater Committee, is also a member of Class XXIII of the Leadership Greater Little Rock program and currently serves as Secretary on the LGLR Alumni Association Board of Directors. He serves on the Board of Directors for Covenant Keepers College Preparatory Charter School and the Centers for Youth and Families. Recently, O'Bryant was listed as a 40 Under 40 honoree by Arkansas Business for 2010.
"I am a government manager and I understand how to serve the people and meet the needs of those who pay tax dollars," he said. "I am a family man and of the younger crowd of Bryant who have contributed to its growth. I represent as many of them as possible and I welcome an opportunity to run for city alderman."
O'Bryant sees some primary concerns in Ward 4 with stormwater drainage.
"It's been a universal problem in Bryant and for the residents of this Ward," he said. "They need to know what's the plan to end it and understand, at the same time, we need to contribute to the growth of the city and its subdivisions. We all respect that right, but planning needs to be done where it benefits new construction."
Another issue for O'Bryant is developing a streamlined process of citizen interaction with the city government.
"We need to get the citizens involved in the beginning stages of the planning process," he said. "And, as an alderman, I can operate outside the normal City Council meeting times to help resolve issues. Citizens can act outside the perimeters by us conducting more Town Hall meetings on a quarterly or semi annual basis to develop strategies for addressing and resolving issues. We could put a timetable on them more and ease some of the frustration. I think that would be great way to start.
"I think we need to support the infrastructure of the city in a non-traditional program and we may have to look at it more aggressively," O'Bryant continued. "There are growing concerns that money is a shortfall and this is no time to raise taxes. We need to explore alternative methods of gaining more revenue and getting things accomplished."
O'Bryant said he knows how to get projects accomplished through his years of experience in city government.
"In additon to representing my ward, I am a resident as well, and I understand the issue and the time it takes to solve them," he added. "I am raising my family here and I intend on being here a long time."
Sam's wife, Jacqueline, is a 2007 Honors graduate of the UALR Bowen School of Law. She is currently employed as a Deputy Prosecuting Attorney with Arkansas' 6th Judicial District. They are the parents of 4-year old Sam IV and 1-year old Jacob. Together, they are members of St. Mark Baptist Church. Both O'Bryants are natives of Mississippi, but Arkansas has been their home since 2004 and they have lived in Bryant since 2006.