Mustangs' early rush buries Kittens
EDITOR'S NOTE: Because the look back at each day in Bryant athletic history has been so favorably received during the time when there was no sports during the COVID-19 shutdown, BryantDaily.com will continueposting past stories of Bryant athletics either posted on BryantDaily.com (from 2009 to the present) or published in the Bryant Times (from 1998 to 2008).
By ROB PATRICK
BRYANT TIMES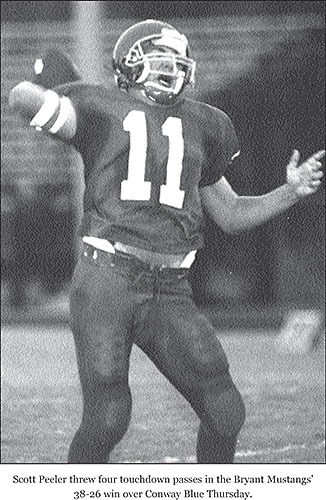 CONWAY — As flat as they were to start their visit to Conway the previous week, the Bryant Junior High Mustangs were focused at the start of their return engagement on Thursday, Oct. 12.
In the previous meeting, the Mustangs surrendered 33 points in the first half to Conway White on the way to a 33-14 loss. On the return trip, it was the Mustangs that came up with the first-half explosion, building a 30-12 lead on the way to a 38-26 victory over Conway Blue.
The win improved the Mustangs to 6-1 overall this season and 2-1 in the South Division of the Central Arkansas Junior High Conference. And, coupled with Sheridan's 22-3 win over Conway White, it left the Mustangs in position to grab a share of the South Division lead in a showdown at home this week against 3-0 Sheridan. Wins over Sheridan and Benton in their final two games of the regular season would guarantee the Mustangs a share of the division championship and holding a head-to-head edge over two of the three other contenders.
Conway White and Lake Hamilton, both 2-1 as well, square off this week at Lake Hamilton.
It didn't take the Mustangs long to set the tone in the game with Conway Blue. They took the opening kickoff and, after a 27-yard return by Bo Lee to the 49, it took two plays to score. On the first, Brandon Spurr laced his way through the Conway defense for 23 yards. On the second, quarterback Scott Peeler and wide receiver Zack Cardinal hooked up on a 28-yard pass play for the TD.
Spurr ran in a two-point conversion to make it 8-0.
Peeler wound up throwing four touchdown passes, three to Cardinal. He was 7-of-12 for 126 yards. Cardinal's five receptions picked up 82 yards. On the ground, Spurr amassed 151 yards on 13 carries including an 82-yard sprint for a score.
On Conway's first possession, a 16-yard pass from Dylan Rolleigh to fullback Peyton Hillis put the Kittens in Bryant territory. But, on a third-and-7 at the 42, Bryant linebacker Lapaka Szabad dropped Rolleigh for a loss of six, forcing a punt.
Bryant got the ball back on its own 20 and scored in five plays. Those included a 26-yard pass from Peeler to Cardinal, a 25-yard connection to Lee and, at the end, a short toss to Lee that he turned into a 19-yard touchdown play.
Peeler, on a quarterback draw, ran in the two-point conversion to make it 16-0 with 2:40 still to play in the first quarter.
It was then that Conway began to feature its brawny fullback Hillis, who wound up scoring all four of the Kittens' touchdowns. In five plays, the Kittens drove for their first score. Hillis ran twice and hauled in a pair of passes along the way. Rolleigh's second pass to Hillis turned into a 27-yard touchdown play thanks to a tackle-breaking run after the catch.
A try for two, however, was foiled.
And the Mustangs found themselves in a hole after clip negated a long kickoff return by Lee, pushing them back to their own 18. But, with a darting, slashing run, Spurr scored on the first play.
A try for two failed and, with :26 still to play in the opening period, Bryant held a 22-6 advantage.
The Mustangs' next scoring march began after the defense pushed the Kittens back once they'd reached the Bryant 22. A pass on fourth-and-15 at the 28 fell incomplete and the Mustangs took over.
Lee broke a 28-yard run and, on the next play, Peeler and Cardinal appeared to have a 43-yard touchdown connection. But a penalty negated the play.
Eventually, the Mustangs were forced to punt. Peeler's kick bounced past the Conway return man who reached out to try to haul it in as it zipped by. When he touched it, the ball was live and Bryant's Phillip Cottingham hustled after it and recovered at the 9.
A play later, Peeler passed to Cardinal for another touchdown. This time, Lee ran for two and Bryant's lead was 30-6.
No doubt, the sizeable advantage let some of the air out of the Mustangs' intensity but Conway came right back with a 78-yard drive for a score just before the half. Hillis capped the march with a 1-yard blast with :08 left.
There was no scoring in the third quarter. After an exchange of punts, Conway drove to its own 40 where Morgan Conner intercepted a Rolleigh pass and returned to the 33.
The Mustangs were unable to take advantage and turned the ball over on downs. Hillis then rumbled for 43 yards to set up Conway's next score. A 19-yard pass from Rolleigh to Hillis got it to the 4 and the fullback ran it in from there. A pass for a two-point conversion — again to Hillis — trimmed Bryant's edge to 30-20 with 7:46 left in the game.
The Mustangs responded though. Despite a personal foul that negated most of a 22-yard run by Spurr, they drove for an answering score. Peeler contributed runs of 11 and 27 yards to set up a 7-yard TD pass to Cardinal to make it 36-20.
An unsportsmanlike conduct penalty after the touchdown was recorded cost the Mustangs 15 yards on the two-point attempt but, nonetheless, the Peeler-Cardinal connection struck again for an 18-yard conversion with 5:23 left to play.
Conway's final score came with 3:39 to go on a 2-yard plunge by Hillis that completed a 53-yard march in six plays.
The Kittens got one more chance to cut into the margin when they forced a Bryant punt after an onside kick failed. Peeler, however, booted the Kittens back to their own 12 and they were unable to get it back to their own 40 before turning the ball over on downs in the closing seconds.