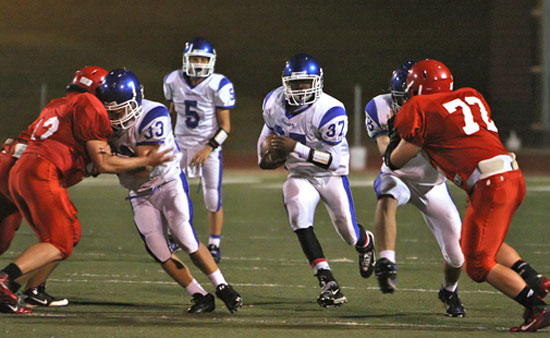 By Rob Patrick
Photos by Rick Nation
CABOT — When the Bryant Hornets freshman team took on the Cabot North Panthers Thursday[more] night, admittedly, they were tangling with as squad that was as tough as the Cabot South team that handed the Hornets their lone loss of the season back on Sept. 13. (Cabot North lost to South to open the season, 16-6.)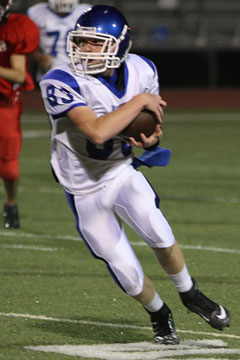 But it was still a typically rugged, physical Cabot team, meaning that Bryant's 26-6 win was no small thing.
And, no doubt, having contended with Cabot South earlier helped the Hornets deal with Cabot North.
"It is a different team," acknowledged Hornets head coach Kenny Horn, "but the thing is, having seen it one time and having an idea of what it's like definitely helped.
"I thought the defense played well," he asserted. "We were schemed up pretty good. But I think basically, they just bowed their neck up and played a little better. We challenged their manhood. It was pride night, that kind of stuff, and they rose up to it. I was proud of them, a lot of character by our guys tonight. This was a lot better outcome than (playing at) Cabot last time."
The win improved the Hornets to 6-1 overall and 5-1 in the Central Arkansas Junior High Conference. Cabot North dropped to 3-4 and 3-3.
In a way, the Hornets beat the Panthers at their own game. While holding them to 107 yards on the ground, Bryant piled up 208 yards rushing. Cabot North had only one possession in the first half that produced a first down — their scoring drive. And the final score was on the board before the Panthers managed a first down in the second half.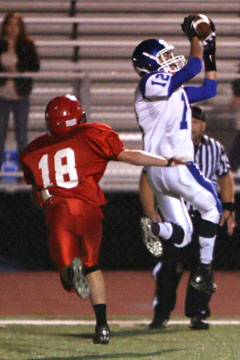 Quarterback Gunnar Burks rushed for 112 yards and a touchdown while connecting on all five of his passes, two of them for touchdowns to Evan Lee. Savonte Turner dashed for 90 yards on 12 carries with a TD and Liam Miller hauled in three passes for 62 yards.
"The offense played well," Horn stated. "We threw the ball and ran the ball well."
Though it turned out great, it looked like it might be a long night in Cabot again for the Hornets at the end of the first quarter. Bryant had been forced to punt after three plays on the first series then Cabot North marched 64 yards in 11 plays to get on the board first.
As it turned out, however, the fact that the Panthers had to use a fourth-down pass play to get into the end zone was telling. They'd reached the 19 then the Hornets led by Cameron Murray, Jaelyn Jones, Drew Alpe and Khaliq Slater stuffed three straight running plays to make it a fourth-and-5 at the 14.
Zach Wilson's swing pass to running back Austin Nguyen produced the touchdown but, on a try for 2, Jones hauled down Panther fullback Jacob Bailey short of the goal line to leave it 6-0.
The Hornets responded with a 65-yard scoring drive of their own, sparked by Burks' 19-yard completion to Miller. They still had to overcome a procedure penalty but runs by Turner and Burks got it done. A play later, Turner scored from 3 yards out to tie the game.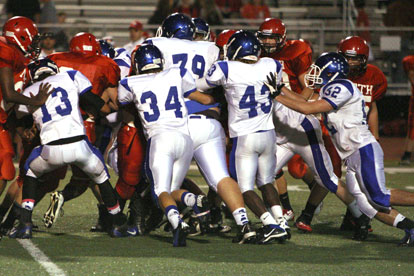 The defense responded by forcing Cabot North into a three-and-out with the help of a first-down penalty. The Hornets got the ball back at their own 26 and put together another scoring drive to take the lead for good.
Turner, behind the Hornets' strong offensive line of Murray and Demaja Price at the tackles, guards Peyton Robertson and Jacob Hall and center Zach Jackson, slashed for 11 yards and later 16 more. At the Cabot North 35, Burks threw his second pass of the game finding Miller again for 27 yards.
Two plays later, Burk rolled to his right and whipped a pass in to Lee at the pylon for the touchdown with :10 left in the first half.
That proved vital because Cabot North got the ball to start the second half. But, instead of driving for a tying score, the Panthers were once again stymied by the Bryant defense and a penalty. A third-down pass from Wilson to Nguyen was snuffed out for a loss.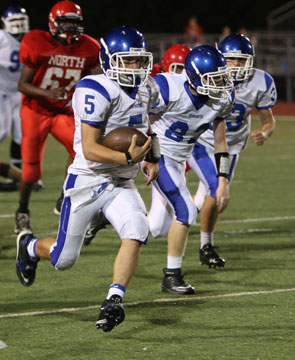 Brett Locke's punt turned the field over but the Hornets were undeterred as they drove 78 yards for a touchdown that put the ground-oriented, time-consuming Panthers offense in a bind, trailing by two scores.
The Hornets' drive nearly stalled but another third-down completion from Burks to Miller picked up 16 when they needed 14. On the next play, Burks dashed 23 yards to the Panthers' 35. Turner picked up 10 more as the Hornets began to blow gaping holes in the Cabot North defense.
Burks kept for 11, Turner drove for 10 to the 6 then the Hornet quarterback found Lee again on the same play as before for the TD, making it 18-6.
The Hornets forced the Panthers to turn the ball over on downs and, on the first play of the fourth quarter, Burks scooped up a one-hop snap, gave ground around a pair of blitzing Panthers, skirted left end and sliced his way 44 yards for the final touchdown. He and Lee combined for the 2-point conversion and the final was on the board with 7:47 still to play.
It was just after that, that Cabot North picked up its initial first down of the second half on a pass play. Chris Odom threw to Matthew Pack for 10 yards to the Bryant 48. Moments later, however, the Panthers faced a fourth-and-1 at the Bryant 39. Odom tried to keep it on the option but Bryant's Kameron Guillory closed down on the play and tackled the quarterback for a loss.
The Hornets used up all but the last minute of the game and the Panthers ran out of time after driving to the Bryant 22.
Next Thursday, Bryant hosts Little Rock Central.
BRYANT 26, CABOT NORTH 6
Score by quarters
BRYANT 0 12 6 8 — 26
Cabot North 6 0 0 0 — 6
SCORING SUMMARY
First quarter
CABOT NORTH — Nguyen 14 pass from Wilson (run failed), :03
Second quarter
BRYANT — Turner 3 run (run failed), 5:00
BRYANT — Lee 4 pass from Burks (pass failed), :10
Third quarter
BRYANT — Lee 6 pass from Burks (run failed), 1:54
Fourth quarter
BRYANT — Burks 44 run (Lee pass from Burks), 7:47
Team stats
BRYANT Cabot North
First down 12 7
Rushes-yds 28-208 26-107
Passing 5-5-0 5-8-0
Passing yds 72 34
Punts-avg. 2-32.0 2-39.5
Fumbles-lost 3-0 0-0
Penalties-yds 4-26 4-20
INDIVIDUAL STATS
Rushing: BRYANT, Burks 13-112, Turner 12-90, Dedmon 3-6; CABOT NORTH, Eads 8-34, Bailey 9-32, Crews 3-18, Wilson 1-13, Pack 3-9, Locke 1-3, Odom 1-(-2).
Passing (C-A-I-Y): BRYANT, Burks 5-5-0-72; CABOT NORTH, Wilson 3-5-0-20, Odom 2-3-0-14.
Receiving: BRYANT, Miller 3-62, Lee 2-10; CABOT NORTH, Nguyen 3-20, Pack 1-10, Eads 1-4.