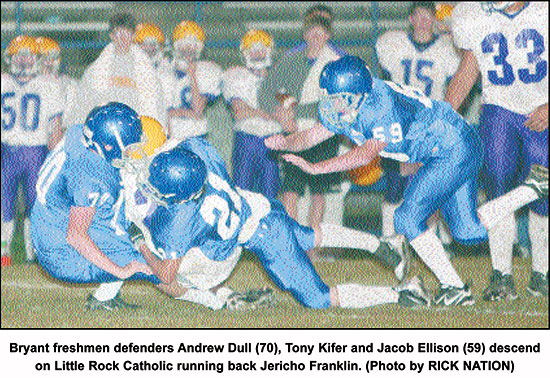 Bryant freshmen shackle Rockets
EDITOR'S NOTE: Because the look back at each day in Bryant athletic history has been so favorably received during the time when there was no sports during the COVID-19 shutdown, BryantDaily.com will continueposting past stories of Bryant athletics either posted on BryantDaily.com (from 2009 to the present) or published in the Bryant Times (from 1998 to 2008).
By ROB PATRICK
BRYANT TIMES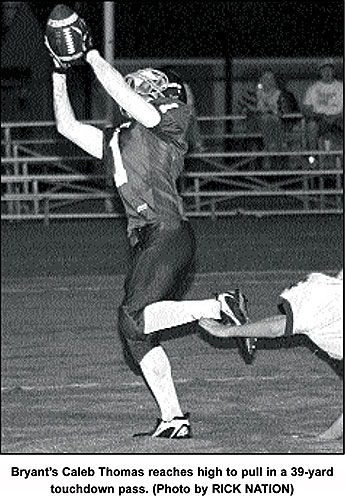 When the 2008 season began for the Bryant Hornets freshman team, first year head coach Kenny Horn and his staff figured if they could work out a few kinks in the offensive line, they'd score some points. And, sure enough, after seven games, they've averaged almost 25 per outing.
The question was whether they'd be able to stop anybody.
And that, said Horn after his team's 48-7 romp over Little Rock Catholic on Thursday, Oct. 16, has been the most pleasant surprise in a pleasantly surprising season.
The victory improved the Junior Hornets to 6-1 overall this season, 3-1 in the South Division of the Central Arkansas Conference, just a game behind co-leaders Lake Hamilton and Cabot South going into the final three games of the season. They were set to travel to Sheridan on Thursday, Oct. 23, to play the team that's just a game behind them in the standings. Cabot South visits Bryant on Thursday, Oct. 30, before the regular-season finale at Benton on Tuesday, Nov. 4.
Though there's not an official position with the name, every defense has a quarterback. He's the guy that calls the defensive signals, gets his teammates in the right spots, and generally leads the way. For the Junior Hornets this season, that had been linebacker Parker Dunn. But, adding to the impressive nature of the squad's efforts this season, they've continued to perform even after Dunn was lost to injury a few weeks ago.
Still, Horn pointed to Dunn's leadership early in the season as a key to getting the defense on track. He credited Cameron Price, who missed all of the preseason work playing baseball for Bryant's Cal Ripken World Series championship team, for catching up on what he missed and stepping in for Dunn.
The coach also noted the moves his fellow defensive coach Bart Reynolds made to solidify the defensive line. Reynolds gave Garrett Hall a chance at defensive end and he's since performed above expectations, allowing Blue Smith to move inside to tackle alongside Austin Dunahoo. That duo has clogged up the middle while Hall teamed with Casey Goforth (the other end) to give the team front that has proven hard for most teams to block.
Sam Stoops has proven to be a ball hawk at linebacker as has Omar Gulley at safety. Gulley has played well against the pass as well as in run support and with an occasional blitz. With Brantley Cozart, Johnathan Parks and Michael Angel, the secondary has continued to improve every week.
The Hornets have allowed just 66 points this season, 36 of that has come in the fourth quarter, often after the game had been decided.
And Catholic managed just 3 yards rushing with quarterback Matt Morris suffering five sacks.
In fact, the Junior Rockets only had 41 yards of total offense in the first half while the Hornets were piling up a 34-0 lead.
Everyone wound up playing for Bryant. Catholic was down 48-0 before managing a late touchdown.
The Hornets couldn't have started better. Speedy Caleb Thomas took the opening kickoff and returned it 78 yards for a TD. Jace Denker kicked the extra point and Bryant led 7-0 before everyone had found their seat.
The Rockets managed a pair of first downs on well-executed swing passes but, aided by a holding penalty, the Hornets shut them down at midfield, forcing a punt.
Jacob Powell almost duplicated Thomas' feat when he returned the punt 40 yards. Only punter Jordan Hartnedy's kamikaze tackle prevented a TD.
But it really just delayed it. Quarterback Dylan Cross hit Parks with a 13-yard pass and, a play later, Powell slashed the Catholic defense for runs of 14 and 15 yards to set up his 1-yard plunge for the first of his three touchdowns in the game.
Though the extra point try was wide right, Bryant led 13-0 with 3:38 still to play in the first quarter.
In turn, the Rockets were stuffed. Angel made a nice play coming up to stop a run for no gain and, after an incomplete pass, Goforth dropped Hartnedy for a loss on a third-down try.
Bryant's ensuing possession was lifted by a pass interference penalty but the key play came on third-and-10 from the Rocket 48 when Powell hauled in a short pass from Cross and turned it into a 28-yard gain. A play later, his 10-yard run reached the 5 and he eventually scored from the 4 by out-sprinting the defense to the corner.
A try for two failed and Bryant led 19-0.
Catholic's next possession reached midfield but Goforth, Gulley and Hall converged on Morris for a loss of 8 on first down, then Goforth dropped the Rocket quarterback for another loss of five. Morris came back with a 17-yard completion to Hunter Smith to set up a fourth-and-11 at the Bryant 48.
And when the Rockets decided to go for it, Gulley and Dunahoo dropped Morris for yet another loss and Bryant took over 42 yards from another score.
And it didn't take long to cover. Cross dropped a perfect pass over a defender and into the arms of Sawyer Nichols on a deep flag pattern. Behind the defense, Nichols never broke stride and scored with 1:18 left in the half.
Nichols, on a reverse, ran in the two-point conversion and Bryant led 27-0.
And it figured that would be it for the half but when Catholic was hit with a major penalty, the Hornets started taking timeouts in hopes of getting one more shot, at least at returning a punt perhaps. Two plays later, the Rockets faced a third-and-21 from their own 19. Morris started back to pass but before he could even set up, there was Dunahoo and Goforth. A 14-yard loss resulted and Bryant called timeout in anticipation of the punt with :29.2 showing.
A short kick and nice return by Thomas had the Hornets 18 yards away from paydirt but a holding penalty pushed them back to the Catholic 34. On first down there, Cross was dropped for a loss to the 39. But Bryant had a shot at one last play and it hit big. Cross went deep to Thomas who made a nice catch on his way to the end zone with no time left on the clock.
Denker's PAT made it 34-0 at the half.
The starters didn't play long in the second half. But Dunahoo and Goforth got another sack just ahead of an interception by Angel that set up Powell's 8-yard touchdown run with 6:11 left in the third quarter. Denker made it 41-0.
Brandon Goshien and Andrew Dull got into the act with a tackle for a loss on Catholic's next play. And, before long, the Rockets were punting again. But a muff on the catch was recovered by the Rockets.
No problem, as it turned out. After two more lost-yardage plays — the second thanks to Dull and Tony Kifer — and a penalty, a fourth-down pass from Smith was picked off by Tyler Potts.
And with Kyler Boyle in at quarterback and Trent Rivers at running back, the Hornets drove for a final touchdown. Rivers contributed runs of 17 and 14 yards to set up his 1-yard dive into the end zone with 5:14 left to play.
Denker's kick made it 48-0.
The Rockets drove 65 yards in four plays to get on the board with 3:05 to go. Smith completed three consecutive passes including a 28-yarder to Brandon Burks for the points.