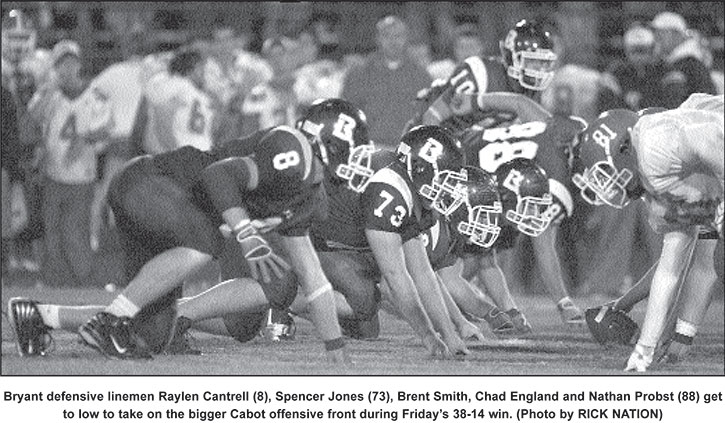 Another second-half eruption lifts Hornets past Cabot, into playoffs
EDITOR'S NOTE: Because the look back at each day in Bryant athletic history has been so favorably received during the time when there was no sports during the COVID-19 shutdown, BryantDaily.com will continueposting past stories of Bryant athletics either posted on BryantDaily.com (from 2009 to the present) or published in the Bryant Times (from 1998 to 2008).
By ROB PATRICK
BRYANT TIMES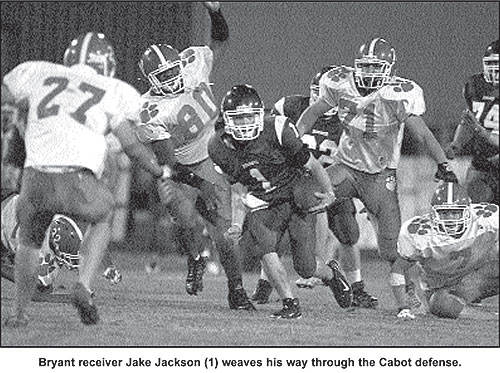 Call them the sacrificial rams.
Defensive linemen Nathan Probst, Raylen Cantrell, Brent Smith, Spencer Jones, Chad England Nick Chapdelaine and Ryan Wilkins didn't make many tackles against Cabot on Friday, Oct. 19, even though 54 of the Panthers' 64 snaps were running plays.
And it wasn't because the massive Cabot offensive line, which included tackles that weighed 288 and 298 pounds and guards that scaled out at 292 and 240, were blowing them out despite the fact that only one of that group for Bryant weighs more than 215.
It was because the Bryant front five was giving themselves up, ramming (if you will) into the Cabot blockers low (all ankles and shins) and wiping them out, creating a pile up, destroying running lanes, basically taking a beating in the process to give the Hornets' linebackers and secondary a shot at make tackles.
That's called TEAM defense.
The linebackers and safeties did their part. Junior middle linebacker Austin Humbard matched the school record he set the week before with 23 tackles. Linebacker Dexter Barksdale was in on 13 and safeties Logan Cruse and Dijon Benton made 11 and 12, respectively.
Now, the Panthers averaged over 4 yards per carry in the contest but, take away one 75-yard touchdown run, and that gets knocked down to a little over 2 yards per rush which won't cut it for a grind-it-out offense.
Two yards per run for four downs won't move the chains.
In fact, on their first touchdown drive of the game, after a Hornets' fumble at their own 19, it took Cabot six plays to score with only one run — a 5-yarder on the first play — gaining more than 2 yards. The Panthers were aided by an offsides penalty but it still took a fourth-down plunge from Jordan Carlisle from the 2 to find paydirt.
Cabot made an adjustment and, later, broke the big run by Carlisle to take a 14-0 lead over the top-ranked Hornets. But an adjustment by Bryant, a few reminders at halftime, and Cabot couldn't move the football as the Hornets, who still trailed 14-10 at the half, roared back for a 38-14 win to remain the lone unbeaten team in Class 7A, alone atop the Central Conference at 5-0.
Cabot came into the game sporting a 6-1 mark and eyeing a share of first but, before an overflow crowd on Homecoming night, the Hornets prevailed, clinching a return to the State playoffs in the process. Bryant can clinch at least a share of the Central conference title and the league's No. 1 seed with a win over a 2-6 North Little Rock team on Friday, Oct. 26.
Between the time it was 14-0 and the time it was 38-14, Cabot had just one possession that reached Bryant territory (with another that barely made it after it was 38-14). In fact, it was still 14-10 when they did it, aided by an illegal participation penalty that turned a fourth-and-7 into a fourth-and-2, a fake punt that produced only when up-back Michael James broke a tackle in the backfield, and a wounded duck pass of 32 yards from senior quarterback Jeremy Wilson to tight end Blake Carter.
The pass got them to the Bryant 23 but they went nowhere from there. Linebacker Dylan Chism stopped halfback Wesley Sowell on the corner for a loss of a yard. The Hornets piled up Sowell for a gain of 1 on second down. Wilson misfired on a pass on third down to make it fourth-and-10. The Panthers tried some trickery with a tight-end reverse to Carter but linebacker Austin Humbard knifed through to cut down Carter for a loss of 3.
Bryant's 28-point second-half barrage then commenced.
The Hornets drove 74 yards in seven plays with senior quarterback Logan Parker completing all four passes along the way and junior running back Aspen Trevino, who often was escorted by new lineman-turned-fullback Shad Schwaesdall, snapping off runs of 7 and 12 yards.
Jake Jackson made a tremendous sliding catch of a 17-yard completion from Parker to get the Hornets to the 26 then Taylor Masters made a leaping grab above a Cabot defender in the end zone for the touchdown on the next play as the Hornets took their first lead 17-14 with just over four minutes left in the third quarter.
With safety Logan Cruse and linebacker Spencer Barksdale helping to stuff the first two plays of Cabot's ensuing possession, the Panthers faced a third-and-10 from their own 20. Forced to pass, Wilson was picked off by Bryant linebacker Ethan Passmore at the 30 as the Bryant snowball began to pick up speed.
A quick swing pass to Jake Jackson turned into a 24-yard gain thanks to Jackson's nifty running and some fine lead blocking by fellow receivers Masters, Trevino and Kaleb Jobe. A play later, the Hornets appeared to have another TD only to have a holding penalty negate it.
But they were undeterred. A dump pass over the middle to Trevino out of the backfield — a new twist for the Hornets offense — picked up 14 then Parker found Tim Floyd in the left corner of the end zone for the 6.
Austin Bradley's extra point made it 24-14 going into the fourth quarter.
Cabot got within a third-and-4 of making a first down on its next possession but a swing pass to Sowell lost yardage thanks to a nice tackle by cornerback Jordan Knight.
After a punt, the Hornets had possession at their own 49. A second-down pass to Jackson picked up 19 then Masters hauled in a 21-yard aerial from Parker for the touchdown as the lead ballooned to 31-14 with Bradley's PAT.
Cabot ran just one play on its next possession. The pass was intercepted by Dijon Benton, who also recovered a fumble in the first half and was named the Regions Bank Defensive Player of the Game. After a 9-yard pass to Jobe and a 4-yard run by Trevino, Parker found Floyd for 20 yards to the 1. The senior quarterback sneaked it from there to complete the scoring in the game with 8:09 to play.
Parker, who finished 21-of-41 for 265 yards and four TDs, opened the game with four consecutive completions as the Hornets marched to midfield. But a penalty knocked them off the rails and a high snap on the attempted punt gave Cabot its first possession at the Bryant 18. The defense held, however, and a 32-yard field goal attempt hit the left upright and bounced away, no good.
A fumbled snap, however, gave Cabot the ball right back at the 19, leading to the first score.
It turned into a defensive struggle after that with the Hornets forcing a pair of turnovers — fumbles recovered by Probst and Benton — which they were unable to capitalize on. After the second, a 40-yard field goal attempt by Bradley came up short and, moments later, Carlisle broke the 75-yard run that gave Cabot its 14-0 lead.
The Bryant offense responded. Trevino picked up 15 yards on a draw play and, moments later, Masters made a leaping catch down the seam for 24 yards to the 14. But the drive stalled there. Bradley booted a 31-yard field goal to get the Hornets on the board with 5:44 left in the first half.
Cabot picked up a first down then went for it on a fourth-and-1 at its own 32. Led by Benton, the Hornets stuffed the play and took over on downs.
A pass interference penalty moved the ball to the 17 but, on the next play, Panthers safety Spencer Neumann sniffed out the draw and dropped Trevino for a loss of 6. After an incomplete pass, the Hornets faced a third-and-16 at the 23. What followed may have been the play that turned the game.
Parker whipped a pass to Floyd on a bubble screen. When he caught it, Floyd didn't have enough for the first down. But the 6-4 junior, who was named the Regions Bank Offensive Player of the Game, broke two tackles with a determined effort and raced for not only the first down but a touchdown that enabled the Hornets to pull with 14-10 with 1:37 left in the half.
It was a play that charged up the crowd, the defense and started a run in which Bryant scored on five of six possessions.
No. 1, unbeaten and still seeking that complete game
By ROB PATRICK
BRYANT TIMES
They're 7-0-1, ranked No. 1 in two or three different polls and they have yet to play a complete game.
Imagine how tough they'll be when they do.
But, again, against the Cabot Panthers on Friday, Oct. 19, the Hornets got off to a slow start, falling behind 14-0. It was the fourth time in the last six games they'd trailed in the first half before coming back to win five of them and tying the other.
"It seems like each week, we're down," acknowledged head coach Paul Calley. "And we do so many things to hurt ourselves early offensively. I can't put a finger on it. I don't know what the problem is. We practice harder and longer and it doesn't seem to get any better.
"I mean, this is a wonderful group of kids," he continued. "I love them to death. That's what's so frustrating. I know what kind of kids they are. They work hard. They know what we're doing. They're football-smart. They practice hard. They do everything we ask them to do. They're great kids. The defensive kids were in here watching film two hours before kickoff, trying to get better. They want to win and you love that. Yet, for some reason, we can't put it all together for four quarters."
Calley acknowledged that the 38-14 win secured a berth in the Class 7A State playoffs and added, "If we plan to do any damage or go any further than the first round, we're going to have to find an answer."
To say Bryant is a second-half team might be an understatement. In their eight games this season, the Hornets have now outscored the opposition 100-10, 62-0 in the third quarter.
That's 62-0!
In fact, the Hornets haven't given up a score in the second half since the second game of the season when El Dorado, trailing 38-0, kicked a meaningless field goal with 10:21 to play and the mercy rule in effect.
That was, no doubt, the Hornets' most complete effort to date, though it was against an obviously inferior opponent.
The lone touchdown Bryant has surrendered in the second half was a window-dressing score with 3:31 left in the season-opening game on a run by Zac McCauley of Benton.
It speaks volumns about the halftime adjustments made by the Bryant coaching staff — Steve Griffith, Brad Stroud and Kris Clark on defense; Brooks Coatney, Terry Harper and Calley on offense — and their players' ability to take it in and execute it.
Of course, it's sometimes an attitude adjustment as much as a strategic fix but, against Cabot, it was the latter for the defense.
"In the first half, they were running what we call a 'belly' and they were blocking a little different than we had prepared for," explained Griffith. "So, at halftime, in talking with the kids and hearing how they felt like they were being blocked, we added a couple of stunts that we had not had. The kids executed them great.
"And they played with a lot more intensity in the second half," he added. "Then, when the offense scored, it really, really brought a lot of energy back in our kids, into our stadium, and the kids fed off of it on both sides of the football and just played a great second half."
Offensively, it was the former adjustment.
"We didn't change a thing," Calley insisted. "We were still running the same things we had been. We just executed (in the second half).
"I keep preaching to these kids over and over, we have to throw and catch," he continued. "That's the top priority. We had some balls that were thrown behind, we dropped some balls. The pass protection was decent. We felt like we had our pass protection worked out where we were going to be safe."
The Panthers did, however, use a different coverage than they had in their other games this season.
"They usually play cover three," Calley noted, referring to a three-deep zone. "That's what they've shown every week. Of course, I'm saying (Cabot head coach Mike) Malham's not going to change then they come out in a cover two."
Admittedly, senior quarterback Logan Parker hadn't practice all week with a bruised left shoulder.
"But that's no excuse," Calley stated, "because we see cover two, we see cover three and we see man. We see all these things (in games) and we've worked against them. You still have to be able to execute no matter what they show you. And, the second half, we threw and caught the ball. We broke tackles.
"You can't say enough about our defense," Calley asserted. "I did not think we could stop Cabot. I thought we could slow them down at times but I felt like our defense dominated the game. I was worried about (having too few) possessions. We had plenty of possessions in the first half, we just didn't do anything with them.
"As you go along and, each week, teams are getting better and better, you can't do that," he concluded. "You have to score when you have opportunities. We have to take advantage of a short field and we're not doing that right now."
Pity the team that stands in the way when they do.