Hornets survive Wolves
EDITOR'S NOTE: Because the look back at each day in Bryant athletic history has been so favorably received during the time when there was no sports during the COVID-19 shutdown, BryantDaily.com will continueposting past stories of Bryant athletics either posted on BryantDaily.com (from 2009 to the present) or published in the Bryant Times (from 1998 to 2008).
By ROB PATRICK
BRYANT TIMES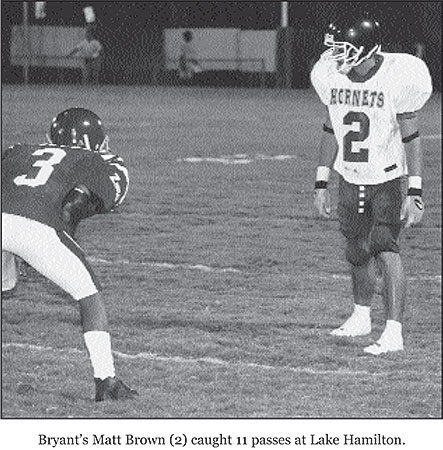 PEARCY — If Nick Harbert would've kicked it, his punt might've been blocked. Then again, it might not have been.
If it had, however, the hotly contested AAAAA-South Conference battle for survival most certainly would've turned in the favor of the home-standing Lake Hamilton Wolves.
Harbert decided not to kick as Lake Hamilton's Chris Harris bore down on him. An all-state soccer player, Harbert put on one of his best fakes and got around the surprised Harris.
Now, if Harbert had been dropped short of a first down, of course, it might've been just as much a boost to the Wolves as a blocked kick. In a 3-3 game midway through the fourth quarter, a break like that may have given Lake Hamilton the impetus needed to pull out a win.
But Harbert's risk was rewarded. Needing three yards for a first down, he dashed up the left sideline for nine yards before sliding out of bounds.
And six plays later, he lined up a field-goal attempt from 43 yards away and drilled it for what proved to be the winning score as the Bryant Hornets kept their playoff hopes alive with a 6-5 win.
Yes, 6-5.
That was the final score between the Hornets, who came in averaging over 28 points a game, and the Wolves, who had averaged over 36 a game. But both ran very similar spread offenses which means both defenses were going up against a very familiar look.
Though both teams have been riddled with injuries, the Lake Hamilton offensive line was relatively healthy. Still, the Hornets front seven held the Wolves to a net of just 1 yard rushing. Eleven times, the Hornets sacked or pressured Lake Hamilton quarterback Corey Capshaw.
Defensive end Matt Lewis was the primary wrecker with two sacks, six pressures and, three times he knocked down passes at the line of scrimmage. Capshaw — even with the runs on which he gained yardage factored in — wound up with a net of minus-32 yards rushing on 17 attempts.
Linebacker Jason Rose was in on 13 tackles including seven unassisted and the Hornets forced four turnovers.
Yet, both teams were effective in their passing game. The Hornets wound up with over 200 yards in the air with senior quarterback Jeramie Wooten completing 19 of 31 attempts for 186 yards and a pair of interceptions. Wide receiver Matt Brown hauled in 11 of those passes (a season high) for 144 yards.
For Lake Hamilton, Capshaw was 15 of 33 for 194 yards with Tommy Inebnit catching eight for 126 yards.
But that just made for a number of threatening drives. Neither team could get it into the end zone.
Harbert hit two of three field goal attempts while Lake Hamilton's Brian Davidson was only able to knock through one of two tries.
So, how did Lake Hamilton get 5? Well, after Davidson missed a 38 yard field goal attempt that would've tied it with 1:37 left to play, the Hornets tried to run out the clock. But, after three Matt White runs, they were a yard short of a first at their own 29. So, they used up all the time they could, calling a timeout with :18 left. When play resumed, they lined up as if to take a knee with Matt Brown stationed deep behind Wooten as a safety in case of fumble, much the way most teams line up in such situations. But the snap went back to Brown who took his time then raced back into the end zone. With the clock rolling, Brown waited until the Wolves started getting close then stepped out of the back of the end zone for a harmless safety.
There were just :10 left in the game and, instead of having to punt under pressure — the Wolves had come close to Harbert earlier, as noted — the Hornets were awarded a free kick from their own 20.
Jon Pennington returned the kick to near midfield but the Wolves had time for just one last play. Capshaw's pass was intercepted by Alex Pudinas and the Hornets had the win.
Lake Hamilton had held the upper hand for most of the first half. On their opening possession, the Wolves drove to the Bryant 37. But, on a fourth-and-six, Capshaw's pass was knocked down at the line by Lewis and Bryant took over.
The Hornets were forced to punt, however, and Lake Hamilton put together another drive that reached the Bryant 5. On first and goal, Pennington was dropped for a loss. On second down, Lewis, Matt Clarke and Phillip Primm collapsed on Capshaw for another loss. A third down pass fell incomplete and the Wolves were forced to take the field goal. Davidson booted it through from 24 yards out with 10:24 left in the half.
The Hornets didn't manage a first down on offense until just less than seven minutes remained in the half. Wooten completed a 10-yard pass to Caleb Dawson to get a drive started that eventually reached midfield. But a third-down pass from the Bryant 49 was tipped then intercepted by Lake Hamilton's Jordan Bates.
But the Hornets sacked Capshaw on the next play, and Capshaw trying to avoid the sack was flagged for intentional grounding. On a second-and-25 from the Bryant 48, White picked off a Capshaw pass with 3:43 left.
Wooten hit Brown with completions of 13, 15 and 9 yards and Dawson for a 4-yard pickup as the Hornets drove to the Lake Hamilton 19. With 1:13 left in the half, Harbert kicked it even with a 37-yard field goal.
In the second half, the Hornets started like they ended the first, driving from their own 29 into Lake Hamilton territory despite a clipping penalty that negated a 19-yard gain.
On a tunnel screen pass to Josh Farmer, they turned a first-and-12 into a second-and-one, but sophomore tackle Kurt Sterling was injured on the play and, after an alarmingly long delay to tend to him, was carted off the field on a stretcher and taken to a nearby hospital. As it turned out, Sterling suffered a stinger when his head was snapped back on a hit. He was treated and released and may be able to return to action this week.
When play resumed, however, Lake Hamilton's Matt Brady came up with an interception.
But, again, the Hornets defense came through. The Wolves reached the Bryant 27 where, on a second-and-eight, Lewis flushed Capshaw out of the pocket and Andy Summers nailed him for a loss. After a short completion, the Wolves disdained another field-goal attempt and went for it on fourth down at the 25. But Rose and Lewis converged on Capshaw and dropped him for a nine-yard loss.
On the next Lake Hamilton possession, Hornets safety Jonathan Jameson spoiled things with an interception.
That time, the Hornets drove to the Lake Hamilton 22. Harbert attempted a 39-yard field goal with 10:27 left to play but just missed.
The Wolves got nothing on their resulting possession and that led to the decisive Bryant march that featured Harbert's clutch run. The Hornets' drive started at their own 44. But a short pass to Brown on third down left them short.
After Harbert's run, Wooten and Brown got together on a 24-yard completion to the 15.
On the next play, Wooten pitched to White who laced his way into the end zone. But it was ruled that White's run had been illegally assisted by a Hornet teammate when White appeared to be going down at the 1. The 10-yard penalty negated the TD.
Two plays later, Wooten was pressured and tried to get a pass away as he was being tackled. Though there was a Bryant receiver in the area of the pass, the Hornets were flagged for intentional grounding. It cost them 13 yards and a loss of down, meaning Harbert would have to attempt a 43-yard field goal instead of a 30-yarder.
But again, Harbert, who kicked a 49-yarder earlier in the season, came through in the clutch, nailing the kick with room to spare.
In turn, Lake Hamilton drove to the Bryant 12. But, with 4:05 left, the Hornets' rush again got to Capshaw. Summers put the initial pressure on him and forced a fumble. Capshaw tried to pick the ball up but Shawn Reynolds dove on it for the Hornets.
With a chance to run out the clock, the Hornets netted one yard in two plays against the Lake Hamilton defense which was risking everything to get the ball back. That left single coverage on Brown and, on a third down, Wooten hit him with a short pass. One juke and Brown was loose up the sideline. He reached midfield but in the struggle to stay inbounds and keep the clock running, he lost control of the football and Harris recovered for Lake Hamilton.
Capshaw found Inebnit for 16 yards then fullback Joel Sherman picked up 14 on a draw. That got the Wolves to the Bryant 21 with about two minutes left. A first-down pass was dropped inside the 5; the second down pass was knocked down by Lewis at the line of scrimmage; the third down pass was batted away at the last minute by White as Inebnit prepared to haul it in at the goal line.
After a timeout to talk about it, the Wolves decided to attempt a tying field goal, but Davidson's kick was short and to the right.
Now 4-4 overall this season and 2-3 in conference play, the Hornets host the suddenly hot Texarkana Razorbacks with quarterback Willie Whitmore who will come into the game with back-to-back 300-yard rushing performances. A Bryant win would thrust them into a tie with the Razorbacks for fourth in the conference with a chance to clinch a playoff spot the next week at home against Benton.