Jr. Hornets come from behind to top Stingers
EDITOR'S NOTE: Because the look back at each day in Bryant athletic history has been so favorably received during the time when there was no sports during the COVID-19 shutdown, BryantDaily.com will continueposting past stories of Bryant athletics either posted on BryantDaily.com (from 2009 to the present) or published in the Bryant Times (from 1998 to 2008).
By ROB PATRICK
BRYANT TIMES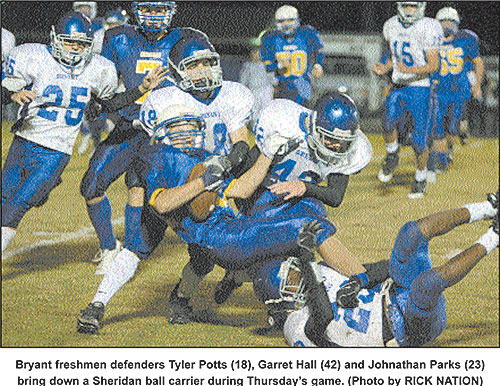 SHERIDAN — For a team that many thought wouldn't win as many as it would lose in 2008, the Bryant Hornets freshman squad ain't doin' too bad.
In fact, in their eighth game of the 10-game season, when they found themselves behind 8-0 to the Sheridan Stingers at halftime, it was just the second time all season they'd trailed in a game. In the previous instance at Lake Hamilton, the result wound up being a loss. This time, however, they rallied for a 14-8 win that keeps their hopes alive for at least a share of the championship of the South Division in the Central Arkansas Conference.
At 8-1 overall and 4-1 in the division, the Hornets face a showdown this Thursday in their final home game against the Cabot South Junior Panthers who, along with Lake Hamilton, lead the division at 5-0. With a win against the Panthers then a victory at Benton on Tuesday, Nov. 4, coupled with a Cabot South win over Lake Hamilton that night, the Hornets would grab a share of the title.
Bryant earned every bit of the win at Sheridan with a third-quarter scoring burst that was keyed by special teams play, a crucial part of the Hornets' success all season.
Trailing 8-0, the Hornets got the second-half kickoff and speedy Caleb Thomas laced his way through the Stingers' coverage for an apparent 72-yard touchdown. But an illegal block behind the play negated the last 10 yards of the return and took the points off the board.
But, a play later, from the 19, quarterback Dylan Cross tossed a swing pass to running back Jacob Powell toward the right sideline. Sheridan's active defense, which had held Bryant to just 48 yards in the first half, had that side sealed up so the nifty Powell reversed field, picked up a few blocks (including one from his quarterback) and somehow turned the corner. Once he got inside the 10, he broke a couple of tackles and lunged at the goal line getting in just at the pylon.
The Hornets made a bid to add a two-point conversion using their swinging gate formation but a procedure penalty stopped it before it got started. They went back to the usual alignment and ran the old Statue of Liberty but the exchange between Cross and Powell was fumbled and the try failed, leaving Sheridan ahead 8-6.
"The momentum shifted our way and when we got it we just kept it and I think defensively we fed off that too," stated Junior Hornets coach Kenny Horn.
Indeed the Hornets, after being riddled by the Stingers offense for 112 yards in the first half, forced them into their only three-and-out possession of the game, stuffing two runs by Tobin Pritchard who had picked up 67 of those first-half yards on his way to 83 for the night. A sign of things to come. Sheridan only rushed for 9 yards in the second half.
"The kids were fired up," Horn noted. They bought into the fact there at halftime that we could still win and we were going to win. And I think they came out in the second half thinking they were going to win. Once we got that touchdown, we were good to go.
"Basically our kids (on defense) were getting upfield a little too much (in the first half) and all we really did (at halftime) was remind them of how you want to use your hands," he related. "We did a lot better job in the second half of getting on and getting off blocks. The first half, they were getting on us and staying on us and pushing us. The second half, we got on and off, got off them a little bit better. What it came down to was a little extra effort. And we threw a few extra stunts in there and I think I just guessed right a couple of times on those. That always pays off too. We made a couple of stops, a couple for a loss and, you know, when you try to run the football a lot and you have a loss on one run it's not easy to make up ground.
"Going in, they threw the ball about 70 percent of the time so we spent a lot of time in practice on pass defense," he added, "and that may have contributed to our problems in the first half against the run."
Burned by Thomas' return on the second-half kickoff, the Stingers punted away from him and Powell but the result was a shank that only covered 11 yards.
"Obviously, they were scared of our return game because they were kicking it away from us, and I would be too," said Horn. "I think we've taken back three punts and I think two kickoffs. Our special teams are pretty good especially with Powell and Thomas, two guys that can really run. And that made a difference. They were kicking it short and we got a short field for that second score."
Bryant took over on Sheridan's 25 and, four plays later, the Hornets had the lead. Cross snuck it the last 2 yards.
Again, they went for two and, this time, Cross threw to Trent Rivers for the points to make it 14-8 with 3:06 left in the third quarter.
"Trent Rivers hadn't played a whole lot on Thursday nights but he stepped up and caught that two-point conversion, filled in at the inside receiver slot and we used him as a blocking back," Horn noted. "He did a heck of a job after Jesse (Johnson) broke his leg (early in the game). Cameron Price filled in there too and did well."
Sheridan had a bit more success on its second possession of the half, converting a third-and-15 play with a 20-yard pass from Kurt Stinnett to Josh Miller, who made a circus catch. A play later, Pritchard broke a 10-yard run but that's where the Hornets' D rose up again. Michael Angel dropped Miller for a loss and the Stingers couldn't recover.
They punted from the Bryant 45 and, this time, angled it to the sideline for 14 yards.
A couple of penalties sidetracked the Hornets but when they punted it back to Sheridan only 3:24 remained in the game.
The Stingers went back to their passing game and Stinnett completed a 13-yard throw to Dalton Seamon. A play later, a swing pass to Miller was read by defensive end Casey Goforth who hit Miller from behind and forced a fumble that the Hornets recovered with 2:45 to go.
Powell slashed for 11 yards to the Sheridan 267 but the Stingers used all three of their timeouts and stopped the Hornets once they got to the 21. Jace Denker, who had hit a field goal from 35 yards earlier this season, came on to attempt one from 38 but it was short and Sheridan had one more shot with 1:21 remaining.
Austin Dunahoo sacked Stinnett back to the 13 but, on the next play, a completion for 20 yards to Nick Ware just beyond the reach of cornerback Johnathan Parks, kept Sheridan alive.
Two plays later, however, they faced a third-and-14 from their own 29. Again, however, they converted with the old hook-and-lateral play that broke for 21 yards to midfield. But, by then, they were down to their last play and Stinnett's throw down the right sideline was knocked down by Bryant safety Brantley Cozart to end it.
"We had to come up with a couple of big stops there at the end," Horn noted.
Both teams had chances to score more in the first half. Sheridan's opening drive ended with a snap over Stinnett's head that Garret Hall recovered for Bryant. Keyed by a 15-yard pass from Cross to Thomas and a 10-yard scramble by Cross, the Hornets drove to the 13 but, on a fourth down play, Cross fumbled and Sheridan recovered.
The Stingers, in turn, drove from their own 11 to the Bryant 2 where penalties on consecutive plays pushed them back to the 12. They were unable to overcome that and, on a fourth-down pass from the 11, Parks knocked it away from Miller and the Hornets took over on downs.
Three plays later, however, Bryant was punting. Ware fielded the kick at the Bryant 45 and worked up the sideline 35 yards to the 10, setting up his team's lone score which came two plays later on a throw from Stinnett to Ware covering 12 yards. The duo teamed up again on the two-point conversion to set the halftime score.