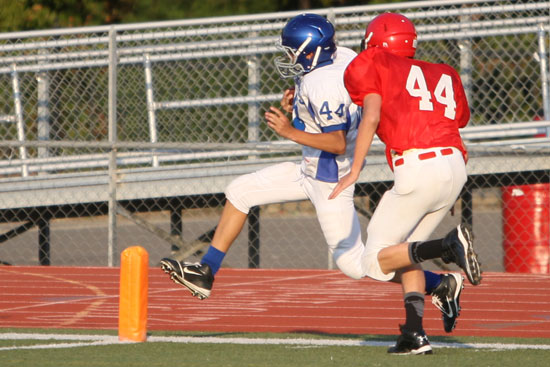 By Rob Patrick
Photos by Rick Nation
CABOT — To simulate what a Cabot football team does offensively in practice in order to[more] prepare to defend against it, a coach would have to find his seven biggest, most physical players, line them up shoulder to shoulder, hip to hip; put three running backs behind a quarterback squatting under center; have those running backs all attacking the same area of your defense or sending them in three different directions, with one of them — any one of them — getting the ball.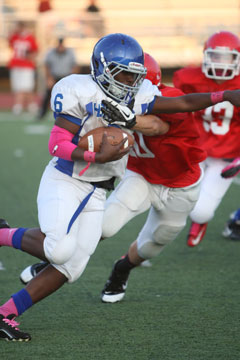 For a finesse team like the Bryant Blue Hornets eighth grade team of Bethel Middle School, with fewer than 30 players available, it's even more of a challenge.
The Hornets ran one play on offense in the entire first quarter and, though it was a touchdown run that gave them a 6-0 lead, by the time they got a chance to snap it a second time on offense, they found themselves trailing the ground-gobbling Panthers of Cabot North, 24-6.
By halftime, Cabot North held a 32-12 lead then neither team scored in the second half as Bryant Blue suffered just its second loss on the season. Now 4-2-1, the team will play in the annual Hornet Bowl against Bryant White in its next game on Thursday, Oct. 18.
Cabot North piled up 232 yards of total offense, all but 10 of it on the ground while holding Bryant Blue to a net of just 68 yards in the victory on Thursday night. Phillip Isom-Green rushed for 66 yards on nine carries with a touchdown and quarterback Desmond Duckworth completed 7 of 11 passes for 44 yards and a score for the Hornets but Duckworth was sacked three times for 34 yards in losses.
As mentioned, things started pretty well for the Hornets. On Cabot North's first play from scrimmage, Collin Welch caught the Panthers' Cody Nabors for a loss and the ball was jarred loose. Bryant linebacker Dillon Medlock scooped up the loose ball near midfield and returned it down the sideline, stepping out of bounds at the 4. Isom-Green carried in from there to make it 6-0.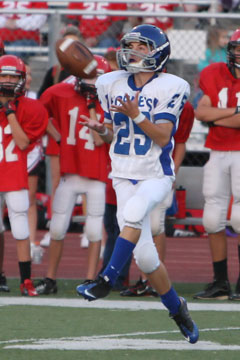 That's actually the best thing that a team can do when playing a Cabot squad, get ahead. The trick is that you have to keep one step ahead of the Panthers by scoring every time they score.
But the Hornets didn't get a chance.
Sure enough, Cabot North drove for an answering touchdown, grinding their way to the Bryant 22 before Kaleb Schmidt broke free with a gallop into the end zone. Easton Seidl powered in for the 2-point conversion giving his team an 8-6 lead.
Bryant Blue's opportunity at responding in kind were dashed when the Panthers recovered an onside kick at the Hornets' 46 and, on first down, Evan Hooper went the distance for another score. A 2-point run by Eric Larsen made it 16-6 with 2:55 still to play in the first quarter.
And when the Panthers again recovered an onside kick, the onslaught continued. This time, it took six plays to find paydirt. On the first play of the second quarter, Schmidt dashed 25 yards for a touchdown that, with his run for 2, made it 24-6.
The Panthers kicked off conventionally after that score but the Hornets still had to scramble to retain possession. Duckworth got on the loose ball at the 29.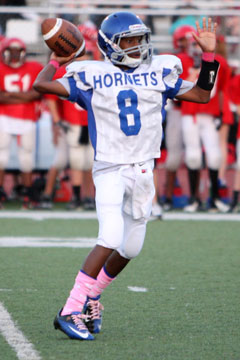 With the help of an unsportsmanlike conduct penalty and a third-down pass from Duckworth to Isom-Green, the Hornets drove to the Cabot North 41. But, on third down there, Duckworth threw a lateral to Caylin Allen, who looked prepared to throw a pass, only to have the Panthers break through and drop Allen for a loss to foil the play.
Chase Kincaid hit a 48-yard punt for a touchback and Cabot North took over on its 20. The Bryant defense stepped up, led by Medlock and Boston Heil, making the Panthers turn the ball over on downs with 1:05 left in the half.
They took advantage of the opportunity but it took a fourth-down play with time running out. Duckworth lofted a pass to the end zone where Allen reached higher that the Cabot North defender and hauled in the throw for a touchdown with :21 left.
A try for 2 was undermined by a fumbled snap, leaving it 24-12.
The back breaker followed. The Hornets were forced to kick off from their own 25 because of a penalty after the touchdown play, which resulted in Cabot North getting the ball back at the Hornets' 40 with :16 left on the clock. On a second-and-10, Larsen threw a pass to Hooper that picked up 10 yards. Hooper was forced out of bounds with :01 showing on the clock and, to top it off, the Hornets were flagged for a late hit out of bounds.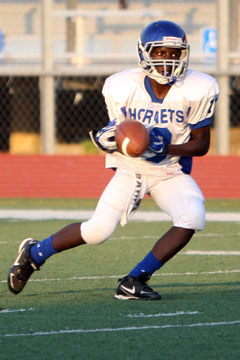 The penalty put Cabot North at the Bryant 15 with one play left. Hooper took a handoff around left end and the Hornets appeared to have him hemmed in. They were unable to get him wrapped up and he reversed fields, picked up some blocks and raced to the corner for a touchdown.Seidl ran in the conversion and the final score was on the board as the first half ended.
Bryant Blue got the ball to start the second half and runs by Isom-Green helped pick up a first down. Later, Duckworth threw to Jeffrey Hastings for 12 yards but, on either side of that completion, Duckworth was sacked and the ball went over on downs.
Another sack sabotaged the Hornets' next possession and Kincaid punted to the Panthers with 6:46 left to play. They subsequently ate up almost six minutes of that before being stopped on a fourth-and-4 at the Bryant 22 by Heil and Dillon Meaders.
With 20 points to make up and just :56 left, the Hornets drove into Panther territory but ran out of time after a 27-yard rumble by Isom-Green.