Cara Prichard, daughter of Jack and Linda Huckaby and Chuck Prichard, has been selected as[more] one of the four students at Arkansas State University to participate in a trip to Kuwait in mid-October. The students will spend roughly two weeks in the country, immersed in a new culture.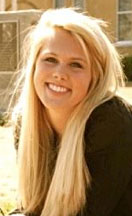 Dr. Gil Fowler, the chair of the department of journalism, who has made annual trips to the country since 1992; four of which included groups of ASU students will be advising them the duration of the trip. "In a global society, it is necessary that students learn how the world operates and to experience and understand other cultures," said Fowler.
Prichard, a Radio-Television major, says, "I am beyond excited for this opportunity to learn about the Kuwaiti culture and experience a very different way of life first hand."
The students were selected to go based on essays regarding how their lives might have been different had they grown up in the Middle East. While there, the students will be paired with Kuwaiti students and will attend classes and be the subject of study themselves. They will participate in news conferences sharing their stories and providing information about Arkansas and Arkansas State University. Their schedule also includes a visit to the Kuwait Towers, Failaka Island, Mosques and meetings with local newspapers, radio and TV stations and the Kuwait News Agency, KUNA. They will also participate in classes at Gulf University of Sciences and Technology (GUST) and Kuwait University.
The trip is funded in part
by the Middle East Studies Committee at Arkansas State University, an international travel grant through the ASU international studies program, and support from GUST, the largest private, English speaking university in Kuwait. They will also visit with Dr. Anas Al-Rasheed, former Minister of Information for the country of Kuwait and the first International Distinguished Alumni for ASU.
"There can be no question that this is an invaluable opportunity for a college student, and I intend to make the most of it," said Prichard.
Before leaving for Kuwait, the students have spent time studying the country, its people, leaders, government and customs.
"We've learned about money, gender roles, religious differences, governmental structures, and even how to count money," said Prichard.
Upon their return to ASU, they will provide presentations for civic clubs and articles for local media as well as sharing a lifetime experience with families and friends.