Photos by Rick Nation
BENTON — The Bryant Hornets were shut out in the second half and, on their home turf,[more] suffered their first South Conference loss, 2-1, Friday night to the rival Benton Panthers.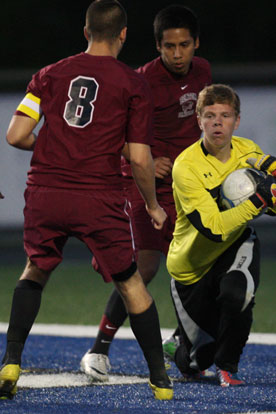 The setback snapped the Hornets' nine-game winning streak. It was their first loss in South Conference play as Benton pulled even with them atop the standings. It was just the second time this season that a team had scored more than one goal against the Hornets. The only other time was back on Feb. 28, in a 2-2 tie with North Little Rock.
Despite the loss, the Hornets, now 13-2-1 overall, have the inside track on a league championship, having beaten Benton 3-1 in their first meeting. That means the Hornets can still garner the 10 points awarded a conference champion toward their ratings total, which is used to seed the teams in the West Conference, including Bryant, for the Class 7A State Tournament.
Regardless, the Panthers figure to earn the South's top seed for the Class 6A State Tournament. All 6A teams compete at State. In 7A, 12 of 16 teams qualify for State with the top two from each conference earning first-round byes and a step closer to the championship game.
Benton got the first goal of the night on a penalty kick less than 10 minutes into the contest. Bryant answered at the 8:41 mark when Bryce Denker scored on a penalty kick.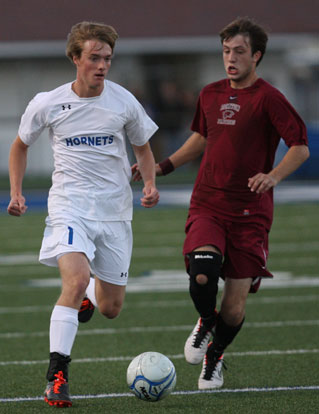 It was 1-1 at the half, then Benton scored at 32:09 of the second half and Bryant was unable to break through the rest of the way.
"I think they just out-played us, just out-worked us," stated Hornets coach Jason Hay. "We had our chances but, in the end, we didn't finish. When you get chances against a good team and you don't finish, you get beat and that's what happened.
"We just looked flat," he added. "We weren't hustling but we'll get that fixed and get ready to go against Searcy."
The Hornets host Searcy, a perennial Class 6A power, on Thursday, April 18, then return to league play the next night at home against Little Rock J.A. Fair.