Perfect record not the only new standard set by 2011 Hornets freshmen
EDITOR'S NOTE: Because the look back at each day in Bryant athletic history has been so favorably received during the time when there was no sports during the COVID-19 shutdown, BryantDaily.com will continueposting past stories of Bryant athletics either posted on BryantDaily.com (from 2009 to the present) or published in the Bryant Times (from 1998 to 2008).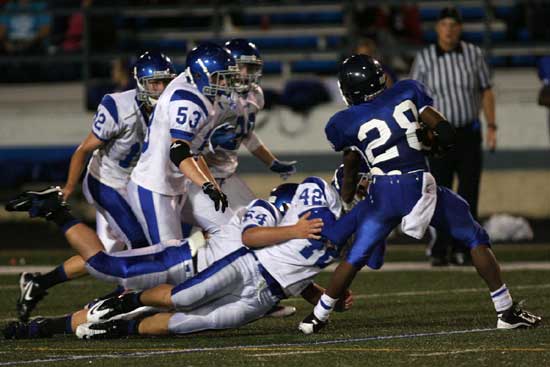 By Rob Patrick
Photos by Rick Nation and Kevin Nagle
Along with a 10-0 season, it figured that the Bryant Hornets freshman football team might set some other[more] landmarks along their way.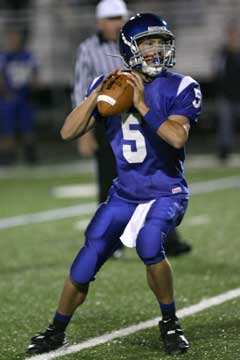 There's no complete archive of stats for freshman football at Bryant but, based on numbers dating back to 1994, the 2011 team set a new standard for offense accumulating 3,100 yards in total, including a record 1,750 passing. And with 377 points in 10 games, they shattered the old team scoring mark of 291 set in 2005 and matched in 2010.
In fact, quarterback Brandan Warner, with the help of a bevy of play-making receivers, set new freshman records for yardage, touchdown passes and completions in a season. His 1,732 yards eclipsed the previous high for a season set by Bryan Griffith in 2001 when he passed for 1,538 yards (including 23 completions to a receiver named Travis Wood, who's now a Major League pitcher).
Warner's 26 touchdown passes topped the mark of 20 set by Scott Peeler in 2000, 14 of which went to Zach Cardinal, who set records that year with 45 receptions for 909 yards.
Peeler also held the previous high for completions with 88. Jimi Easterling also completed 88 in 2006. Warner topped that with 94 this season.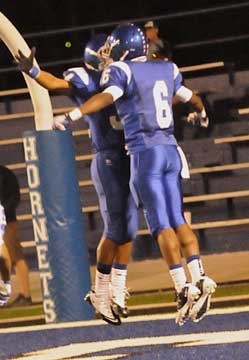 Brushawn Hunter scored 112 points while rushing for seven touchdowns, catching nine TD passes, returning a punt for a score and a kickoff for a touchdown to go with a pair of two-point conversions. His total of 18 touchdowns is third on the list behind record-holder Aspen Trevino's 21 (2005) and Dylan Pritchett's 19 (2007). Both Trevino and Pritchett scored 130 points.
With four receivers (Hunter, K.J. Hill, Jacob Gorham and Mitchell Reeves) in double digits in receptions, the Hornets matched a high mark achieved four other times but they became the first freshman team since 1999 to have five receivers (Hill, Hunter, Gorham, Steven Murdock and Mar'Kevius Nelson) each go over 100 yards in the season.
The Hornets defense was among the best since '94. The 74 points they allowed this season was fourth best. The 2007 season, the 9-0-1 Hornets, allowed just 47 points in 10 games. In 2002, the team only allowed 59 points and, in 2005, the Hornets gave up 68.
Bryant held opponents to 1,189 yards of total offense which was also fourth behind those other three teams (1100 in 2005; 1123 in 2002; 1147 in 2007).
The 2011 Hornets forced 23 turnovers which matches the record set by the 2009 team. Only the 2007 team (17) and the 2000 team (14) recovered more than the 12 fumbles confiscated this season. Only the 2009 team (13) had more than the 11 interceptions made by the 2011 team.
Here are the final unofficial stats for the 2011 season:
BRYANT JUNIOR HORNETS
2011 statistics through 10 games
Score by quarters
Opponents 6 35 7 26 — 74
BRYANT 122 144 62 49 — 377
Team stats
Opponent Bryant
First downs 58 120
Rushes-yds 271-759 157-1,350
Passing-yds 430 1,750
Passing 32-81-11 95-153-7
Fumbles-lost 27-12 13-7
Penaties-yds 60-434 43-374
INDIVIDUAL STATS
Rushing: Hunter 34-557, Nelson 41-525, Hill 8-127, Lawhon 17-70, Warner 27-67, Lee 7-24, Young 1-4, Chavis, 3-(-1), Schrader 5-(-4), Harris 7-(-8), Denker 1-(-11).
Passing (C-A-I-Y): Warner 94-148-6-1,732 (26 TDs), Harris 2-3-1-18, Schrader 0-2-0-0.
Receiving: Hill 26-472, Hunter 19-469, Gorham 15-281, Reeves 12-76, Murdock 9-225, Nelson 8-133, Hastings 2-40, Young 2-36, Tierney 2-18.
Scoring: Hunter 112 (7 td-run, 9 td-rec, 1 ko return, 1 punt ret., 2 conv. rec), Hill 60 (3 td-run, 6 td-rec., 1 td-punt return), Nelson 42 (6 td-run, 1 td-rec.), Denker 41 (1 fg. {23}, 38 of 39 conv.), Warner 38 (6 td. run, 1 conv.), Gorham 30 (5 td-rec), Reeves 12 (2 td-rec.), Shiew 10 (1 int. ret., 2 conv. rec.), Harris 8 (4 conv. run), Murdock 6 (1 td-rec), Lawhon 6 (1 td-run), Tipton 6 (1 int. ret.), Young 6 (1 td-rec)