EDITOR'S NOTE: The Bryant 10-year-old All-Stars are headed to the Cal Ripken World Series in Winchester, Va., on Friday, Aug. 12. This is part of a series of profiles of the players on the team.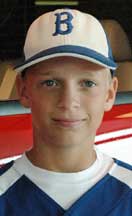 NAME: Jacob Shepard "Shep"
PARENTS' NAMES: Matthew and DeeAnn
SIBLINGS' NAMES AND AGES: Jessica, 19
FAVORITE SUBJECT IN SCHOOL: Reading
WHAT DO YOU LIKE TO DO FOR FUN? Fish
FAVORITE FOOD: Milkshake
FAVORITE MUSIC ARTIST OR GROUP: Black-Eyed Peas
FAVORITE MOVIE: The Blind Side[more]
FAVORITE TV SHOW: Swamp People
FAVORITE PRO BASEBALL TEAM: Cincinnati Reds
FAVORITE PRO BASEBALL PLAYER: Travis Wood
FAVORITE THING ABOUT BASEBALL: Playing the game
AS A BASEBALL PLAYER, WHAT DO YOU DO BEST? Hitting
WHAT DO YOU TRY HARDEST TO IMPROVE IN PRACTICE? Fielding
WHY WILL THE BRYANT ALL-STARS WIN THE WORLD SERIES? We are a team that never gives up.