File photo by Kevin Nagle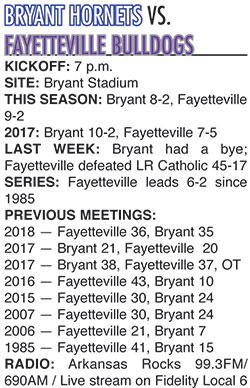 In three games over the last two seasons, the Bryant Hornets and the Fayetteville Bulldogs have been separated by one point every time. The Hornets won in 2017 at Fayetteville, 38-37, in overtime then in the quarterfinals of the playoffs, 21-20, at Bryant. Earlier this season, in Bryant, the Bulldogs eked out a 36-35 win.
Tonight, once again in Bryant and once again in the quarterfinals of the playoffs, they meet again. The winner will advance to the semifinals against the survivor of tonight's contest between Fort Smith Northside and Bentonville, the latter being the team that ousted the Hornets in 2017 and one of the teams that defeated Fayetteville this season.
As was the case a year ago, the Hornets, as the second-seeded team from the 7A-Central Conference drew a bye. The Bulldogs, as the third-seeded team from the 7A-West, played last week and knocked off the sixth-seeded team from the Central. It was Fort Smith Southside in 2017. In 2018, it was Little Rock Catholic.
No doubt both teams have improved since their Week 3 meeting. There have been adjustments, improvements and, on Fayetteville's side, some injuries. Bryant has been healthy all season, something head coach Buck James attributes to the continued weight training his team undergoes all season.
Bryant is at full strength.
"I think we're better and I know they think they are too," James said. "We had some injuries and we had some situations where we didn't get our best players on the field (in the first meeting). We're playing here in Week 12 and we've got every starter that we could possibly have on the field, ready to play Friday night and there's not a lot of teams still playing that can say that."
In fact, when the two teams met in September, the Hornets had six starters out for one reason or another. One starter came in at the start of the second quarter, another played in the second half and four didn't play at all. Though James didn't mention it, that may have had something to do with the fact that Fayetteville broke out to a 14-0 lead in the first quarter and held a 21-7 advantage at the half before Bryant came roaring back with a 28-point third period.
"We're very familiar with each other," James said. "It's almost like playing Benton now. We sort of know what they're going to do. They sort of know what we're going to do. The thing is that each one of us probably has added a little wrinkle we're going to put in that we haven't been showing. For that, we're going to have to be ready.
"They've got a great football team, a very well-coached football team and our guys are going to have to be up to the level of competition," he asserted.
The Hornets are coming off perhaps their most impressive win of the season, albeit two weeks ago, when they thumped the Conway Wampus Cats 40-10, a Conway team that had defeated Bentonville early in the season and was on a four-game winning streak.
"I think our defense has gotten better each and every week," James said. "They've really done some good things. They've got a big challenge. Fayetteville's quarterback (Darius Bowers) is very talented. He's got really great escape-ability. He's really a magician as far as making people miss then throwing the football after that."
Bowers was injured near the end of the game against Bryant and missed the next three games. Still, he's passed for 2,438 yards and 26 touchdowns. He's run it 68 times for 283 yards and eight scores.
Against the Hornets he was 19 of 32 for 191 yards and two scores. His favorite target is Connor Flannigan (89 catches for 1,498 yards and 18 touchdowns) who caught 11 passes against Bryant for 138 yards and two scores.
"They've got heady receivers," he continued. "Their football IQ is really good. Our defense is going to have to go out there and play very well. We've got to get them off the field then our offense has got to go out there and do what we've been doing. We've got to run the football. We've got to make the field 50-yards wide and 50-yards deep and we've got to be able to execute. Then we've got to hold our own in the kicking game.
"Really, this is a game where you have to be at your top level in all three phases of the game," the coach concluded.
The Hornets figure to get more out of their running game this time. In the first meeting, Latavion Scott didn't start and wound up with his worst game of the year, rushing for just 37 yards on 11 tries. For the season, Scott has picked up 1,266 yards on the ground with 18 touchdowns.
Quarterback Ren Hefley has hit 110 of 208 passes for 1,327 yards and 13 touchdowns with eight interceptions. Sophomore Austin Ledbetter, who played more than a half against Conway, is 17 of 34 for 305 yards and two TDs.
Jake Meaders leads the team in receptions with 33 for 456 yards.
Defensively, the Hornets have already eclipsed the single-season record for sacks with 30, led by defensive end Nate Wallace with nine. He also leads the team with 13 tackles for losses.
"It's an opportunity for central Arkansas to get to see a really good high school football game," James noted. "It's an opportunity for us to get out there and compete against the best. I like to do that. I think if you look at Fayetteville right now, they're probably playing as good as anybody in the state."