By Rob Patrick
Photos by Kevin Nagle
Any lesser team than the Van Buren Pointers would've[more] gone down on Monday night at the Hornets Nest. But the Pointers avoided the upset at the hands of Bryant's Hornets, knocking down 10 of 14 free throws in the fourth quarter on the way to a 52-45 win.
Van Buren, which will actually compete in the postseason at the Class 6A State tournament, maintained sole possession of first place in the mostly 7A Central Conference at 9-1.
Though the Hornets dropped to 1-7 versus league foes, they have six games in the next 10 days to try to catch Little Rock Catholic (4-5) for a spot in the Class 7A State Tournament. The Rockets are among the teams still on Bryant's schedule. They visit on Thursday, Feb. 24. In the meantime, the Hornets play second-place Conway on the road tonight then host third-place Cabot on Friday, both are teams they competed well against earlier in the season.
Next week, they host Russellville on Monday, travel to North Little Rock on Tuesday and, after hosting Catholic on Thursday, finish the regular season at home against Little Rock Central on Friday.
If the Hornets at least win all four of their remaining home games and get the right kind of help they can catch the Rockets and/or the West Memphis Blue Devils (3-7 in the 7A/6A-East), who are vying for a spot in the 7A State tourney.
"We competed tonight and I'm really proud of them for that," Bryant head coach Mike Abrahamson said. "I was really bothered last time with not competing but, tonight, boy, we fought hard. We still made some mistakes but (Van Buren is) very good."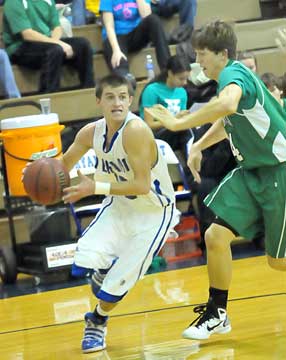 The coach was referring to the Hornets' 60-36 loss at Van Buren on Tuesday, Feb. 8, which was the last game Bryant had played prior to Monday because of wintery weather.
The game was tight throughout. In fact, when Bryant's Quinton Motto grabbed an offensive rebound and scored the first basket of the fourth quarter, it had the Hornets with a point, 34-33. At the other end, Motto blocked a shot to give Bryant a chance to regain the lead but Houston Garner's 3-point try came off the rim. At the other end, Van Buren's star post Hooper Vint, listed at 6-11 but appearing to be just a couple of inches taller that the 6-7 Motto, hit a jumper in the lane as he was fouled. He converted the free throw to make it 37-33.
Vint, despite some foul trouble, finished with 15 points, five rebounds, six blocked shots and a trio of big assists down the stretch. Drew White, a 6-4 senior, added 10. For Bryant, Jordan Griffin scored 18 and Brantley Cozart 13. Motto had 9 to go with six boards and three blocks.
Bryant actually out-rebounded the taller Pointers 32-22. In fact, all 11 players that got into the game for the Hornets had at least one board with 13 of the 32 coming on the offensive end. Van Buren only had four offensive rebounds but then, the Pointers converted almost 50 percent of their shots (17-of-36) from the field and benefitted from 15 of 21 from the line.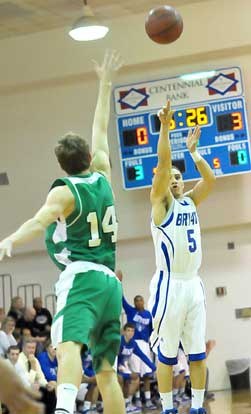 The rebounds and the fact that the teams were nearly even on turnovers, allowed the Hornets to get off more shots from the field (47) but they converted just 34 percent (16). They were 6 of 10 from the line.Abrahamson's strategy of getting Griffin or Cozart to penetrate and create a scoring opportunity of their own or for a teammate worked well.
"We wanted our two creators as I sometimes call them, Jordan and Brantley, to get in there and just make a good decision," Abrahamson explained. "I wish they would've gotten fouled a little bit more but Vint did a really good job of not going for as many head fakes tonight as I think he normally goes for. I imagine that's something he's working on and (Van Buren) Coach (Randy) Loyd has been working on with him. He did a good job of staying on his feet.
"But, just getting (Griffin and Cozart) in the lane," he reiterated, "and I trust them to make good decisions, to try to get to the foul line, try to score it, pull up, kick it out. I wish we would've made a few more shots from some other guys but it wasn't falling tonight."
Garner, with 5 points, was the only other Hornet to score.
Abrahamson used a rotation of post players to try to wear on Vint, starting with juniors Travis Royal and Eric Moore along with sophomore Zach Cambron, who each gave up more inches than Motto, but tried to muscle him off the block and out of post position while Motto was able to play him more straight up with double-team help at times from his teammates.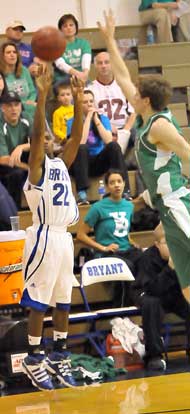 "I especially wanted to put a lot of fresh bodies on Vint and I think it worked at times," Abrahamson said. "We had four guys that put on him and we tried to rotate them. Our guys were fresh. They got in there, they ran up and down the floor as hard as they could and tried to keep him off the block. We did a decent job of that but he still had a good game. We made it hard on him. That was the best we could do."
After Vint's three-point play early in the final quarter, the Hornets missed two chances to counter thanks to a Van Buren turnover but both trips up the floor proved frustrating.
They got a third chance when Vint missed the back end of a one-and-one with 5:40 left. Thanks to Marcus Wilson's great save of an errant pass toward the Bryant bench, the Hornets cashed in this time. Cozart drove the gap in the Van Buren zone and kicked out to Griffin who drained a trey that cut the margin back to 38-36.
At the other end, the Hornets had Vint surrounded in the lane, 10 feet from the hoop but he dumped a pass down to Deven Goodwin for a layup.
After a timeout with 4:50 to go, Griffin got another look from 3-point range but couldn't get it to fall. Van Buren, in turn, went back to Vint in the post. Motto tried to take a charge but didn't get the benefit of the call and, this time, Vint knocked down both free throws.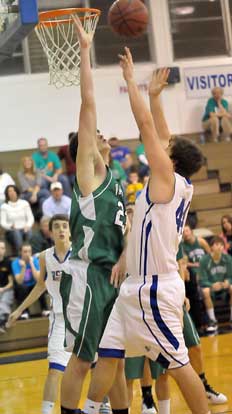 The lead was 44-37 when Motto got set and took a charge on a drive by Goodwin and, as a result, Cozart took a kickout from Griffin for a 3 that wouldn't drop. The Hornets jumped into a 1-3-1 trap in the half-court to try force a turnover but the backdoor was left open and Vint fed White for a layup.
After a Hornet turnover, Goodwin hit a free throw and Van Buren had its largest lead of the game at 47-37 with 1:19 to play.
A driving jumper by Griffin whittled 2 off that and, after Goodwin hit one at the line, Motto converted twice to slice it to 48-41 with :54.6 showing.
But Vint again fed a teammate, this time Tyler Spoon, for a layup to make it 50-41. Cozart, however, drained a 3 with :23 left and the Hornets called timeout trailing by just 6.
White was fouled on the inbounds pass and hit a free throw. Griffin's 3-point try refused to drop, though, and Logan Patterson added a free throw to put the game out of reach. After Griffin and Cozart launched ill-fated 3's, Motto was fouled and added one last free throw to set the final score.
Before that 10-point advantage late, the largest Pointer lead had been 15-8 in the first quarter but Griffin banked in a shot to make it a 5-point game going into the second quarter. Cozart hit a running jumper then took a feed from Griffin, off penetration, and buried a 3 that had the game deadlocked at 15.
After a timeout, the Pointers got the ball to Vint for a basket inside. Moments later, however, Motto went right at the big guy and was fouled. His free throw made it a 1-point game. And when Vint, trying to avoid Motto's block attempt, missed a reverse layup, the Hornets took advantage on a nice drive from Garner. On his shot, he lifted it high off the pane and banked it in over Vint and Bryant had its first lead at 18-17.
And they had chances to increase the margin after forcing a turnover. Missed shots resulted as the Hornets launched three on the possession. Cozart produced another opportunity by taking a charge on a drive by Goodwin, but another missed shot resulted.
A 3 by Spoon and a late backet by Vint gave the Pointers a 22-18 lead at the half.
Goodwin started the second-half scoring with a stickback.
But the Pointers couldn't shake the Hornets. Cozart drove the lane, drew Vint away from Motto and dished to his teammate for a layup. At the other end, Motto blocked a shot by White and Cozart rebounded. Vint then fouled Motto on a reverse layup attempt and they inched a point closer with his free throw.
It was Vint's third foul and he sat for the rest of the third quarter. His replacement, however, Jay Ware scored 6 points in the post in his absence to help keep the Pointer ahead. Cozart answered Ware's first basket with a 3. Patterson hit two free throws but Griffin drove for a bucket to make it 28-26.
Ware's second bucket was followed by a 3 from Griffin that cut the margin to 30-29 with 1:50 left in the third. Ware and Cozart traded hoops and, after White scored to end the period, Motto got the Hornets within a point one last time to start the fourth.
POINTERS 52, HORNETS 45
Score by quarters
Van Buren 15 7 12 18 — 52
BRYANT 10 8 13 14 — 48
POINTERS (15-7, 9-1) 52
Player fg-fga ft-fta reb fls pts
o-d-t
Goodwin 2-2 3-7 2-4 6 4 7
Patterson 1-6 5-6 0-1 1 2 8
Spoon 2-5 0-0 0-1 1 0 6
White 3-7 4-4 1-3 4 1 10
Vint 6-11 3-4 0-5 5 4 15
Ware 3-5 0-0 0-0 0 0 6
Schoolcfaft 0-0 0-0 0-0 0 1 0
Snapp 0-0 0-0 1-3 4 2 0
Pearson 0-0 0-0 0-0 0 0 0
Moreland 0-0 0-0 0-0 0 0 0
Lanier 0-0 0-0 0-0 0 0 0
Team 0-1 1
Totals 17-36 15-21 4-18 22 14 52
HORNETS (5-16, 1-7) 45
Player fg-fga ft-fta reb fls pts
o-d-t
Griffin 7-15 1-2 0-1 1 3 18
Cozart 5-11 0-0 0-4 4 1 13
Wilson 0-5 0-0 1-1 2 3 0
Garner 2-5 0-0 1-3 4 2 5
Royal 0-0 0-0 1-0 1 2 0
Cambron 0-4 0-0 2-0 2 1 0
Motto 2-5 5-8 2-4 6 4 9
Neale 0-0 0-0 0-0 0 1 0
Nossaman 0-1 0-0 3-1 4 1 0
Moore 0-0 0-0 0-1 1 0 0
Trudell 0-1 0-0 1-1 2 0 0
Team 2-3 5
Totals 16-47 6-10 13-19 32 18 45
Three-point field goals: Bryant 7-27 (Griffin 3-8, Cozart 3-8, Garner 1-4, Wilson 0-4, Motto 0-2, Trudell 0-1), Van Buren 3-11 (Spoon 2-5, Patterson 1-5, White 0-1). Turnovers: Bryant 11, Van Buren 8.