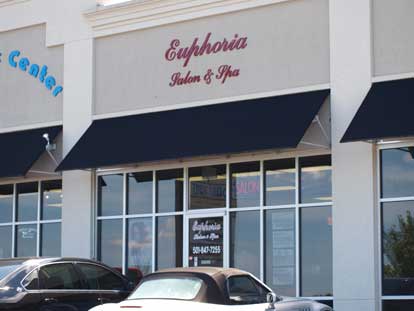 By LANA CLIFTON
Two robberies that occurred at Bryant area businesses have prompted police to advise shop owners and citizens to take extra precautions and stay alert.According to the Bryant Police Department, on Thursday, Aug. 13, just before noon an armed man entered the Euphoria Salon and Spa, at 3411 Main St. in Bryant, with a white t-shirt over his head.
According to the employee, the man ordered her to give him cash. After that he forced her to a back room of the salon and ordered her to remove her clothes. He then took her wedding rings and jewelry, cell phone and car keys. Then the suspect escaped through the back door of the salon and ran away on foot.
The employee described the man as a black male, approximately six feet tall with a medium build in his early to mid twenties.[more]
Four days later, on Aug. 17, a similar crime took place at the Dollar General store on Highway 5 North. Around 9 p.m., Bryant police responded to a 911 call in which an employee of the store reported that a masked man with a pistol entered the store and demanded money. As in the incident at Euphoria, the suspect ordered the employee into a back room, ordered her to disrobe and robbed her of personal items.
According to Detective Corporal Todd Crowson, none of the victims were injured. In both instances, the suspect appeared to be working alone. Even though police are not sure both crimes were committed by the same person, the incidents are so similar that they appear to be related.
Crowson said the Bryant police are still investigating the crimes and looking for a suspect.
"We have leads coming in every day, and we follow up on every lead. I'm hoping one of these leads pans out," commented Crowson.
The police are asking anyone with information to contact the criminal investigation division of the Bryant Police Department at 847-0211. An anonymous donor is offering a $1,000 reward for information that leads to an arrest and conviction in this case.
Crowson said there were no security cameras at either location to help with identification.
Crowson advises shop employees to use extra caution, try not to be alone and change their routines.
"If you close at 7 every night, change it up. Lock the door 10 minutes early.
"People like this watch routines," said Crowson. "They prey on people who are alone."
He recommends that employees keep doors locked and unlock them for customers when they approach. He also said it might be wise to have a second person present at closing time.