File photos by Rick Nation and Kevin Nagle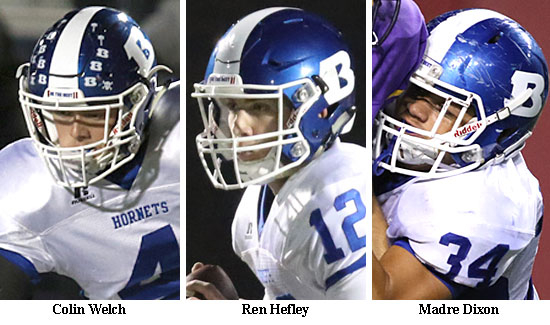 A record-setting kicker, the team's top receiver, the leading tackler and the team leader in sacks have been named Class 7A All-State for the Bryant Hornets football team in their landmark 2016 season.
All-conference first- and second-teams plus honorable mention honors were also announced for the 9-4 Hornets who reached the Class 7A semifinals for the first time in the history of the program in their first year under head coach Buck James.
The all-State selections are: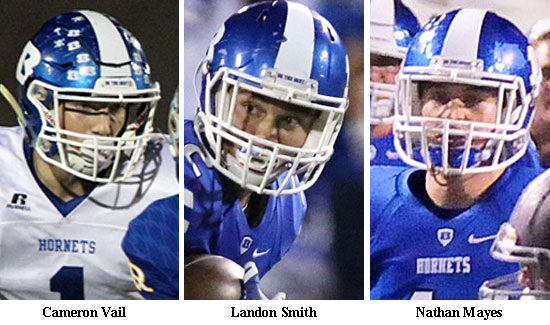 Hayden Ray, who led the team in scoring with 92 points including a state and school record 19 field goals. Ray also tied the school record for longest field goal at 49 yards, made all 35 of his extra points and missed just three field goal attempts. He also averaged 35.5 yards on 68 punts and had 24 touchbacks on 65 kickoffs.
Reece Coates who led the team with 53 pass receptions for a team-high 785 yards (14.8 yards per catch) and seven touchdowns. He also rushed 38 times for 166 yards and two scores as a part-time Wildcat quarterback. Coates scored 58 points, second only to Ray.
Marvin Moody who led the team with 120 tackles including a team-high 14 for losses, three pass break-ups, a sack and two interceptions, one of which he returned for a touchdown.
Hayden Knowles, the anchor of the defensive line after playing middle linebacker in 2015, had a team-high six sacks with 68 tackles and nine tackles for losses.
First team all-conference selections are defensive end Madre Dixon, quarterback Ren Hefley, linebacker/defensive end Nathan Mayes, receivers Landon Smith, safety/receiver Cameron Vail and cornerback Colin Welch.
Second-team all-conference on defense includes cornerback Andrew Hayes, safety Mike Jones, linebacker Jakob Neel, defensive tackle Kajuan Robinson and linebacker Antonio Todd.
Second-team all-conference selections on offense are receiver Seth Tucker, running backs Cameron Coleman and Jeremiah Long, linemen Jace Houston, Zak Kemp, Preston Kyzer and Joseph Wylia and tight end Luke Curtis.
All-conference honorable mention picks are defensive back Caylin Allen, defensive linemen Avery Everett and Bryce Thomas, offensive linemen Blaise Smith and Josh Stevens along with special teams player Logan Reed.
BRYANT HORNETS
2016 unofficial statistics through 13 games
Score by quarters
Opponent       65       111     66       62 — 304
BRYANT          61       107     102     56 — 319
TEAM STATS
                        Oppt               Bryant
First downs    170                 197
Rushes-yds    456-1643      405-1397
Passing           147-303-15   216-382-7
Passing yds    1969               2403
Fumbles-lost  30-14             25-11
Penalties-yds 68-590           107-900
INDIVIDUAL STATS
Rushing: Cameron Coleman 95-450, Jeremiah Long 74-386, DeAmonte Terry 57-191, Reece Coates 38-166, LaTavion Scott 27-148, Kris King 28-121, Cameron Vail 14-70, Randy Thomas 3-14, Keethan Hudson 1-10, Alex White 1-8, Brandon Murray 1-1, Hayden Ray 1-(-29), Beaux Bonvillain 19-(-34), Ren Hefley 38-(-85).
Passing (C-A-I-Y): Ren Hefley 140-257-4-1770 (12 TD), Beaux Bonvillain 74-123-3-602 (2 TD), Cameron Vail 2-2-0-21.
Receiving: Reece Coates 53-785, Landon Smith 41-461, Seth Tucker 32-321, DeAmonte Terry 24-144, Luke Curtis 18-182, Brandon Murray 9-119, Randy Thomas 8-148, Jeremiah Long 8-41, Cameron Vail 5-86, Cameron Coleman 5-53, C.J. Wallace 4-4, Jordan Witcher 2-12, Neal Brenton 1-13, JaKalon Pittman 1-0, Jett 1-(-2).
Scoring: Hayden Ray 92 (35 of 35 PAT, 19 of 22 FG, made 25, 35, 37, 30, 37, 44, 29, 37, 42, 22, 35, 18, 43, 35, 49, 25, 44, 38, 40; miss 36, 34, 38), Reece Coates 58 (2 td-r, 7 td-p, 2 conv.), Jeremiah Long 24 (4 td-r), DeAmonte Terry 12 (2 td-r), Cameron Coleman 24 (3 td-r, 1 td-p), Kris King 12 (2 td-r), Luke Curtis 12 (2 td-p), Randy Thomas 12 (2 td-p), Madre Dixon 8 (1 fum-ret, 1 tackle for safety), Andrew Hayes 6 (1 int-ret), Ren Hefley 12 (2 td-r), Marvin Moody 12 (1 td-int. ret, 1 blocked punt rec), Brandon Murray 6 (1 td-p), Kajuan Robinson 6 (1 int-ret), LaTavion Scott 12 (2 td-r), Landon Smith 6 (1-td p), Antonio Todd 6 (1-td-int.ret.), Cameron Vail 6 (1 td-r)
Kicking: Hayden Ray 68-2416 (35.5 ypp); Ray 24 TB on 65 KO's
Tackles: Marvin Moody 120, Jakob Neel 115, Madre Dixon 81, Antonio Todd 81, Hayden Knowles 68, Nathan Mayes 67, Cameron Vail 55, Mike Jones 46, Caylin Allen 44, Colin Welch 42, Kajuan Robinson 40, Andrew Hayes 38, Brooks Ellis 26, Nick Smith 16, Bryce Thomas 15, Avery Everett 14, Antonio Rice 11, Rondale Messer 10, James Polite 7, Andre White 7, Jake Wright 5, Allen Coleman 4, Neal Brenton 3, Hayden Ray 3, D.J. Buckner 2, Kale Kimbrough 2, Nate Wallace 2, LaTavion Scott 1, JaKalon Pittman 1
Tackles for loss: Marvin Moody 14, Madre Dixon 13, Jakob Neel 10, Hayden Knowles 9, Antonio Todd 7, Nathan Mayes 6, Kajuan Robinson 6, Mike Jones 4, Mitchell Jones 3, Bryce Thomas 3, Colin Welch 3, Caylin Allen 2, Avery Everett 2, Antonio Rice 1, Brooks Ellis 1, Cameron Vail 1
Pass Break-ups: Colin Welch 10, Andrew Hayes 7, Cameron Vail 4, Marvin Moody 3, Andrew Hayes 3, Mike Jones 3, Caylin Allen 2, Madre Dixon 2, Nathan Mayes 1, Antonio Todd 1, Kajuan Robinson 1
Forced fumbles: Brooks Ellis 1, Jakob Neel 1, Caylin Allen 1, Madre Dixon 1, Mike Jones 1, Nathan Mayes 1, Colin Welch 1, Antonio Todd 1
Fumbles recovered: Caylin Allen 2, Madre Dixon 2, Andrew Hayes 2, Colin Welch 2, Brooks Ellis 1, Marvin Moody 1, Jakob Neel 1, Antonio Todd 1, Nathan Mayes 1
Interceptions: Andrew Hayes 2, Mike Jones 2, Colin Welch 2, Marvin Moody 2, Caylin Allen 2, Kajuan Robinson 2, Cameron Vail 2, Antonio Todd 1
Sacks: Hayden Knowles 6, Kajuan Robinson 4, Madre Dixon 4, Antonio Todd 3, Brooks Ellis 2, Nathan Mayes 2, Caylin Allen 1, Marvin Moody 1, Jakob Neel 1, Nick Smith 1, Mike Jones 1