By Rob Patrick
Photos by Kevin Nagle
As the 2012 high school softball season gets started, the Bryant Lady Hornets and head coach Debbie Clark find[more] themselves in a situation that few have encountered. After winning back-to-back Class 7A State championships, they return all 10 starters — nine position players and the most frequent extra player — putting them in the position of being the favorite for a third consecutive title.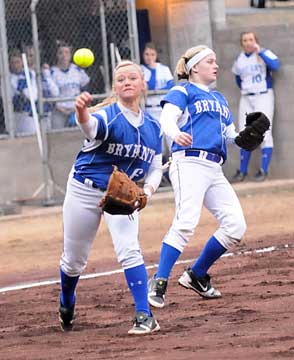 But the season's just starting. The team travels to Texarkana for a pre-season benefit game today then officially opens on Tuesday, Feb. 28, with a battle against the rival Benton Lady Panthers at Bishop Park.
It's a long time before this year's State tourney, which will be hosted by Bryant, rolls around.
"It's still one game at a time," declared Clark. "We cannot look to May if we're not through March and April."
The team includes seniors Brittney Ball, Jenna Bruick, Ashley Chaloner, Peyton Jenkins, Ashlyn Lessenberry, Kayla Sory, Jessie Taylor and Cassidy Wilson; juniors McKenzie Rice and Carly Yazza; and sophomores Kaley Coppock, Brianna Forsyth, Kayla Jolley, Breanna Sanders and Katy Stillman. Freshmen who made the team include Brianna Davis, Mercedes Dillard, Jamie Jamison, Sydney Gogus, Jerrica Gray, MaKayla Nguyen, Sadie Powers, Joee Richey, Abby Staton, Alex Taylor, and Jordan Williams
"The girls are ready to play," Clark stated. "It's one of those deals where they want the season to start but then they want it to go slow because I have so many seniors. It's a double-edged sword. They're so excited about the season and about defending conference and state championships but, at the same time, they'll make comments like this is the last time we'll do this or this is the last time this will happen. So it's bittersweet.
"They've come back in really good shape," she added. "We've been doing some speed work and some conditioning and I'm real pleased. We have some people that, I can tell, have been working in the off-season on their hitting. They understand that, defensively, most of the girls are pretty even but what sets them apart is what you can do in that batter's box. That's where most girls will fail because the pitching is so good."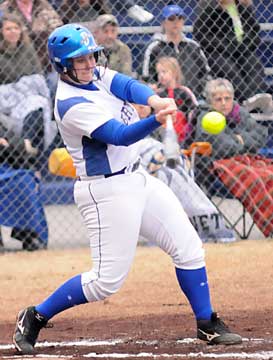 Regarding the potential three-peat, Clark said, "Not everybody gets this kind of opportunity so it's something that we hold in high reverence. All of us do. These seniors understand the opportunity they have. I know as a coach and that's what's the hardest for me. I know what they have within their grasp and I know how badly they want it.
"As a coach, it's just an unbelievable opportunity," she acknowledged. "I mean, how many really good coaches that work really hard get to play for one, then another one, and then another one with this kind of talent.
"It's a great time for our program here because the freshmen are getting to learn so much about that kind of tradition, the legacy that these girls will leave here forever," the coach mentioned. "Nobody from the outside has to put pressure on these girls. They know and they put enough pressure on themselves."
The team's experience tells even at practice.
"I looked out at practice the other day and we were going over some team defense and they knew what to do," she illustrated. "They know each other. They can just about read each other's minds. It's instinct. That's hard to teach and once they get it, it's so nice. But then you have to teach it again when you reload."
Clark split her team up for a Blue-White scrimmage on Monday, Feb. 20.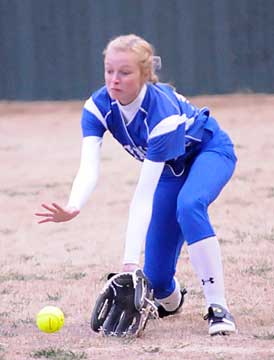 "We saw some really good things," she said. "I saw where some people who were struggling in some areas last year have come back and they look a lot stronger in that area."
Jenkins, who pitches, is the two-time State championship Most Valuable Player. Taylor, at catcher, is the original "Beast", the name she uses affectionately to describe her strongest hitters.
In the Blue-White, Clark had the veteran players face Jenkins, some for the first time.
"One of them made an out and as she ran off the field she said, 'I knew she was good but I didn't know she was that good.' That was great. I thought that was one of those great teachable moments, one of those that I can't make happen but it happened.
"They both lead in their own special and unique way," Clark said of the battery mates. "They're both students of the game, incredible hitters. They're complete packages. And both of those girls could play at other positions but they play the positions that we need."
Coppock finished last season at first base as a freshman. Bruick plays second, Wilson short and Rice is at third. In the outfield, Yazza started in left, Sory in center after starting the year at first, and Stillman in right. Chaloner was most often the designated batter.
"Kaley ended the season with us at first base and she did a great job," Clark commented. "She's another one of those that has the potential to be that great 'Beast' hitter because she has the power.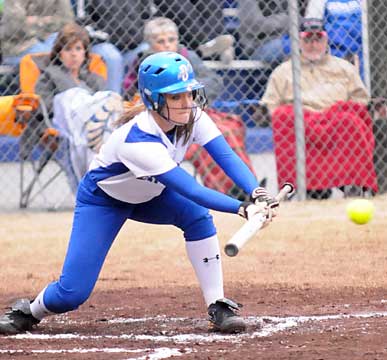 "Jenna is just another incredible leader in her own different way that the girls love," the coach continued. "She's that slapper from the left side, something she's worked on since the eighth grade and perfected it. She's an offensive weapon. She's our leadoff and gets on base.
"Cassidy is the coach on the field. She usually hits in the two-spot for us, can sac bunt, can also take it over the fence, can do a hit-and-run. She's so knowledgeable, such a good teacher of the game, and she has such good instinct. She can know what the opposing coach is going to do before that opposing coach knows what they're going to do because she understands the game.
"Kenzie is one of those that really impressed us Monday night with her hitting. She's always been able to do it. There have just been times when she hasn't been as strong in games as maybe others that could come through with the bat. But she looked really good on Monday night against Peyton. That was very encouraging for her and for us.
"Carly is very dependable. She works hard in practice. She's focused for us. In a game, she can step up and come through at the plate.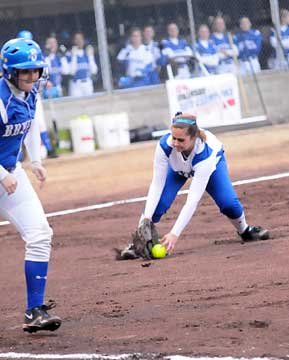 "Kayla is definitely one of the players a coach loves to have on their team because when you ask 'Who would . . . ' before I can even get it out, she's saying, 'I'll do it, coach, whatever, what do you need, coach?' That's the kind of leadership you need. She took (Yazza and Stillman) both underclassmen under her wing last year before the State tournament and State championship game and it just gave me chills watching her take them and how comfortable they felt with her leadership. And they were breathing out there. And her bat's a weapon too.
"Watching Katy, Kayla and Carly (in practice) throw the ball in from the outfield and hit their target — their arms are strong. They know where to go with the ball. They think about what's going to happen before. You know, with a pitcher like Peyton, you don't get a lot of balls hit to you. They understand that and they understand 'I've got to be ready.'
Clark said that even though they're all back, the line-up is not set in stone. "There's a lot of competition. A lot of people want to be out there," she said. "But, when you return as many starters as we have, it's hard not to say, in the back of your mind, those are the ones. How can you not? Especially when they've come back and worked hard.
"They're a team," she added. "That's one of their goals this year. They wanted to be a team from day one. I think they understand that concept and they're excited because they're feeling that."
That's no small thing when you have so many seniors and so many freshmen.
"I kept 12 freshmen," Clark noted, "and I keep telling them over and over again, 'Sometimes we don't realize what we have until it's gone, and I don't want you to squander the time that you have with these seniors who have been there, done that. You all need to use every opportunity you get to learn from these seniors.
"The sophomores, we have some that are coming along," she said. "I can tell that they've worked and they have the desire. It's just performing at the plate.
"We've seen some good things from the freshmen," she reiterated. "We have a left-handed pitcher, Jordan Williams, that did really well the other night. We were impressed with her. Kayla Jolley's a sophomore who pitched for us in the scrimmage and looked really good on the mound. Abby Staton and Mercedes Dillard also pitched some for us. We have four or five pitchers and four catchers. Jamie Jamison can hit the ball real well. Sydney Gogus has a chance to be a 'Beast'. She can swing the bat."