By Rob Patrick
Photos by Rick Nation
Sheets of rain, sometimes falling vertically, often horizontally, and all directions in between, made[more] it a tough night for football Thursday when the Bryant Hornets freshman team opened the season against the Hot Springs Lakeside Rams.
Of course, it could've been much worse were it not for the artificial turf on the field but, nonetheless, it left the two teams pretty one-dimensional on offense and they floated their way to a 0-0 tie.
The Hornets had the football most of the game accumulating 171 yards of offense on 42 snaps compared the Junior Rams' total of just 33 yards on 22 plays.
The only time either team reached the red zone (inside the opponent's 20) came right before the end of the first half. Bryant's Jacob Hall pounced on a Lakeside fumble at the Rams' 22. With :44 left in the half, the Hornets lost 3 yards on first down. Quarterback Gunnar Burks, who came off the bench to spark the Hornets with his running, kept to the 18 on the next play but time ran out before Bryant could line up for another play.
Burks wound up rushing for 107 yards on 20 carries. He also accounted for the lone pass completion of the game by either team, a 7-yarder to running back Savonte Turner.
"I'm really proud of the way my guys played tonight," said Hornets coach Kenny Horn. "Under the conditions, they executed pretty well. I made some bad decisions that cost us."
Lakeside turned the ball over three times and Bryant twice but penalties undermined both offenses. The Rams suffered six mark-offs for 45 yards but the Hornets had nine penalties for 76 yards, including several holding penalties that negated (and perhaps helped facilitate) some big plays.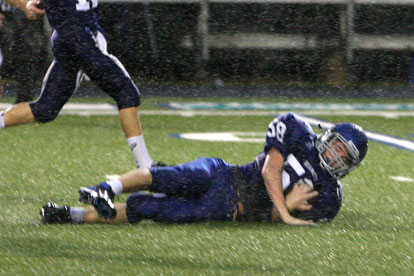 Neither team picked up a first down in the opening quarter as they exchanged punts. Bryant's second possession reached the Lakeside 49 after a 10-yard scramble by starting quarterback Jarret Jacobs.
Going for it on fourth down to try to continue the drive, however, Turner was dropped for a loss and Lakeside took over on downs with good field position. Three plays later, though, the Rams were punting as Khaliq Slater, Devin Howard and Walker Brown made defensive plays.
Bryant got the ball back at its own 11 and a pair of holding penalties plagued them as they managed to push the ball out to the 29. Facing a fourth-and-10 at their own 22, the Hornets faked a punt and Burks scrambled for 13 yards to keep the possession alive. A nine-yard keeper and a 15-yard burst by Turner got the ball into Lakeside territory at the 39. An offsides penalty pushed it to the 34 but, with time running out, Burks dropped back to pass, trying to go deep. But the ball was picked off by Lakeside's Malek Hearnsberger with 1:53 left in the half.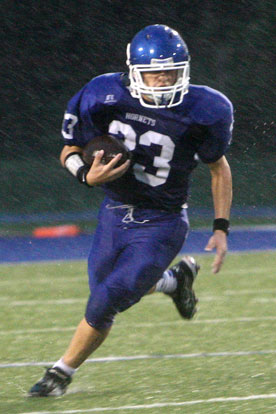 A pass interference penalty provided the Rams with the first of their two first downs of the game. But a fumble on a second down pushed them back then a fumble on third down was recovered by Hall.
The Hornets appeared to have something going again in the first possession of the second half but two more holding penalties negated gains by Burks and he wound up punting.
Nick Hardin got the ball back for the Hornets a play later, picking off a Shelby Rowland pass at the 26.
Drew Alpe blasted for 13 yards on first down but another hold negated 10 of that. The Hornets overcame that but, after reaching the 42, stalled.
What seemed at the time as Bryant's last, best chance came early in the fourth quarter. After a short punt, the Hornets had the ball at their own 42 and Burks dashed and slashed his way for runs of 7 and 13 yards. Turner sliced for 5 more as the Hornets reached the Lakeside 33.
But a second-down play lost yardage and, on third down, Burks, trying to get the first down lost his helmet and the ball when he was stopped. With 3:57 left, Lakeside had the ball back at its 31. A play later, Rowland skirted left end for 13 yards and a first down only to be separated from the ball.
Bryant recovered with 2:45 left but couldn't pick up a first down on a fourth-and-6 at the Rams' 42.
Lakeside took over with :43 left on the clock. A pair of incomplete passes and a loss on a fumble put them in a fourth-and-19 situation. They got a punt away despite Bryant pressure and the game came to a soggy end.
Chances are the conditions will be better next Thursday when the Hornets host Lake Hamilton.
BRYANT 0, HOT SPRINGS LAKESIDE 0
Score by quarter
Lakeside 0 0 0 0 — 0
BRYANT 0 0 0 0 — 0
Team stats
Lakeside Bryant
First downs 2 8
Rushes-yds 17-33 37-164
Passing 0-5-1 1-5-1
Passing-yds 0 7
Punts-avg. 5-32.0 3-27.3
Fumbles-lost 5-2 2-1
Penalties-yds 6-45 9-76
INDIVIDUAL STATS
Rushing: BRYANT, Burks 20-107, Alpe 8-33, Turner 7-17, Jacobs 2-7; HOT SPRINGS LAKESIDE, Rowland 10-32, McKinney 3-12, Housley 1-(-5), Bodemann 3-(-6).
PASSING (C-A-I-Y): BRYANT, Burks 1-4-1-7, Jacobs 0-1-0-0; HOT SPRINGS LAKESIDE, Rowland 0-5-1-0.
Receiving: BRYANT, Turner 1-7.