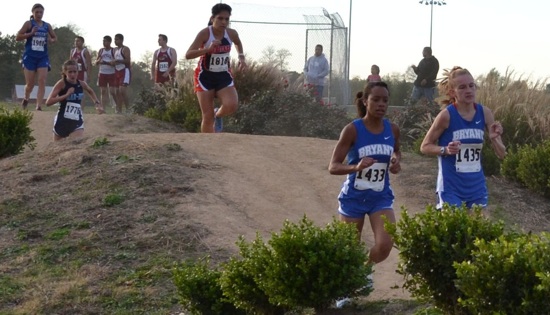 Photos courtesy of Julie Shelby
ROGERS — Senior Hannah Raney and junior Melinda Murdock each earned all-conference[more] honors by finishing in the top 10, leading the Bryant Lady Hornets to a fourth-place finish in the talented field at the 7A-West Conference Cross Country Championship Tuesday.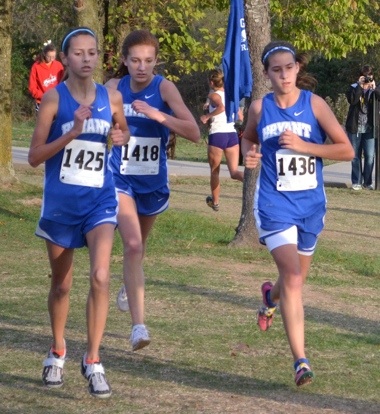 Rogers Heritage scored 42 points to pull off a surprising win over runner-up Rogers (71) and Bentonville (73). Bryant scored 94 points followed by Van Buren (103), Fayetteville (126), Har-Ber (174), and Springdale (233).
"This was our first time to compete in the West Conference and we knew it was going to be tough," said Lady Hornets coach Danny Westbrook. "The State championship team has come from the West the last several years.
"Going in, our goal was a top five finish, and we surpassed that," he noted. "We beat Van Buren and Fayetteville who had beaten us at Chile Pepper (earlier this season)."
Raney took seventh place with a time of 19:39.3 and Murdock was eighth in 19:39.9.
"Hannah and Melinda ran great," said Westbrook. "They stayed together the whole race and collectively picked off runners as they neared the finish. I think they both have a great shot at being top 10 at State."
The remaining scorers for the Lady Hornets packed together throughout the race. Freshman Hannah Shelby was Bryant's third finisher at 24th place in 20:49. She was closely followed by freshman Sarah Cowell (26th, 20:58) and sophomore Caitlyn Bell (29th, 21:03). Lauren Ackley (48th, 22:16) and Talyn Billins (54th, 22:35) finished out the top seven.
"I am so proud of Hannah Shelby, Sarah Cowell, and Caitlyn Bell," Westbrook said. "They ran together the entire race and then just flew by people at the finish. I was really excited that all five of our scorers finished in the top 30, especially after a four-hour bus ride."
Next up for Bryant will be the 7A State Championship held at Oaklawn Park in Hot Springs on Nov. 10.