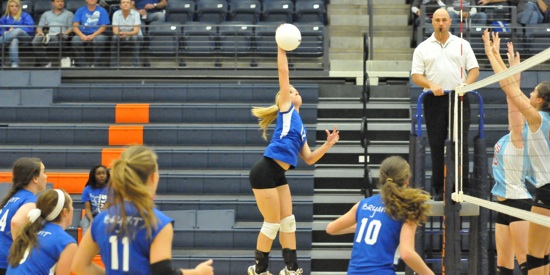 Photos by Kevin Nagle
By Rob Patrick
ROGERS — For a while, it looked like the Bryant Lady Hornets just might return the[more] favor to the Fort Smith Southside Lady Rebels.
At the 2011 Class 7A State Tournament, the Lady Hornets took a 2-0 lead against the Lady Rebels only to have Southside rally with three straight wins to take a 3-2 victory that made for a difficult finish to the season for Bryant.
On Wednesday, the two teams met again at State, this time at Heritage High School in Rogers instead of Conway, and Southside took a 2-0 lead. Bryant came back to win the third game and was within 15-17 in the fourth before the Lady Rebels reeled off the final eight points to once again break the hearts of the Lady Hornets.
The final was 25-19, 25-13, 23-25, 15-25, advancing Southside to the State semifinals.
"We knew Southside was going to be a good team," said Lady Hornets coach Beth Solomon. "We watched film. We came early Tuesday and watched them play (Rogers). They got up two games on us, which is hard. It's hard to come back. But we reminded the girls that it was just the opposite as last year. We tried to encourage them to do (what Southside had done in 11). That third game, they stepped it up and started playing. I really thought we were going to pull off the fourth one. We just couldn't finish."
It was a rugged way to end it for Solomon's splendid group of seniors, Alyssa Anderson, Courtney Davidson, Brittan Hays, Brooke Howell, McKenzie Rice, Hannah Rice and Kaylon Wilson, (and Rochelle Aguilar, whom the team lost a couple of weeks before State when she and her family moved away from Bryant); a group that has been a part of some of the best volleyball in the history of the Bryant program. They set a new standard.
"We've had a great season," Solomon emphasized. "Undefeated in conference, that's a pretty big thing for us. And this group of seniors has done that. They've changed the face of Bryant volleyball completely. It's a hard group to lose."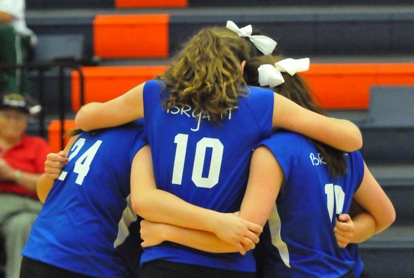 Along with the 12-0 record in the 7A/6A-South Conference, the Lady Hornets went 24-8-1 overall this season, which may be the most wins in a season in the program's history.
Anderson scored the first point of the day for Bryant with a kill right off the bat but Southside scored the next seven points and the Lady Hornets never were able to pull even the rest of the game. Southside maintained at least a four-point lead throughout.
In the second game, the Lady Hornets trailed 3-5 when Wilson knocked down a kill for a sideout. Back-to-back hitting errors by Southside had the Lady Hornets ahead and when Anderson followed with an ace, it was 7-5.
Southside, led by 6-foot-1 middle hitters Drew Jones and Payton Hamilton, regained the upper hand and the game was tight for awhile. Bryant was within 12-13 on a kill by Howell but Hamilton scored off a block and Hannah Dickinson followed with a kill as Southside pulled out to a 17-12 lead.
After Solomon called timeout, McKenzie Rice rattled home a kill but it failed to stem the tide as Southside closed it out with an 8-0 spree.
It was the Lady Hornets to surged at the beginning of game three. McKenzie Rice snapped a 1-1 tie with a kill then Hannah Rice served up consecutive aces.
The game was even at 5 and 6 with the Lady Rebels holding the lead 5-6, for only a moment, But after Davidson's kill knotted it back up and a hitting error occurred, Bryant was ahead to stay.
The Lady Hornets' largest advantage came off a surge that included kills by Anderson, Davidson and Howell. Even after a Southside timeout, a hitting error gave Bryant a 13-7 edge.
It was tight, however, the rest of the way. Southside actually pulled even at 21 but Hannah Rice's kill and an ace by Davidson kept Bryant ahead. Anderson and Howell combined on a block to get Bryant to game-point.
Though Southside countered after a timeout to get within 24-23, Hannah Rice got the winner off a block and the two teams went to a fourth game.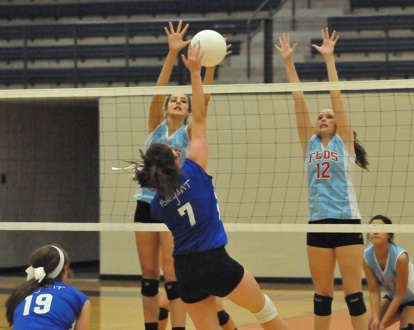 The Lady Hornets led only briefly in what turned out to be the final game in their final match. Trailing 1-3, they forced a sideout and McKenzie Rice found a hole with a kill and Hannah Rice drilled an ace to make it 4-3.
But, in a match in which there were an unusual number of carries and net violations — different officiating? — Bryant suffered a sideout on a carry. A block by Lauren Bruce gave Southside the edge, which was extended to as much as 10-6.
Back came the Lady Hornets, though. Hays had an ace and kills were recorded by Davidson and McKenzie Rice. And when Hannah Rice free-balled a spike for a kill, it was 12-12.
Jones drilled one in response, however, and the Lady Rebels retained the upper hand. Another kill on a free-ball by Hannah Rice and a set to a kill by Anderson had Bryant within 14-15 but Southside's Taylor Hamilton stemmed the tide with a kill and after her twin sister Payton Hamilton's block made it 17-14, Solomon called the timeout that led to a final kill by McKenzie Rice and the closing run by the Lady Rebels.
"I think toward the end of that fourth game, they kind of started getting a little — I don't know — frustrated," Solomon said of her team. "They wanted to make sure they didn't mess up and they were just thinking about not messing up too much and we couldn't pull it out."