Editor's note: This is a regular feature profiling senior athletes at Bryant High School.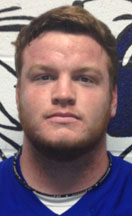 NAME: Ian Shuttleworth
PARENTS: Ken and Janet Shuttleworth

SIBLINGS: Aaron, he's 25; Sean, he's 19.

FAVORITE SUBJECT IN SCHOOL: Anatomy

WHAT DO YOU LIKE TO DO IN YOUR SPARE TIME? Hang with friends
FAVORITE FOOD: Anything
FAVORITE MUSIC ARTIST OR GROUP: A Day To Remember
FAVORITE MOVIE: Remember The Titans[more]
FAVORITE TV SHOW: Criminal Minds
WHAT WAS YOUR FAVORITE TOY AS A KID? Probably a football.
WHAT ARE YOUR PLANS AFTER HIGH SCHOOL? To play college football somewhere and go into the sports and medical field somewhere.
OTHER THAN YOUR PARENTS, WHO HAS HAD THE BIGGEST INFLUENCE ON YOUR LIFE? The coaching staff and other players; just how they supported me through everything.
WHAT'S YOUR FAVORITE THING ABOUT FOOTBALL: The friends that you make, the family that you come into.
POSITION: Offensive line
WHAT DO YOU FEEL LIKE IS YOUR PRIMARY RESPONSIBILITY ON THE FIELD? Protecting (Hayden) Lessenberry.
WHAT DO YOU THINK OF THE SEASON SO FAR? The new season's about to start, that's the main thing right now.
WHEN THE TEAM'S PLAYING WELL, WHAT'S THE KEY TO THAT? Everything's clicking, offense, defense and special teams.
WHAT'S BEEN THE HIGHLIGHT TO THE SEASON SO FAR? I might sound weird but I think getting beat because it brought us closer together and that's when we learned how to work hard and actually practice hard.
WHAT'S IT GOING TO TAKE FOR THE TEAM TO BE SUCCESSFUL THE REST OF THE SEASON? Everything has to be on. You can't have an off day for anything; everything has to be perfect every day.
INDIVIDUALLY, WHAT ABOUT YOUR GAME ARE YOU MOST CONFIDENT ABOUT? I feel confident in my run blocking and making holes.
WHAT DO YOU WORK HARDEST TO IMPROVE?
Probably just staying upright when pass setting.
AFTER YOU'RE THROUGH PLAYING FOOTBALL AT BHS, WHAT DO YOU THINK YOU'LL REMEMBER MOST FONDLY ABOUT IT? All the teammates, just the friends that you make.