Ray highlights landmark night as Hornets roll to playoff victory
EDITOR'S NOTE: Because the look back at each day in Bryant athletic history has been so favorably received during the time when there was no sports during the COVID-19 shutdown, BryantDaily.com will continueposting past stories of Bryant athletics either posted on BryantDaily.com (from 2009 to the present) or published in the Bryant Times (from 1998 to 2008).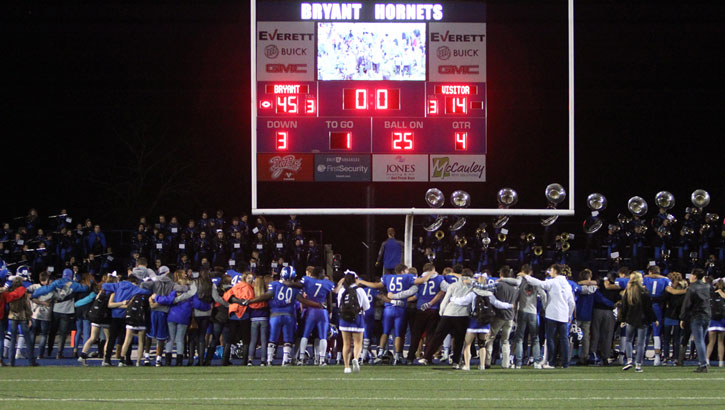 For more photos from this event by Rick Nation, go here
Bryant Hornets head coach Buck James didn't want to appear to be running up the score. His team had piled up a 36-0 lead by halftime against the Springdale Bulldogs in their Class 7A playoff game Friday night.
That meant the sportsmanship rule (with a running clock) went into effect to start the second half and that the Hornets were well on their way to victory and advancement to the second round of the playoffs, a trip to Springdale Har-Ber.
It would be, in fact, the Hornets first postseason win since 2014 when they defeated Har-Ber in the first round, 28-27.
The lead grew to 42-0 before the Bulldogs got on the board. Moments later, Bryant had moved the ball to the Springdale 18.
Having already booted two field goals, senior Hayden Ray had matched the school record for field goals in a season with 13, a mark he reached as a junior in 2015 and Todd Bryan had achieved in 2002.
Fourth down came up and James hesitated to send Ray onto the field to try for his 14th and the new record.
"I debated it," he acknowledged. "I asked our coaches what they thought. You know, we might not get that chance again. He's been too valuable to our program. He's been too good a kid. He's worked hard and we wanted him to have a chance to get it."
So Ray came on and drilled a 35-yarder and set the new mark with more football to be played.
It was a landmark night in several ways, James noted.
"I think Hayden Knowles broke the all-time record for most games played," he reported, referring to Bryant's senior defensive lineman. "I was told that. That could be a record that went down. And our seniors have won more games than any group in the history of the school."
At 8-3 this season after the 45-14 win over Springdale, coming on the heels of back-to-back 9-win campaigns, the Bryant seniors have been a part of 26 victories in three seasons.
So far.
"It's about the kids," related James, who is in his first year as the Hornets' head coach. "They put in a lot of hard work. You know, those seniors — I can't say enough about what they persevered through, the change in culture, the change in the way we do things. Not necessarily for good or for bad, it's just that it was a change. And to be able to endure like they've done and to keep improving says a lot about those young men. Our football team has really come a long ways."
Another record was set by Ray, who has been re-writing the Hornets' record book in the kicking category, came in the fourth quarter when he tied into a punt that, with the roll, went 65 yards. The previous record punt had been 64 yards set in 1964.
The victory was also highlighted by a safety on a tackle in the end zone by Madre Dixon; a pick-6, which was one of two interceptions in the game for linebacker Marvin Moody; touchdown passes by both Ren Hefley and Beaux Bonvillain along with TD runs by Hefley and Cameron Coleman.
Besides forcing three turnovers, the Hornets defense limited Springdale to a net of 29 yards rushing.
For Springdale, already gut-punched this season by the tragic death at midseason of the team's best player, it didn't help that junior quarterback Layne Hutchins was knocked out of the game with a leg injury on the second play of the night. Hutchins came into the game with over 2000 yards passing this season.
"I hate it for him," James said. "I hate it for that kid.
"You know, it definitely changed their team," he continued. "I'm blessed that we have two quarterbacks that we have confidence in. It's a blow to any football team but that's the way the game goes sometimes. Injuries are a part of football. That's what happens. It was a clean, aggressive, hard play and just an unfortunate accident."
Hutchins was scrambling as he rolled to his left to pass on a first down at the Bulldogs' 30. Knowles chased him down near the sideline and Hutchins' leg bent awkwardly as he went to the ground. He did not return.
Sophomore Will Mueller was pressed into duty and the Dogs' offense began to struggle.
Their defense fought valiantly, forcing the Hornets to punt moments later. But the offense couldn't muster a first down.
The exchange of punts gave the Hornets great field position at the Bulldogs' 46. On first down, Jeremiah Long pinballed through the Springdale defense on the way to a 32-yard burst. On the next snap, Hefley flipped a swing pass to Reece Coates. With a springing block by DeAmonte Terry, Coates traipsed into the end zone for the game's first points.
"I'm proud of the way our team played, the intensity they played with," James reflected. "I didn't think we played really sharp early but we played really hard. Then when we started playing good, I thought we played really well."
Another three-and-out and a punt set the Hornets' offense 49 yards away from another score. And they drove to the 16 where, on a second-and-10, Hefley dropped back to pass. But he was forced out of the pocket. After shedding a tackle or two and with the help of his offensive line, he just kept going and scored.
The first of Moody's interceptions late in the first quarter, he returned to the Springdale 9. LaTavion Scott slashed to the 1 but the drive stalled and Ray drilled an 18-yard field goal to make it 17-0 just two seconds into the second quarter.
Three plays into Springdale's next series, Mueller's pass was once again waylaid by Moody. This time, he sprinted to the end zone and, with Ray's extra point, it was 24-0 with 10:59 left in the quarter.
There was a flurry of scoring late in the half. The Hornets drove 57 yards for a touchdown. Coleman contributed a 23-yard run as Bryant reached the 10. A holding penalty put the drive in jeopardy but Hefley, rolling out to avoid the pressure up the middle, fired a pass that Terry out-wrestled the defender for at the 5.
A play later, Coleman plunged in from the 1. Ray booted it to 31-0 with 3:04 left.
The teams traded punts and, in the exchange, the Bulldogs were left at their own 1 with :28.8 left.
On first down, the Bryant defense crashed in around running back Garrett Vaughan and Dixon brought him down for the safety, making it 33-0.
Springdale's free kick went out of bounds so the Hornets had them boot it again and they wound up with the ball and :24.1 on the clock. Ray got a chance to try from 43 yards out and drilled it.
James and his coaches began to work in the reserves as the third quarter unfolded. Though Caylin Allen recovered a fumble, the Hornets weren't able to convert.
Avery Everett made a tackle for a loss and, despite an 11-yard pass completion from Mueller to Jaden Cornelius, Springdale punted again.
The Hornets started at their own 29. Bonvillain swung a pass to Randy Thomas on a bubble screen and he turned it into a 71-yard touchdown. Though Martin Ramirez missed the extra point, the lead was 42-0.
Mueller tossed a 33-yard pass to Alex Thompson on the second play of the fourth quarter, converting a second-and-22. A 36-yard completion to Kamond Robinson followed, reaching the 3.
Bryant made a bid for a goal-line stand but, on third-and-goal, Vaughan plunged in. Jesus Barroso hit the extra point.
A determined Scott pinballed his way 45 yards. From the 17, Keethan Hudson lashed to the end zone only to have the play negated by an illegal block. Hudson followed up with a 10-yard sweep and, with 3:30 left, on came Ray to set the record.
Springdale added a score on a 32-yard pass from Mueller to Robinson to set the final score. In turn, a run by Alex White helped the Hornets run out what was left of the clock.