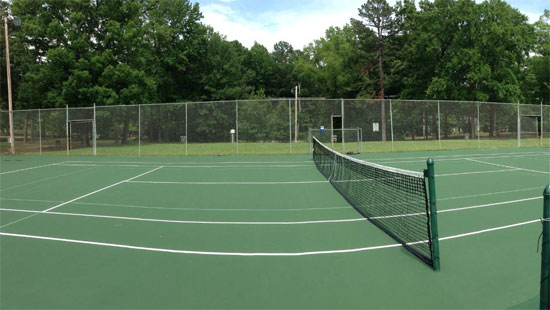 The Mills Park Tennis Courts are now open for use following necessary surface restoration and[more] crack repair work completed by Professional Court Resurfacing, Inc. In addition to brand new nets and crack repair sealants, both courts now feature age appropriate 36' and 60' acrylic youth lines intended for United States Tennis Association (USTA) programming.
This Saturday, June 8, the Bryant Parks Department will begin tennis classes for children between 6-15 years of age. The programs will be led by USTA trained instructors and will teach children the basic skills and drills associated for premier tennis development. Each class meets once a week for eight weeks from June to August at Mills Park. Classes are offered Monday and Tuesday evenings, as well as Saturday mornings for $40 per season.
"This is our second year offering this programming here in Bryant," Says Brandon Griffin, Recreation Superintendent for the City of Bryant. "We believe the new court dimensions will help us develop age appropriate skills and drills to better serve our tennis programs here at the parks."
For more information regarding the Mills Park Tennis Courts, contact The Center at Bishop Park at (501) 943-0999 opt. 7 or email bgriffin@cityofbryant.com.