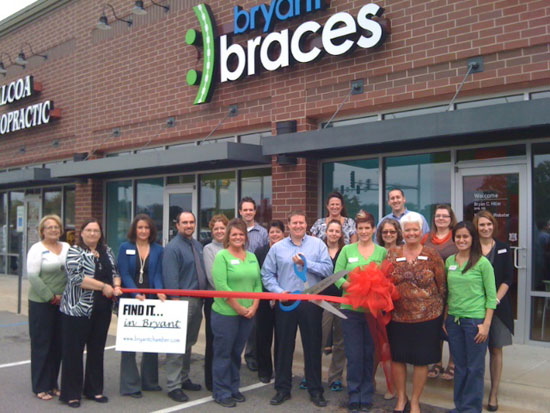 The Bryant Area Chamber of Commerce welcomed Bryant Braces with a ribbon-cutting[more] ceremony on Thursday, Oct. 11. Those in attendance included, from left, Rae
Ann Fields with Bryant Chamber; Kathy Pannell with Bank of the Ozarks; Angela Hurst with TGA; Dr. Matthew Torres and Sarah Torres with Alcoa Family
Chiropractic; Cindy Hamilton, office manager with Bryant Braces; Dr. Bryan
Hiller with Bryant Braces; Tonya Daley with Bryant Braces; Karen Grice with
Heartland Bank; Vanessa Castellon with Bryant Braces. In the back are Adam
Whitefield with Bryant Braces; Julie Roltsch with Julie Roltsch Agency;
Carla Harris with Bank of the Ozarks; Meri Stratton with Alcoa Family
Practice; Gail Steel with Bank of the Ozarks; Dr. Will Webster with Bryant
Braces; Jessica Scott with Scotty's Web; and Kristy Byrd with Bank of the
Ozarks.