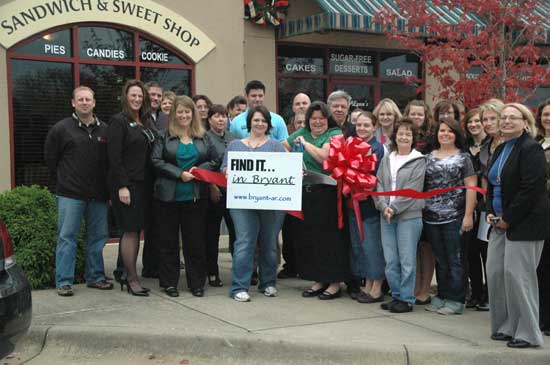 By Martin Couch
Bryant has a new restaurant.
Located at 304 North Reynolds Road in Old Downtown Bryant, Paula and Gary Jordan (owners of[more] Jordan's Barbecue, as well) have opened a homemade sandwich and sweet shop to continue serving Bryant residents delicious food.
"There's no culinary school here, just old school — I learned to cook from my mother and grandmother," said Paula Jordan. "I just love baking. My husband loves to grill and I love to bake sweets. We were just looking at this and it came available, so we decided to try our hand at it."
For those wanting homemade pies, cookies, cakes, fudge, etc., Jordan makes it fresh. Some of the pies available for pre-order or to order as a walk-in whole or by the slice are pecan, lemon, coconut, chocolate or apple. Cookies, sold individually or by the dozen, are peanut butter, chocolate chip, sugar or oatmeal raisin and there is the Doozie available, which is icing between two cookies.
Homemade brownies, fudge and fruit dip or fruit cups are also available along with homemade cakes for birthdays, anniversaries or weddings and there is also a delightful Reese's Peanut Butter Cake too.
But Paula Lynn's does more than just sweets. They have a wide variety of homemade hardwood smoked meat sandwiches, like ham, turkey, bologna, roast beef, Rueben and Paula Lynn's well-known chicken salad. All sandwiches come with a choice of bread like hoagie, white, wheat, rye, sour dough or croissant.
The club sandwich is made of turkey, ham, roast beef and bacon served on a hoagie bun, and the BLT sandwiches are among the specialty sandwiches offered.
There is also a hot grill steak and cheese sandwich as well as grilled fajita chicken and cheese. All sandwiches come with chips and a pickle.
"If people want to call in to order something that'd be great too," Jordan said.
Paula Lynn's opened officially on Nov. 1 and hours are Monday through Saturday from 10 a.m. to 6 p.m. They are closed on Sundays. For call in orders, the number is 501-847-2066.