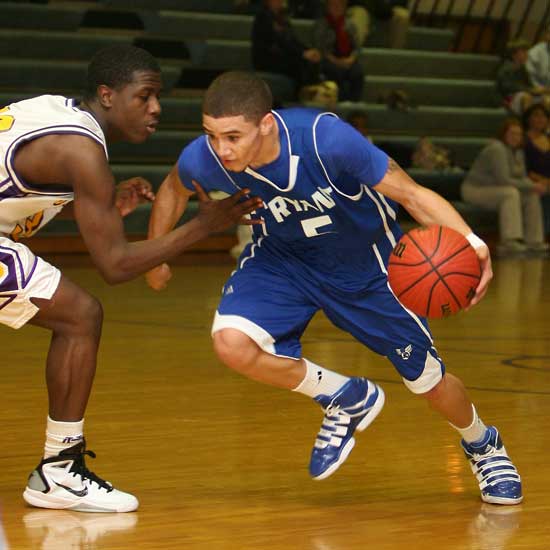 By Rob Patrick
Photos by Rick Nation
LITTLE ROCK — Playing the Catholic High Rockets of Little Rock in basketball is kinda like playing the Cabot Panthers in football.
Don't get behind, especially[more] late.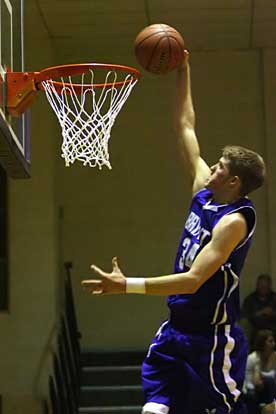 Like Cabot's Panthers who grind it out in the old winged-T, the Rockets have a system that they know well, established by a longtime coach, Tim Ezzi, now in his 20th year at the school. It's a system that netted the Rockets a Class 7A State championship in 2008.
They're disciplined, muscular, hard working and physical. They execute well and, if they have you down late, they'll run their offense until you foul them or they get a layup. Like the Panthers, the way they play, an opponent has to take advantage of almost every opportunity.
On Friday night, Catholic had the Bryant Hornets down late in the 7A-Central Conference opener for both teams, after Bryant had led by as much as 5 in the second half. The Rockets started to spread it out but the Hornets actually did a pretty good job of forcing a few turnovers.
Unfortunately, it was like the winter storm that's expected Sunday and Monday arrived early for the Hornets. They were 4 of 26 from the field in the second half (15 percent) including 1 for 15 in the fourth quarter when they missed all eight of their 3-point tries.
Catholic led by just 2 with 6:07 to play in the game but wound up with a 47-34 win, improving to 6-2 on the season. Bryant falls to 4-10 going into a league tilt at home against Van Buren on Tuesday.
"We couldn't score," acknowledged Bryant head coach Mike Abrahamson. "I thought my guys played really well tonight. I thought they played really hard. I thought we were getting shots from people that we wanted shooting the ball in places where we wanted them to shoot the ball. But it was a rough night. We just could not score.
"I thought our defense was pretty solid the entire game," he continued. "I thought our offense was pretty solid the entire game, obviously with the exception of not being able to make a basket.
"But I'm really proud of my guys," the coach emphasized. "They really fought hard. But when you can't score, it's hard to win basketball games."
The Rockets were led by Jordan Hartnedy, a 6-3, 195-pound strong safety on the football team, and Matt Morris, a 6-4, 215-pound linebacker. Hartnedy scored 14 and Morris 12 to go with a game-high 12 rebounds. Both used their girth to get inside, protect their shots and get Bryant's post players, Quinton Motto and Zach Cambron, in foul trouble.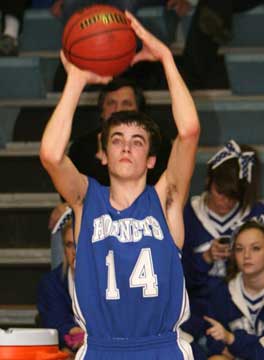 Defensively, the duo walled up the lane. Bryant wound up launching 29 3-point attempts. The Hornets knocked down just three of those.
"They were very physical," Abrahamson acknowledged. "I don't know if that wore on us as the game went on. We had some guys in foul trouble and we had to get into our bench, which I'm okay with, generally speaking, getting those kids some experience.
"Of course, we try to be a very physical team," he added. "But they're much brawnier, bigger and stronger. And they've been doing this for a while. Coach (Ezzi) has got it going the way he wants it going. It's a very well coached team. They execute their game plan very well. They knew what we were going to do and we knew what they were going to do. They got the ball down low where they wanted it and we got shots where we wanted them. We just couldn't get them to fall."
The Hornets got an early taste of what was to come after holding a 5-4 lead early in the game. They went the final five minutes of the first quarter without scoring as Catholic built a 10-5 advantage.
In the second quarter, however, the Hornets got it going sparked by a 3-pointer from the top of the key by Kyle Nossaman to start the period. A jumper by Jordan Griffin from 12 feet out had the Hornets even with the Rockets, 10-10.
Catholic missed two chances to regain the advantage but Nossaman wrestled the rebound away from Morris who was hit with a technical when he expressed his frustration with Nossaman.
Griffin hit one of the subsequent free throws and the Hornets were back on top. It stayed 11-10 for almost four minutes. During that sequence both Motto and Griffin took charges on drives by Brad Kiernam and Hartnedy, respectively. After the latter of those, Houston Garner fed Motto for a short jumper that pushed the lead to 13-10.
Catholic tied it but, with :24 left in the half, Garner drove for a basket that had the Hornets up 15-13 at the break.
And when Brantley Cozart drained a triple to start the third quarter, the Bryant lead was 18-13.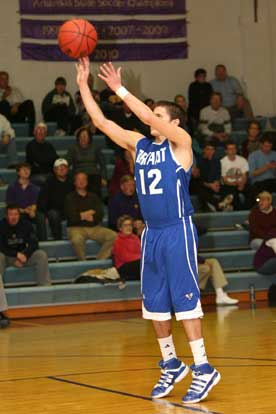 Bryant maintained the advantage until a three-point play by Morris with 2:16 left in the third quarter gave the Rockets a 22-20 lead. Cambron tied it with a baseline jumper but, in the final minute, Evan James and Hartnedy scored to put the Rockets ahead 26-22 going into the fourth.
Griffin hit two free throws early in the period to trim the margin to 2. Hartnedy answered but Garner converted twice at the line to make it 28-26.
The Hornets jumped into a press and the Rockets began to milk clock. With 6:08 left, Carson Case hit a free throw but missed a second but the Hornets couldn't get a shot to go in response.
Hartnedy got free inside and was fouled. He converted both and, after a Bryant turnover, Case converted 1 of 2 again to make it 32-26. Griffin couldn't get a 3 to go but, at the other end, Hartnedy muscled inside and scored as Cambron drew his fifth foul. Hartnedy missed the subsequent free throw but the lead was 8.
Cozart converted a pair of free throws then Griffin and Nossaman combined on a steal to give the Hornets a chance to cut into the 6-point lead. Cozart got a look from 3-point range but the shot rimmed out.
After a Rockets' timeout, Hartnedy got free inside again and scored to make it 36-28.
Motto drained a baseline jumper with 3:27 left, bringing Bryant within 36-30. Abrahamson called a timeout and, when the game resumed, the Hornets forced another turnover.
But Garner missed a 3, Griffin missed a follow and Motto couldn't get a tip to go down in perhaps the most frustrating possession of the night for the Hornets.
With 2:15 left, Hartnedy missed two free throws but, again, Cozart's 3-point try refused to fall. Given a second chance, Hartnedy connected from the line and, moments later, Kiernan converted twice to make it 39-30 with 1:37 left.
And when Morris got free for a basket inside with 1:07 left, the lead was double-digits for the first time in the game, 41-30.
The Hornets could get no closer after that despite free throws by Griffin and Cozart in the final minute. Catholic's Alex Cope and Kiernan countered those by going 6 of 6 from the line in the final minute.
LITTLE ROCK CATHOLIC 47, BRYANT 34
Score by quarters
BRYANT 5 10 7 12 — 34
LR Catholic 10 3 13 21 — 47
HORNETS (4-10, 0-1) 34
Player fg-fga ft-fta reb fls pts
o-d-t
Griffin 3-13 5-8 2-0 2 3 12
Cozart 1-10 4-4 1-2 3 3 7
Nossaman 1-2 0-0 0-5 5 5 3
Garner 1-9 2-2 1-1 2 2 4
Motto 3-7 0-0 2-7 9 5 6
Cambron 1-2 0-0 0-2 2 5 2
Bell 0-1 0-0 1-0 1 0 0
Trudell 0-3 0-0 0-0 0 0 0
Neale 0-0 0-0 0-0 0 0 0
Moore 0-0 0-0 1-0 1 0 0
Wilson 0-0 0-0 0-0 0 1 0
Team 2-2 4
Totals 10-47 11-14 10-19 29 24 34
ROCKETS (6-2, 1-0) 47
Player fg-fga ft-fta reb fls pts
o-d-t
Cope 1-8 6-6 0-4 4 2 9
Kiernan 0-0 4-4 0-6 6 2 4
Morris 5-8 2-3 3-9 12 4 12
Hartnedy 5-10 4-10 1-0 1 3 14
Case 2-4 2-4 1-1 2 0 6
Johnson 0-2 0-0 0-1 1 4 0
James 1-2 0-0 0-2 2 3 2
Team 0-3 3
Totals 14-34 18-27 5-26 31 18 47
Three-point field goals: Bryant 3-29 (Griffin 1-9, Cozart 1-9, Nossaman 1-1, Garner 0-6, Trudell 0-3, Motto 0-1), LR Catholic 1-7 (Cope 1-5, Johnson 0-2). Turnovers: Bryant 12, LR Catholic 12. Technical fouls: Bryant, Nossaman; LR Catholic, Morris, James.