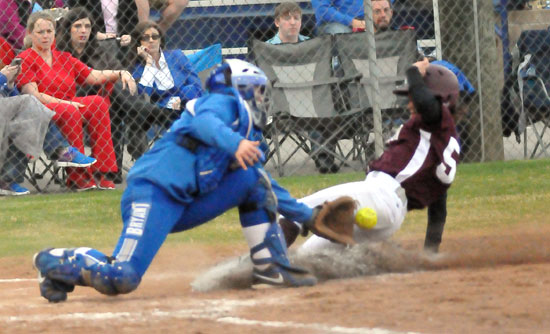 Photos by Kevin Nagle
By Bridget Bauer
Sometimes, a bad outing is bound to happen to a pitcher. No doubt, Bryant[more] sophomore Jordan Williams hopes hers is out of her system. It just wasn't her night as the Benton Lady Panthers accumulated eight runs in two innings on their way to a 16-1 run-rule Thursday over the Lady Hornets.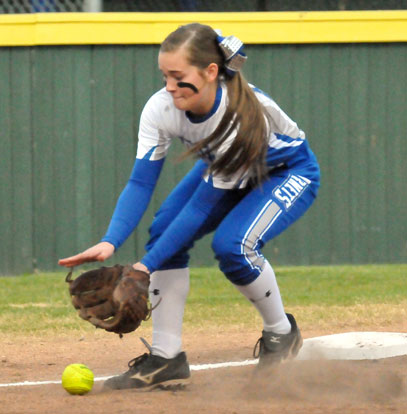 During her 2 2/3 innings, Williams yielded five hits, struck out two batters, walked five batters and was responsible for eight runs. She gave up five of the runs on four hits in the first inning and walked just two. The second stanza started off with Williams getting out Benton's first two batters on a strikeout and grounder. But, then two walks, and single and another walk finished Williams for the night.
"She was not getting ahead in the count," Bryant Coach Debbie Clark said. "They weren't hitting the ball hard. She would get to a full count and then have to throw a strike, or they would walk. I told her we can't defend walks. She had a bad game, and pitchers have bad nights. Everybody does."
Junior Kayla Jolley relieved Williams and gave up a hit before getting the final out in the second inning. The third inning also wasn't good to the Lady Hornets (1-3, 0-1 6A-South) as Benton added seven runs on four hits and three errors. Mental mistakes were also made including letting two Benton players who were off their bases after a hit ball get back to their bases safely.
"We threw the ball instead of running at them," Clark said. "By doing that we released them to their bases. But, that is something we haven't worked on in practice. Kayla did well, and it wasn't her fault. Only two balls were hit out of the infield, really one because of an error. We have pitchers who aren't going to rack up two strikeouts per inning so we have to play defense."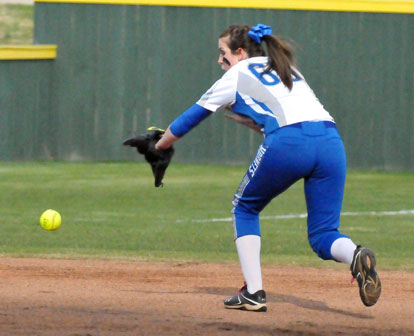 Contrary to the score, the game ended on a high note. In the top of the fifth, Benton's first batter reached first on an error but on the next play third baseman Abby Staton caught a line drive and picked off the runner at first. She then fielded a grounder and threw to first baseman Kaley Coppock for the final out.
Then Lady Hornets avoided not leaving its score at zero as they picked up a run in the bottom of the fifth. Shortstop Breanna Sanders walked and Coppock and designated hitter Sydney Gogus followed with back-to-back singles. Sanders scored on Gogus' single up the middle.
"You always remember the last thing that happens," Clark said. "I told them I want a zero on the board (no runs for Benton in the top of the fifth) and that we needed one on the board. I think that helped us mentally."
Sanders was 2-of-2 with her two singles and also walked while Gogus was 3-of-3 with her three one-base hits. In addition to singling, Coppock also reached base after being hit by a pitch. Carly Yazza and Jolley also recorded singles.