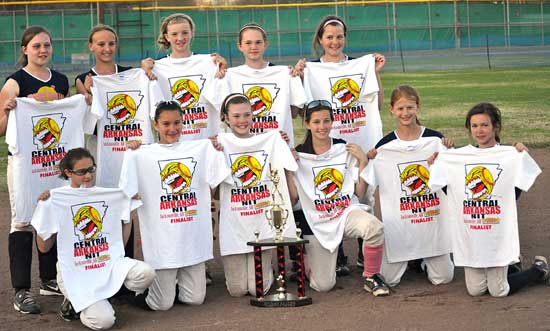 Bomb Squad, a 12-and-under softball team that plays out of Bishop Park, finished second at the[more] USFA Central Arkansas NIT tournament held over the weekend in Jacksonville.
The team includes, Anna Turpin, Rebecca Voss, Julie Ward, Beth Cook, Laura Jean Helmich, Sara Gonzales, Miranda Mayfield, Presli Pendergrass, Shayla McKissock, Baylee Boyles and Jordan Herbner. The head coach is Pat Ward.
As the runner-up in the tournament, the team earned a bid to play in the USFA World Series, which will be held in Panama City Beach, Fla., in July.
The Bomb Squad won both of its pool play games, 2-1 over Gametime and 5-2 over Southern Shock. In the tournament bracket, they won a rematch with Southern Shock, 7-4. In the second round, however, they battled with Wildfire and suffered an 8-7 loss in extra innings.
But they came back through the losers bracket to reach the final. They beat NWA Knockouts 3-2 in extra innings to stay alive then eliminated Gametime, 3-2, and Thunder Black 11-3. In the final, they ran into Wildfire again and this time absorbed a 7-0 loss.