For more photos of this event by Kevin Nagle, go here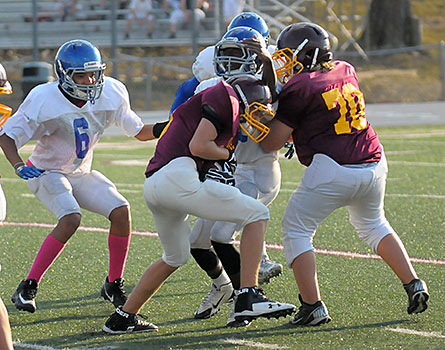 PEARCY — Behind the blocking of the offensive line of Jaylon Russ, Peyton Sipes, Kyle Glymp, Zylin Hildreth and Gabriel Childs along with the rest of the offense, Martavion Earl and Chris Gannaway combined to run for 299 yards and four touchdowns on eight plays as the Bryant White Hornets seventh grade team of Bryant Middle School steamrolled to a 46-14 victory over the Lake Hamilton Maroon Wolves seventh grade Monday night.
Earl, with 195 yards on four tires with three touchdowns, ran his season total to 855 yards with 15 touchdowns. He scored from 70, 80 and 25 yards out. Gannaway added 104 yards on four attempts with a touchdown.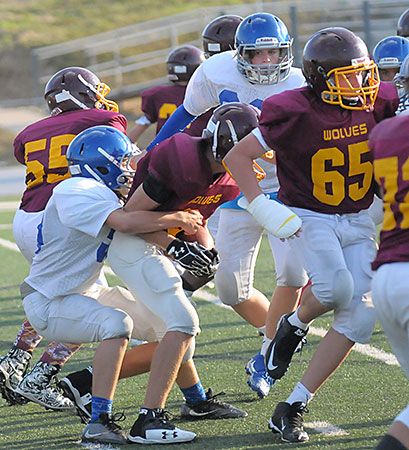 In addition, just before the end of the half, Jordan Knox intercepted a pass and returned it 45 yards for a score.
The Wolves scored both touchdowns late in the game. Their lone threat came in their opening drive of the game.
"They had a big, physical runner but my starters were able to stop him," noted Hornets coach Josh Fonville. "That first drive, they reached our 20 with him gaining all the yards."
Once the defense rose up and stalled the march, it ended when the Hornets' Ethan Primus intercepted a pass at the 3.
The Wolves scored twice late with their starters as Fonville worked in his reserves.
"We have some really special players in this group," the coach said. "We have three games left, two next week against Benton and North Little Rock the week after."
The Hornets will play two games at Benton on Monday, Oct. 16, with the first team playing in the first half of both games and the reserves playing in the second halves. The game at North Little Rock is Monday, Oct. 23.