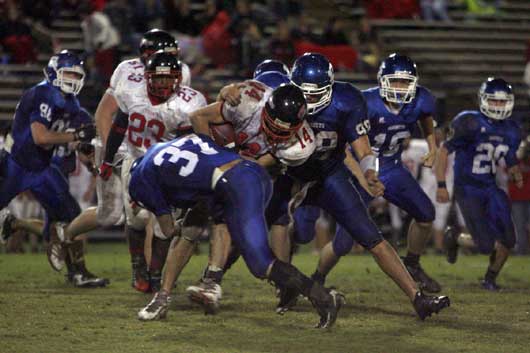 By Rob Patrick
Here's a telling stat about Friday night's 7A-Central Conference game between the Bryant Hornets and the Russellville Cyclones:
The Hornets finished with 18 first downs to Russellville's eight and 238 yards to the Cyclones' 173.
Yet, the visiting Russellville team, proving to be better mudders than the Hornets on the quagmire of a field at Bryant Stadium, extracted a 14-3 win.[more]
Field position. Until late in the game, Bryant started just two possessions outside their own 20 (best position, their own 30 to start the second half proved to be the only drive of the night on which they scored).
Trailing 14-3, they started two possessions in Russellville territory but couldn't cash in.
Three times along the way, the Hornets started possessions inside their own 15, once at the 4.
They made a lot of yardage getting out of the hole but, under the conditions and against a physical, aggressive Cyclone defense, just couldn't sustain those drives long enough to find paydirt.
Beyond that, it proved crucial when Russellville's Averian Collins came up with two big plays, one of which, according the film as viewed by the Bryant coaches, shouldn't have have counted.
Collins set up Russellville's first touchdown with a 39-yard punt return to the Bryant 31 with 3:50 left in the first half. From there, it took the Cyclones five plays to get into the end zone with sophomore quarterback Lane Reves, in for injured senior Barrett Hughes, doing damage as a runner. Reves, who led his team with 58 yards on 21 carries, sneaked in from the 1 with 2:00 showing on the clock.
Zach Hocker, so effective as a punter and kickoff man, added the extra point to make it 7-0.
The second big play came after Bryant's opening drive of the second half which concluded with Jace Denker's 26-yard field goal to make it 7-3.
Bryant's defense stopped Russellville on the first two plays of the subsequent possession. Facing a third-and-9 from their own 28, the Cyclones went to the air, using the same safe play they's used for their few attempts to that point. Reves was 4-of-7 to that point for a total of 4 yards.
The little hitch pattern to Collins appeared to be well short of a first down when he caught it but he followed with a tackle-slipping run up the sideline for 58 yards to the Bryant 14.
Six plays later, Russellville scored on another keeper by Reves to make it 14-3.
But, after looking at that key pass completion repeatedly on film, the Bryant coaches felt they'd verified what they thought they had seen, what the defense had reacted to, letting their guard down momentarily to allow Collins to streak up the sideline.
Collins, it appeared, had gone to his knees to catch the pass. He should've been down on the spot, Russellville should've been punting back to the Hornets, who should've been enjoying an even greater surge of momentum with the game still 7-3.
Unfortunately, the officials didn't see it, however.
Not that the Hornets didn't have other opportunities to come back but it would've no doubt been a different game had there been a call on that play.
As it stands, the Hornets dropped to 5-1 on the season, 2-1 in the league going into a trip to Conway where the artificial surface will keep it from being a mud bowl at least. Russellville improves to 3-1-1 overall and 2-1 in the league. Cabot, with its win over North Little Rock, has sole possession of first place at 3-0 followed by the Charging Wildcats, the Cyclones and the Hornets.
The race is on. Cabot still has to play Bryant and Russellville. North Little Rock and Bryant will square off later and Little Rock Catholic is still a major factor despite its losses to Cabot and Bryant.
Last year, a heartbreaking loss at Russellville actually proved to be a turning point for the Hornets. Though they would later lose to Cabot when quarterback Jimi Easterling was lost for the season, the Hornets pulled together to make their run into the second round of the playoffs, losing ultimately to the eventual State champion, Bentonville.
"If we're going to get beat, I'd rather get beat now and try to build on what we didn't do tonight," stated Hornets head coach Paul Calley. "Russellville's a lot better football team than I thought they were. They're a lot bigger than I thought they were. They play more physical than I'd seen them play.
"They controlled the line of scrimmage on both sides of the ball," he added. "They won the kicking game but we knew that coming in. The return was big but we also knew we would probably have to take the ball the length of the field every time we had it."
The Hornets forced a punt on Russellville's opening possession thanks in large part to a tackle by linebacker Brennan Bullock on Collins for a loss on the very play that would later turn the game.
Bullock and safety Brady Butler wound up leading the Hornets by getting in on 10 stops each. Linebacker Trey Sowell and defensive end Ryan Cox were in on seven each and mike linebacker Hunter Mayall six.
Hocker punted the Hornets back to their own 10. Behind senior running back Chris Rycraw and a couple of key face mask penalties on the Russellville tacklers that brought Rycraw down along the way, Bryant reached the Russellville 29.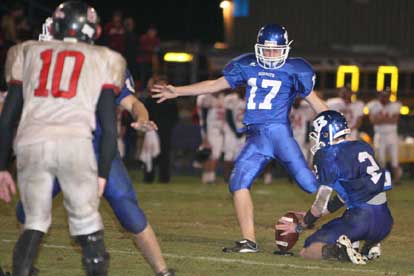 The Cyclones would eventually drop Rycraw for losses 10 times in the game, yet he still accumulated 109 yards on 32 carries. One of those losses came on that opening drive when the Hornets had a fourth-and-2 at the Cyclone 29 but it was more due to a bad snap and a wet football. It ended Bryant's threat and the Cylcones took over on downs at the 32.
"We're over in that mud hole," Calley recalled. "It's ankle deep and there's nothing we can do about it. We can't get any traction, the ball rolls back to Chris and he has to pick it up. That kind of set the tone the rest of the night for us. We were frustrated. I thought a couple of times, it it's a dry field, Chris breaks loose. He makes a cut and somebody misses and he's gone but he couldn't make those quick cuts.
"Without making excuses, we stayed inside all week so we could get something done (in practice)," mentioned the coach. "We weren't prepared for the elements like they were. On the other hand, you hate to go outside when you've got people that are getting sick. I'm second-guessing myself now for not going and practicing outside. I don't know if we could've gotten anything done but, now, I wish we had."
The teams traded punts after that and, momentarily, the Hornets gained the field position advantage. Tanner Tolbert booted the Cyclones back to their own 11. Reves picked up a yard before running into Bullock and Sammill Watson. On second down, a swing pass from Reves to running back Jacob Sparks was stopped for a loss by Bullock and Tolbert. A bad snap on third down might've lost more yardage for Reves coolly picked up the loose ball and forged ahead for 4 yards.
Hocker then made his presence felt with a 62-yard punt to eliminate the Bryant field advantage.
Despite a holding penalty, the Hornets drove the ball. Easterling completed a 19-yard pass to Brandon Parish to make up for the penalty yardage. And, not surprisingly, every time the Hornets completed a pass, it opened things up for Rycraw a bit. He slashed for 6 yards for a first down.
Moments later, Bryant faced a third-and-11 at the 37. Easterling escaped the hard rush by Russellville and completed a 12-yard pass to Parish but the play was called back. Easterling's escape had apparently been aided by a hold. And because it came deep in the backfield as Easterling was scrambling, it wound up costing Bryant 21 yards.
A pass to Rycraw got the ball back out to the 29 for Tolbert's punt.
And he came through with a 41-yard kick only to have Collins break a couple of tackles and scoot up the left sideline 39 yards to the Bryant 31.
That set up Russellville's short TD drive.
"They had a great game plan," Calley said. "Their No. 1 quarterback was out. They spread us out and used a little misdirection. They did a good job of it. (Russellville head coach Jeff) Holt's one of the best in the business and he had those guys ready to play. We played on the same field they did, we played under the same conditions. It probably hampered us a little bit more but they executed when they had to and that return was a big play."
In turn, Rycraw ripped up 15 then 10 yards to get to the Bryant 45 but Easterling had a pair of passes fall incomplete, one a deep ball intended for Tolbert that Easterling couldn't get enough of a grip on to throw far enough. Andrew Tryon, Russellville's safety, nearly intercepted.
The senior quarterback, under pressure all night as Russellville's run blitzes turned into standard blitzes, completed just 7 of 21 passes in the game for 95 yards.
"We kept a dry ball in there but they bring their ends so hard, we couldn't ever get a solid stop on them because we were slipping in the mud trying to get to them," Calley explained. "They were bringing linebackers and we were trying to pull people but we weren't getting the gaps cut off. When they squirted through, we didn't have an answer for it. The type of defense they play, it's hard for us to go to a spread game because we can't protect. So we had to stay in two tight ends or tight end/slot most of the time. When you can't throw your single receiver routes, the kind that we've been completing all year, it's tough."
It looked like Bryant was on its way to a tying touchdown on the opening possession of the second half. After a rare return on a kickoff by Hocker on which Logan Garland reached the 30, the Hornets drove to the Russellville 7. Rycraw broke a 26-yard run then Easterling kept for 27 to the 17.
A pass interference call, one of 14 penalties against Russellville, on a throw into the end zone converted a third-down play and got Bryant to the 8 but, on the next play, Rycraw was hauled down by hard-charing safety Jackson Jacobs at the 13.
Rycraw followed with a 6-yard run to the 7 where, on third down, Easterling, off a fake to his running back, rolled right and threw into the end zone toward fullback Marcus Harris only to have Russellville corner Bradford Webb, with a lunge, knock the pass down at the last second.
So the Hornets settled for Denker's field goal.
After Collins' controversial 58-yard gain to the Bryant 14, Reves made runs of 5 and 6 yards. After a pair of procedure penalties pushed the Cylcones back, the 6-3 sophomore QB kept for 10 to the 3. He scored on the next play.
"That was something we really had not prepared for," said Bryant defensive coordinator Steve Griffith regarding Reves. "We did not know what this young man's talents were. Of course, we prepared all week for the talents of their starting quarterback (Hughes) and their throwing game. They, evidently, didn't think that was to their advantage tonight and it took us a little while to make some adjustments to get that lined out. We thought we did a pretty good job against what they were doing in the second half but they got the big play on the pass and that was kind of the killer. Most of the second half, we played pretty good football but you can't give up the big plays."
Russellville got another chance to score after forcing a three-and-out. Tolbert shanked his punt for only 13 yards and the Cylcones took over at the Bryant 22. Reves slashed to the 8 but penalties pushed them back three times. When it got to be third-and-goal at the 38, Hocker came on to pooch kick, nailing the Hornets inside the 5.
So, with 96 yards to go and 10:48 left in the game, the Hornets got started on an impressive drive that reached the Russellville 13 in 16 plays.
A first down play there was stopped for a loss. Easterling tried to force in a short pass to Josh Hamption, playing tight end, but the ball was knocked down in the crowd. A third-down pass into the end zone was just out of Parish's reach.
The field goal would've gotten the Hornets within a touchdown and a two-point conversion of tying but Denker came on to try a 32-yard field goal only to get under it as it fell well short with 5:11 left to play.
Thoughts of a reversal of Russellville's rally which turned a 13-0 deficit into a 14-13 win last year in the final two minutes came to mind as the Bryant defense made a stand. Tantalizingly, on a second-and-15 at the 15, a bad snap had the ball on the ground inside the 5. Reves, again, managed to recover the ball but the Hornets buried him at the 6.
Hocker punted to the Russellville 42 and the Hornets made another bid to cut the margin only to have Rycraw, on a fourth-and-1 from the 33, stopped for no gain.
Russellville took over but, three plays later, Bryant got another shot when Butler smacked down Sparks, jarring the ball loose. Tolbert covered it at the 35.
On first down, Easterling let fly with a deep pass down the right sideline that Garland, never slowing down, gathered in at the 4 before going out of bounds.
On the next play, however, linebacker Aaron McConnell pulled down Rycraw for a loss. On second-and-goal at the 6, Easterling scrambled to keep the play alive then fired into the end zone only to have Tryon step in front of the intended receiver for an interception that sealed the Hornets' fate.
"We'll regroup," Griffith stated, "and get ready to go to Conway and see what we're made of next week."
RUSSELLVILLE 14, BRYANT 3
Score by quarters
Russellville 0 7 7 0 — 14
BRYANT 0 0 3 0 — 3
Scoring summary
Second quarter
RUSSELLVILLE — Reves 1 run (Hocker kick), 2:00
Third quarter
BRYANT — Denker 26 field goal, 7:53
RUSSELLVILLE — Reves 3 run (Hocker kick), 3:05
Team stats
Russellville BRYANT
First downs 8 18
Rushes-yds 37-111 38-143
Passing 6-9-0 7-21-1
Passing-yds 62 95
Punts-avg. 5-40.6 4-38.5
Fumbles-lost 4-1 3-0
Penalties-yds 14-134 4-48
INDIVIDUAL STATS
Rushing: BRYANT, Rycraw 32-109, Easterling 4-27, Jones 2-7; RUSSELLVILLE, Reves 21-58, Sparks 13-33, Collins 2-14, Smith 1-6.
Passing (C-A-I-Y): BRYANT, Easterling 7-21-1-95; RUSSELLVILLE, Reves 6-9-0-62.
Receiving: BRYANT, Parish 4-48, Rycraw 2-16, Garland 1-31; RUSSELLVILLE, Collins 4-66, Neal 1-0, Sparks 1-(-4).