Editor's note: This is a regular feature profiling senior athletes at Bryant High School.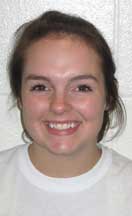 NAME: Jenifer Hubbard
DATE OF BIRTH: Oct. 30, 1991
PARENTS: Joan and David Hubbard
SIBLINGS: My oldest sister's Tonya, she's 30. My brother is Ronnie, he's 29. Amie is 22.
FAVORITE SUBJECT IN SCHOOL: It'd be Science, definitely.
WHAT DO YOU LIKE TO DO IN YOUR SPARE TIME? I like sleeping and watching TV. Sleeping is my favorite.
FAVORITE FOOD: I like spaghetti.
FAVORITE MUSIC ARTIST OR GROUP: Probably, Locksley or The Bridges.[more]
FAVORITE MOVIE: I really don't have a favorite movie.
FAVORITE TV SHOW: Entourage.
WHAT WAS YOUR FAVORITE TOY AS A KID? I loved my Furby.
WHAT ARE YOUR PLANS AFTER HIGH SCHOOL? I plan on going to Lyon College then going to Med School and becoming something in Pediatrics, probably.
OTHER THAN YOUR PARENTS, WHO HAS HAD THE BIGGEST INFLUENCE ON YOUR LIFE? Probably, my friends because they make me competitive in everything I do, like my volleyball friends and the friends that I have during school.
WHAT'S YOUR FAVORITE THING ABOUT VOLLEYBALL? My favorite thing is how you can get so excited about something so small as the ball hitting the court. I love that. I think that's so funny.
POSITION: I'm a back row player
WHAT DO YOU FEEL LIKE IS YOUR PRIMARY RESPONSIBILITY ON THE COURT? Keeping the ball up or, if I'm setting, making sure that everyone knows where they are and making sure, of course, that the set's good.
WHAT DO YOU THINK OF THE SEASON SO FAR? It's a lot better than it has been, a lot better than it has ever been actually. I think we've done a pretty good job. Of course, we're better in our skills and everything but everyone's really, really close. Everyone on the team, we all like each other a lot. I think that's improved a lot.
WHAT'S BEEN THE HIGHLIGHT TO THE SEASON SO FAR? Beating Mount St. Mary's because it's the first time we've ever beaten them and it was a really good game.
WHAT'S IT GOING TO TAKE FOR THE TEAM TO BE SUCCESSFUL THE REST OF THE SEASON? We have to stay consistent with what we do. We can't move backward or let down. We all have to play 100 percent all the time.
INDIVIDUALLY, WHAT ABOUT YOUR GAME ARE YOU MOST CONFIDENT ABOUT? Serving because I can basically put it anywhere (coach) asks me to.
WHAT DO YOU WORK HARDEST TO IMPROVE? Probably my passing. My passing is okay but I'd like to get a little better on it.
AFTER YOU'RE THROUGH PLAYING VOLLEYBALL AT BHS, WHAT DO YOU THINK YOU'LL REMEMBER MOST FONDLY ABOUT IT? The people because we have a lot of interesting memories and very unique people. I'll miss them a lot when I look back on it.