For more photos from this event by Rick Nation go here
By Chris Morgan
As the full moon rose above away side bleachers of Bryant Stadium, senior Ricky Barrientos delved a strike from the top of the 18-yard box into the top right corner of the goal giving the Bryant Hornets a 1-0 lead against the Russellville Cyclones.
That lead held until the final seconds of the match when Russellville got a tying goal. The contest ended in a deadlock.
At the starting whistle, the Hornets played similar to the first game of the season against Little Rock Hall, creating opportunities to score, but coming up just short on finishing. The Hornets maintained possession on Russellville's back third throughout the first half.
"There were some misses, same thing as in the Hall game," head coach Richard Friday said. "Realistically, that's the part of the game that is needing to be fixed, decision making and the final third we have to clean up."
In the second half of the match, momentum often shifted from one team to the other. Early the Hornets faced pressure from the Cyclone midfielders but managed to keep shooting to a minimum with an experienced back line of defenders.
Momentum shifted back in the Hornets' favor with 26:22 left in the match, when Barrientos took a hard shot from the top of the 18-yard box, placing the ball in the top corner, freezing the Russellville keeper. The goal would give the Hornets a boost of confidence for a short time, allowing them multiple other opportunities to score soon after, all of which came up just short, however.
Panic would hit the Hornets in the last 10 minutes of the match, when a Russellville crossing shot hit the outside post staying in play with 7:10 left on the clock. This would not be the last scare for the Hornets. With 5:20 left, the Cyclone offense broke the ball past the Hornet defense getting the ball past the keeper, delivering a seemingly game-tying goal. However, the goal was waved off because the Russellville player had been called offsides.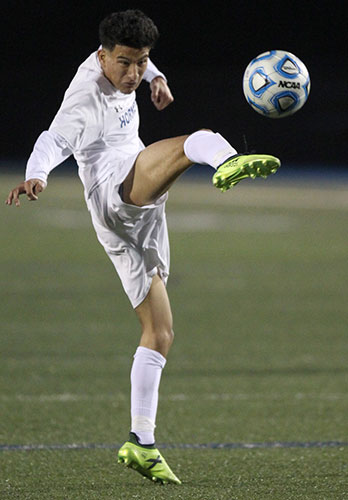 After that close call, a sigh of relief swept across the home side stands. Unfortunately, the relief would be short-lived. In the last minute, a miscommunication left the Hornets' defense open giving up the tying goal as time expired.
"We dominated the game, we made one bad decision," Friday said. "It was what it was. I think we had a chance to win the game. We should have won the game."
The Hornets travel to Fort Smith for a tournament, facing off against Springdale in the first round on Friday, kick off is set for 5:30 p.m., at Northside High school.