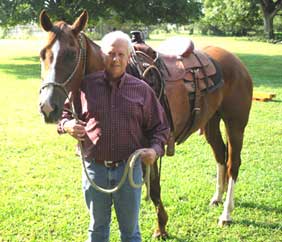 By Jonathan Portis / Special to CARTI
NORTH LITTLE ROCK — Chances are you may have spotted a familiar face in a new television advertising campaign from the Central Arkansas Radiation Therapy Institute.
Saline County cancer survivor Walter Gould is seen in the new CARTI commercials. Gould, who lives in East End, received radiation therapy at CARTI/North Little Rock.
The commercials are part of CARTI's new "Fighting in Your Corner" theme, which is an extension of CARTI's "Bringing the Fight to Cancer" campaign.[more]
"We are highlighting patients who have 'chosen their allies well' in the fight against cancer," said Alison M. Melson, vice president of communications and marketing for CARTI. "We wanted real people who understand the importance role CARTI plays in fighting cancer throughout Arkansas."Melson said the new theme will be echoed in newspaper advertising and billboards.
In the commercials, Gould stands at a fence with one of his show horses in the background.
Gould is a prostate cancer survivor and was eager to participate when CARTI officials contacted him. By coincidence, Gould was the project manager when the original CARTI building was constructed in Little Rock in the mid-1970s.
"It gives me a different perspective on it," Gould said. "I never thought I'd need CARTI when I was building it. But it was the only place I would consider."
Gould was diagnosed with prostate cancer in June 2006. He had surgery in September 2006 and underwent radiation therapy at CARTI in February and March 2007.
"I'm doing fine now," he said. "The experience at CARTI has broadened my world. I went in expecting one thing and came out with something completely different."
Gould explained that he met other patients who have since become among his closest friends. In addition, he regularly volunteers for CARTI fundraising events and uses his experience in helping with support groups that provide information and counseling for prostate cancer patients.
"I was scared to death the first time I walked in the doors," Gould said. "Everybody there was so nice. Over the years I've talked to patients who have been treated at several CARTI facilities around the state and they all had the same experience and they all say the same thing: 'The CARTI staff helped me calm down and feel normal. They were so comforting.'"
It was while he was in the waiting room that Gould met his new best friends. "One is a retired Air Force general who also had prostate cancer. The other is a woman who was receiving radiation for breast cancer. We just bonded as we went through it together. We were like soldiers who go through battle together. We had a shared experience and now we're really close friends."
Gould, who is still in the construction business, has become a major volunteer for CARTI fundraisers.
"I've worked with them on the Ragin' Cajun, the crawfish boil in the River Market Amphitheater, and the Tour de Rock bicycle ride, and the All that Jazz auction, and the Festival of Trees," he said.
with his work and his volunteering for CARTI, Gould still finds time to raise show horses.
"You could say it's another part of my therapy," he said.
CARTI is a nonprofit radiation therapy center with facilities located Arkansas in Little Rock on the St. Vincent, Baptist Medical Center and UAMS campuses, as well as in Conway, Mountain Home, North Little Rock, and Searcy. For more information, visit www.carti.com.