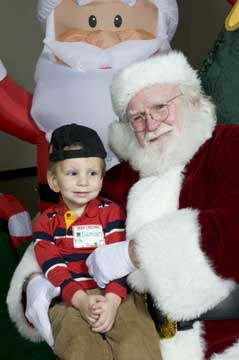 LITTLE ROCK — Two young cancer survivors from Saline County were among 70 pediatric cancer patients and families visited by Santa Claus at the annual CARTI Kids Christmas Party held Nov. 22 at the Scimitar Shrine Temple in Little Rock.
CARTI Kids attending the Christmas party ranged in age from 2-18 years old, coming from all across Arkansas, Missouri and Texas for the celebration. Santa delivered presents to each CARTI Kid and his or her siblings with the assistance of his "elf-for-a-day," Mrs. Arkansas 2009 Nicole Knapp of Conway.
Jaxon Lee, of Benton, was only four months old when he was diagnosed with acute myeloid leukemia (AML) in 2001 and received treatment at CARTI/UAMS. Now an 8-year-old second grader at Episcopal Collegiate School in Little Rock, he is the son of Karen and Cliff Lee of Benton.
Damian Matte, of Mabelvale, was diagnosed with a pineal blastoma brain tumor in 2007 at the age of 1 and received treatment at CARTI/UAMS. The now 4-year-old toddler is the son of Kristi and Jonathan Matte of Mabelvale.[more]
CARTI Kids are current and former pediatric cancer patients who serve as a network of support and encouragement to others.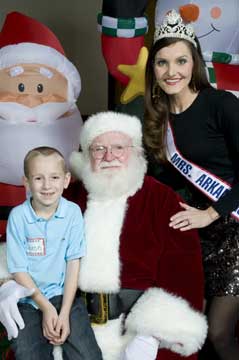 "CARTI is the primary radiation therapy provider in Arkansas for the treatment of pediatric cancer patients," said Mary Machen, CARTI Director of Community Outreach and CARTI Kids program director. "Having the opportunity to bring these young survivors together each year is the best gift we could ever hope to offer the families of those who are going through, or who have gone through, the cancer diagnosis of a child.
"At the CARTI Kids Christmas Party, we celebrate much more than the holidays," Machen said. "We celebrate survivorship, and we celebrate life."
Over 300 people attended the party, which featured a luncheon catered by Corky's Ribs and BBQ of Little Rock. Activities and games were overseen by volunteers from CARTI, Delta Dental, Hall High School, the Little Rock Athletic Club and members of the University of Arkansas chapter of Sigma Nu.
The CARTI Kids Christmas Party is funded by proceeds from the CARTI Kids Golf Classic and the CARTI Kids Memorial Trust Fund. To date, the CARTI Kids Golf Classic has raised almost $3 million to date for CARTI pediatric cancer programs and services.
In addition to the annual Christmas party, CARTI Kids also participate in other CARTI-sponsored activities throughout the year such as summer trips and weekend retreats.
The 24th annual CARTI Kids Golf Classic is scheduled for Oct. 3-4, 2010 at Maumelle Country Club. For more information, contact the CARTI Foundation at 501-296-3406.
CARTI is a nonprofit radiation therapy center with facilities located Arkansas in Little Rock on the St. Vincent, Baptist Medical Center and UAMS campuses, as well as in Conway, Mountain Home, North Little Rock, and Searcy.