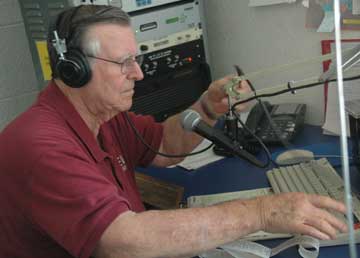 By Martin Couch
BENTON — It's the end of an era for Saline County.
The 11th annual Salt Bowl will be the venue for KEWI-AM 690 radio's Jim Landers' last football broadcast.Landers, who has been in radio and television media since he was in the ninth grade at Benton, will hand over the reins of his legendary football calls to Dr. Shane Knight, a Russellville native. Landers, 75, will continue to do basketball games and baseball games for KEWI later this season.[more]
"It's been a lot of fun broadcasting games for people like Cliff Lee and Travis Wood," Landers said. "I broadcasted a few Bryant games.
"It's great to look back down the line having rubbed shoulders with people like Joe Lewis, the heavy-weight champion of the world, and people that I had on my show when I worked for Channel 11 in Little Rock. It brings back a lot of fond memories and kind of makes your eyes bully a little."
Landers worked at KTHV and KARK in the 1960s, then later KAIT in Jonesboro as the sports anchor for all three stations. He bought KEWI radio 16 years ago and has aired the Benton-Bryant football rivalry ever since.
"I'll tell you, used to when Bryant came over here it was a cakewalk for Benton, but I'm going to say it hasn't been a cakewalk for Bryant. Benton always gives their best they can," Landers said. "They can always give Bryant all they can give, but Bryant has picked up a lot of kids out of the Little Rock area and they've become quite competitive statewide. I don't think anybody in the state can make Bryant look ashamed. Paul Calley has done a marvelous job. He's one of my favorite people.
"They have great athletes over there," he continued. "But you are a great coach, because you have great athletes. Paul, I hate to tell you that, but I think you know it. Bryant and Benton have a lot of camaraderie off the field in personal life, but when it comes to the kickoff or tossing up that basketball or the first pitch or whatever the competition, each side gives 199.99 percent effort. I enjoy the rivalry tremendously.
"I've got a lot of friends in Bryant. It's a great town and Tom Farmer has done a marvelous job as the athletic director. Sometimes he's like an old sore-tailed tomcat. He's got his moments, but he's great."
Though Landers will make his last football broadcast on Sept. 3 at War Memorial Stadium, he plans to be in attendance at every home football game for the Panthers and might even come to a Hornets home game during the season.
"I'm not saying I won't attend the games," he said. "I will be at every one of them. I will get to enjoy watching the games for a change. You get lost trying to do a ballgame to the extent you see only what you have to announce. You don't see those other blocks or tackles or things of that nature. You don't see that other stuff, because you have someone else analyzing the show and that's his job. I want to see those things.
"Dr. Knight can get the job done and get across to the folks. He's my choice for successor in football. I'm not saying I can't do basketball or baseball anymore like I have in the past. Simply, I can't fight that public address system. When I can't hear my cues back at the station it's time to stop. Not that I can't hear, I've been accused of hearing a mouse on a piece of cotton, it's just one of those situations where sometimes there are too many obstacles in the way of doing what you feel like people need."
Landers will also be highlighted in a special feature story later this month in the state-wide sports magazine ArkansasSports360.