Photos by Kevin Nagle
Festivities in advance of Salt Bowl XIII, the annual football battle between the Bryant Hornets and[more] Benton Panthers, have been ongoing over the last week with a blood drive at both schools plus a peanut butter drive for the Rice Depot. And tonight there will be community-wide pep rallies held at Everett Buick GMC. Benton, as the visiting team this year, will go first with a pep rally from 5 to 6:30 p.m. The Bryant pep rally will be held from 7:30 to 9 p.m.
On Monday evening, a press conference was held to highlight the events. Hosted by Salt Bowl Committee member Shane Broadway, the event annual features the two head coaches, Bryant's Paul Calley and Benton's Scott Neathery, as well as a pair of players from each team. This year, the Hornets were represented by senior quarterback Hayden Lessenberry and senior defensive lineman Kordell Boykins. Benton was represented by senior linebacker Carson Holloway and senior running back Wallace Foote.
After serving as the opening game of the season for both teams since 2004, this year's game, which kicks off at 7:30 p.m., had to be moved to the fourth week because the two teams have been placed in the same conference, the 7A/6A-South, though they will play at different levels in the post-season.
Bryant, a Class 7A school, comes into the game 2-1. Benton, a 6A team, is 1-2. Bryant has won six Salt Bowls in succession but Benton holds a 24-14-1 record in the series all time, dating back to 1974.
But all the usual celebrations, festivities and community charity will still be involved. Bryant will be the home team this year so Hornets fans will enter on the west side of War Memorial Stadium.
Advance tickets are available at Big Red Stores. With the purchase of advanced tickets only, Salt Bowl t-shirts will be included. Tickets will be available at the gate for $8 with no t-shirt included. Only Arkansas Activities Association passes will be accepted. School district passes will not be accepted.
Friday, game day, will begin with the head coaches joining the "The Show with No Name" morning show on KBEZ, the 103.7 FM, "The Buzz".
At 5:30 p.m., Arkansas' Largest High School Tailgate Party will be held once again on the east side of the stadium. It's sponsored by Saline County Banks and Credit Unions, which will provide free hot dogs and drinks.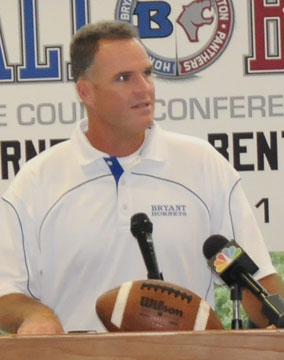 Gates open at 6 p.m. Bryant and Benton Pee Wee football teams will be recognized before the game and, at halftime, the Chick-Fil-A Kick for Chicken contest and the Everett Buick GMC Throw for a Truck contest will be held. Sign-ups for the Kick for Chicken are underway at Chick-Fil-A. Fans can sign-up for the Throw for a Truck at a table set up for the Tailgate Party.
In addition, both schools are partnering with the American Cancer Society by participating in the Coaches vs. Cancer program. Community members and fans can pitch in and support their school today through Friday with the "Text to Give" program. Text "Coach" to 20222 and you will donate $5 to the Coaches vs. Cancer program.
In conjunction with the donation event, the first American Cancer Hero of Hope will be recognized. Sherri Cathey, a teacher at Bethel Middle School in Bryant, is currently undergoing cancer treatment and will be in Tulsa, Okla., receiving a new chemotherapy treatment the night of the Salt Bowl. Her sister, Lisa Baxley, and her children Haylee Campbell, 16, Cameron Cathey, 6, Bryannan Cathey, 4, and Savanna Cathey, 16, will be there to accept the honor befor the game.
Here are the comments of the coaches and players:
Coach Neathery: "First of all, I just want to say thanks to everybody, thanks to the athletic directors, sponsors, Shane Broadway — everybody that puts this on every year. It sure is a nice thing for us to come to play here. I know the boys enjoy coming here and playing at War Memorial. Not only is it a big rivalry game, this year it's the first conference game which is very important, a lot more important than the past few years.
"This is something that we all look forward to, it's also nice we get to do it in a place like this.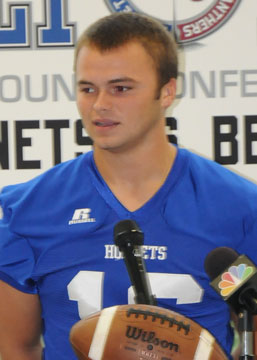 "As far as our team goes this year, I feel really good about our football team. I'm going to let (the players) talk, Carson Holloway and Wallace Foote. Carson is a returning all-State linebacker. Wallace is a returning all-conference running back. They both do a great job for us. They're captains on our football team."
Holloway: "It's a big deal to get to play in the Salt Bowl. Everybody gets hyped up for it, the big tailgate party. It's the biggest high school football game of the year. It's a big deal to be part of the Saline County rivalry. I hate that it's my last year to get to play in it.
"We've been preparing since June. All summer long, we've practiced hard. We've worked hard and it's time to show them what we're made of."
Foote: "First, I want to say I just appreciate y'all having me here. Being able to play in this big rivalry game — I've got friends on Bryant, I've got friends on Benton — it's just something fun to play in.
"We've been working hard. I know they've been working hard. They've got a good coach and we've got a good coach too. We're just ready to play Friday. We've been going back and forth in this rivalry. Last year, we came close to winning. We both played very well but we should've pulled it off. We let them slip off with the win.
"This year, we want to show what we're made of, how we've been working ever since June."
Coach Calley: "I want to echo what Coach Neathery said. This wouldn't be possible without our sponsors. Thank you guys so much. You're doing something for these kids and communities that not everybody gets to do. It's really special and I don't think there's anywhere in the state of Arkansas that can compare to this. It's great.
"Today, I have with me Hayden Lessenberry and Kordell Boykins. Both of these guys are three-year starters. They're leaders on the field and in the classroom, great examples to our younger players, and I appreciate these guys very much. That's why I brought them with me today.
"I'm going to let Hayden tell you a little bit about the offensive personnel and Kordell can tell you about the defensive personnel. I get to talk all the time. I want you to hear these guys."
Lessenberry: "This year's Salt Bowl is the biggest game of my life. It's my senior year. Everybody's looking forward to it. It's a great rivalry between Benton and Bryant and just to be able to play in War Memorial Stadium in front of all the fans that come out, it's a once-in-a-lifetime kind of experience. That's what I'm really looking forward to this year. It's going to be my last year playing for the Bryant Hornets, which I've loved every second of it.
"This year, our offense — we've got a lot of new guys on our offense, not many guys returning, but we have a lot of young special guys that are going to come out and they're going to step up. We've asked them to do a lot and they've answered to everything the coaches have been saying. They listen very well.
"We're just going to come out and do what we do, and try to come out of here with a victory."
Boykins: "First of all, I want to thank God for letting all of us get here safely. I want to thank my coach, my players and everybody in the Bryant and Benton for coming out supporting us for the years this has been going on, the years I participated.
"Our defense, we're pretty stacked this year. We've got a lot of people returning and we have a lot of new people that are stepping up, on both sides of the ball. We've got a lot of young talent that's going to be keeping Bryant alive the next couple of years after we leave.
"I think this is going to be a very, very exciting game this Friday. This is the first time it's actually conference so not only do we have that desire, that Salt Bowl mentality to come out with a victory, but it's that first conference game. It's going to mean so much for both of us, so much to Bryant and Benton. It's a good thing for the community. We're going to come out and play hard.
"The thing that I love about this game and the set up this year is that we've had three games to get ready and smooth out those edges and everything. We're going to come with it and I'm looking forward to it."
Salt Bowl 2012 sponsors and charities include Everett Buick GMC, Big Red Stores, Jones Heating and Air, Bryant Braces, Chick-Fil-A, Terry's Waste, Ink Enterprises, Arkansas Rice Depot, American Red Cross, American Cancer Society, Benton and Bryant Chambers of Commerce, and the Saline County Economic Development Corporation.