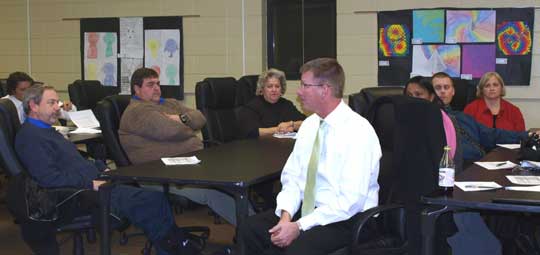 By LANA CLIFTON
Growth in the city of Bryant has resulted in an increase in students within the school district. The school board and district administration have been examining what this means for the current school facilities and have set up committees to come up with some ideas for how to deal with the current and projected future growth. At a public meeting held on Wednesday, Jan. 6, Delton Kitchell, Director of Administrative Services for the district, presented growth data and some of the results of the committee meetings.[more]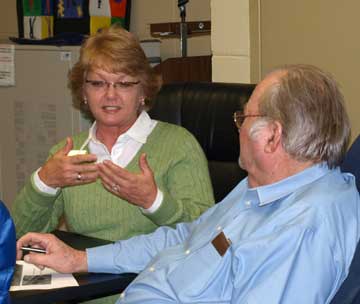 According to Kitchell, Arkansas Code 6-21-806 requires each district in the state to present a draft of the school district's facilities master plan in a public hearing and take public comment. Ten-year facilities plans must be presented to the state each year by each district.
Kitchell provided handouts of the current master plan, but emphasized that there would be modifications before it was approved and sent. "This is a living document. It is constantly being changed, almost daily," explained Kitchell.
Aside from meeting as a necessity to follow the law, Kitchell said there were three other reasons for the facility meeting. "We are going to provide you with where we are and ask for your support and input into the plan," said Kitchell.
Kitchell shared two possible plans and an alternate building suggestion. The plans all involved the construction of at least one new school building and reconfiguring the placement of different grade levels.
Plan "A" would involve changing the high school campus to a 10-12 grade configuration. The ninth grade would combine with eighth grade in the existing Bryant Middle and Bryant Elementary School campuses as an 8-9 grade junior high. There would be two 6-7 grade middle schools under this plan – one on the remainder of the current Bryant Middle School and Bryant Elementary campus and the other at the current Bethel Middle School. The plan would also require the purchase of land to build a new K-5 facility for Bryant Elementary with a capacity of around 1,200 students. Rooms would be added as needed to the other elementary school so that each could hold up to 650 students.
Plan "B" would also change the Bryant High School Campus to 10-12 grade, but would put all ninth grade students in the district in the current Bryant Middle School building as a freshman academy. Seventh and eighth grade would also be on the campus. The plan would require Bethel to be changed to a 5-6 grade campus and land would be purchased on which to build a new 5-6 grade Bryant Middle School. Additional land would need to be purchased for a K-4 Bryant Elementary School. All other elementary schools would change to K-4, eliminating the need to modify those buildings.
The "Alternate Building Suggestion" was described by Superintendent, Richard Abernathy as a phase approach. This plan would involve several stages, but would require immediate action for one of the phases. In this plan, classrooms would be added to all elementary campuses, except Hurricane Creek, to increase capacity to 625. Funding would need to be requested immediately to purchase property on the south side of the interstate in 2010. This property would be used to eventually build two elementary schools for the current Bryant Elementary students. The next phase, after the first elementary school has been built, would involve moving the ninth grade off the high school campus. Campuses would then be reconfigured to two 6-8 campuses and eight K-5 campuses. After the second elementary school is built, the final configuration of schools would be: one 10-12 school, one 8-9 campus, two 6-7 campuses, and eight K-5 campuses.
The board members in attendance, Rhonda Sanders, Joe Wishard and Scott Hart, asked questions of the committee members present at the meeting. They discussed issues such as reasons for different class configuration ideas, traffic and property concerns, students' safety, staffing changes that might be required with higher school populations, best use of funds and other aspects of the reasons behind the different plans.
After the discussion, Sanders expressed her gratitude for the committees' work. "I appreciate everybody's work and thoughtfulness," said Sanders. "It is coming together better than you may think, because you all are really going the same direction and are on the same page, and we really appreciate it."
Abernathy explained the urgency of getting the plan together and encouraged continued input. He requested that any additional suggestions be sent to Kitchell, adding, "We have to put something together for the board. The board has to approve something by Feb. 1. We have to submit it by Feb. 1. We have several options for the board and we, probably, administratively will come up with what document we think is best, and the board will accept, reject or modify."