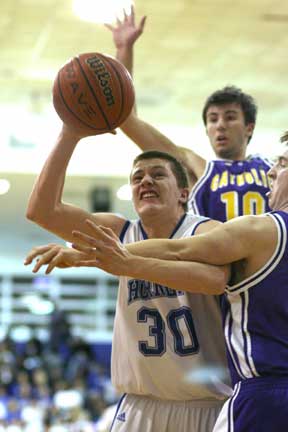 By Rob Patrick
This is no news flash:
The 7A-Central Conference in boys basketball is rugged. There are teams with great athletes, some with great quickness, some with great strength, some with both. When it comes to sheer strength, however, none can match the Little Rock Catholic Rockets.
That alone makes them a tough match-up for the Bryant Hornets, nearly every year.
And 2010 was no different as the Rockets muscled their way to a 56-39 win over the Hornets in the conference opener for both teams.
"They play good defense, they played smart, they're a well-disciplined team, a well-coached team," stated Bryant head coach Ron Marvel. "They're a real hard team to play against because they're real physical and we're definitely not very physical."
But it was another kind of toughness, too, that Marvel wanted from his players.[more]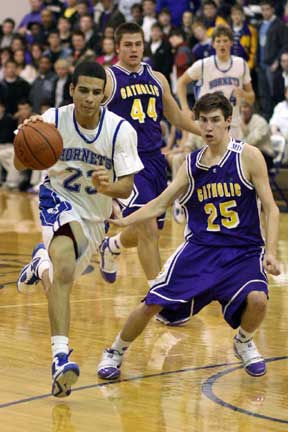 "I want them to learn some mental toughness," he asserted. "We've got to be mentally more tough. We've got to be more physical because we're going to play more teams just like this one. We've got to definitely be more physical and we've got to be tougher. We're just not mentally tough enough right now and we've got to get there."
The Hornets, he explained, tend to let things that don't go their way during a game get to them, to get them down.
And things didn't go their way too much right for the start against the Rockets who burst out to a 9-2 lead. K-Ron Lairy knocked down a 3 and, after Catholic's Matt Morris hit a free throw to make it 10-5 at the end of the first quarter, Brandon Parish drove to the hoop and dished to Kendall Butzlaff for short jumper to trim the lead to 3.
Marco Piccinini answered with a 3 and, after Bryant suffered turnovers on consecutive possessions, he hit another one to make it 16-7 all of a sudden. Bryant was never as close again though the Rockets struggled for a while to put them away.
Catholic coach Tim Ezzi subbed in complete groups of five players at a time approximately every three minutes and there was little drop off. From the first group, Spencer Adkins scored 13 points and Alex Cope 12 (including 7 in the first quarter). From the second group, all-state football player Garrett Uekman hit for 11 while Chase Miller and Piccinini combined for 13.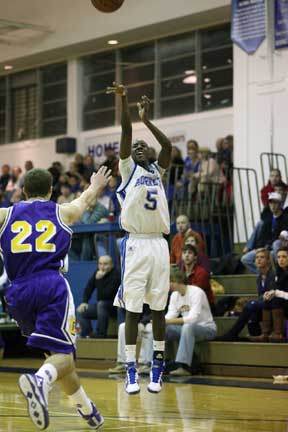 Lairy led the Hornets with 19 points. Parish was the next highest scorer with 5. Senior forward Dontay Renuard, coming off a season-high 21 points against Sheridan on Tuesday, was held to 2 points, partly because of early foul trouble.
"I thought our guards had to play way too hard," Marvel said. "The two that play (Lairy and Parish) were pretty well worn out by the end of the game. But if we don't leave them out there then we don't have much chance to stay in the ballgame either.
"Dontay picking up the fouls early probably hurt but he still played quite a bit and for one of your leading scorers to just score 2 points and get two rebounds, it doesn't make a night very good for you," he added.
The Rockets out-rebounded the Hornets by seven, forced nine more turnovers and shot just under 50 percent from the field (20 of 43) while the Hornets finished just over 30 percent.
The first-half margin reached 20-9 then the lead fluctuated between 9 and 11 the rest of the way before intermission. It took a long 3 by Parish at the buzzer to keep the Hornets within 9 at 25-16.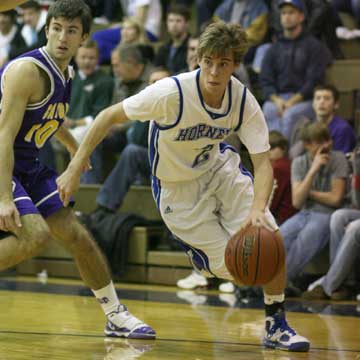 Catholic managed to bump the lead to 33-20 but the last two of those Rockets' points came on free throws by Uekman who picked up a technical during the play resulting in the foul.
At the other line, Lairy converted twice to make it 33-22. On the subsequent possession, Butzlaff fed K.J. Hampton inside for a basket and it was a 9-point game again, 33-24.
A frustrating series of events followed as the Hornets tried repeatedly to whittle the lead further. After a Catholic miss, Lairy drove to the other end. In the lane, he ran into one of the Rockets' brawny players. There was contact but it wasn't the slighter Lairy that hit the floor. Though it seemed unlikely he could knock any of the Rockets down, he was cited for the charge. With 3:05 left in the quarter, however, Hampton was fouled grabbing an offensive rebound. He went to the line but missed both shots. L.J. McLaughlin battled for the rebound for the Hornets and whipped a pass outside to Lairy for a 3 only to have it rim out.
And the Rockets took advantage with 4 quick points to increase the margin to 13. Bryant did get a lift at the end of the quarter though when they got a fastbreak going and Parish whipped a wrap-around pass to Lairy for a layup to beat the buzzer. Catholic still led 37-26.
When the Rockets opened the fourth quarter with 6 straight points, they had their largest lead of 17 matched only at the very end. Bryant tried to hang around but, worn down, could get no closer than 12 when Lairy hit a 3 and McLaughlin fed Renuard for a layup to make it 43-31 at the 4:39 mark.
Adkins drained a 3 to extend the lead again. The Hornets traded baskets for a few minutes before the Rockets finished with a flurry to match their biggest lead.
Now 7-8 overall, the Hornets will face another muscular (and taller) team at Van Buren on Tuesday hoping to notch their first league win.Catholic, 4-4, hosts Cabot.
ROCKETS 56, HORNETS 35
Score by quarters
LR Catholic 10 15 12 19 — 56
BRYANT 5 11 10 13 — 39
ROCKETS (4-4, 1-0)
Player fg-fga ft-fta reb fls pts
o-d-t
Cope 4-7 3-3 2-2 4 0 12
Adkins 4-9 2-2 0-0 0 0 13
Kiernen 0-1 0-0 0-1 1 1 0
Hartnedy 1-3 0-0 0-0 0 0 2
Morris 1-3 1-2 2-5 7 0 3
Cronin 1-3 0-0 2-5 7 0 2
Atkinson 0-2 0-0 0-1 1 2 0
Piccinini 2-3 0-0 0-2 2 1 6
Uekman 4-7 3-4 2-2 4 3 11
Miller 3-5 1-1 0-1 1 1 7
Team 1-2 3
Totals 20-43 10-12 9-21 30 8 56
HORNETS 39
Player fg-fga ft-fta reb fls pts
o-d-t
Parish 2-6 0-0 1-1 2 0 5
Lairy 6-15 3-4 0-2 2 2 19
Hampton 2-3 0-2 1-2 3 5 4
McLaughlin 1-5 2-4 2-4 6 0 4
Renuard 1-3 0-0 1-1 2 3 2
Butzlaff 1-1 2-2 1-2 3 0 4
Motto 0-2 1-2 0-1 1 2 1
Prescott 0-0 0-0 0-0 0 0 0
Rayburn 0-0 0-0 0-0 0 0 0
Team 2-2 4
Totals 11-35 8-14 8-15 23 12 39
Three-point field goals: Little Rock Catholic 6-14 (Adkins 3-7, Piccinini 2-3, Cope 1-2, Atkinson 0-2), Bryant 5-16 (Lairy 4-10, Parish 1-3, McLaughlin 0-2, Renuard 0-1). Turnovers: Little Rock Catholic 6, Bryant 14. Technical foul: Little Rock Catholic, Uekman.