For more photos by Rick Nation, go here
It took nearly nine minutes of the first half for the offense of the Bryant Hornets freshman team to get on the field. But when they did, they scored five touchdowns in 7:11 on their way to a 56-6 victory over the rival Benton Panthers freshman team to close out a 10-0 season. The second for a Bryant freshman team in as many years.
"We've had good players and we've got great coaches," stated Hornets head coach Kenny Horn. "I can't say enough about John (Orr) and Guy (Brown) and Blake (Ratliff). They run the show. All I'm doing is following along. They're outstanding.
"It's been a weird year, obviously," he added. "The kids were very eager once we got going; probably more eager than I've seen. They took to it and worked really hard. They were focused up early and really wanted to be better, really wanted to play.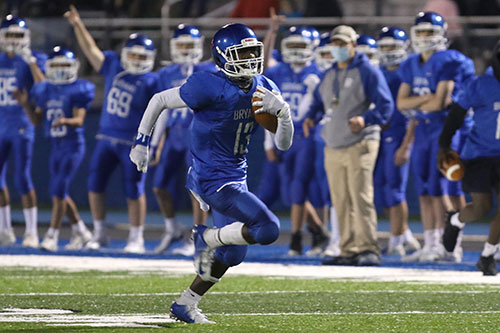 "All we want to do is teach them to win and try to teach them to be better football players and get them all up to the high school because we want to win State championships on Friday," the coach related. "Hopefully, we're doing our job. I hope we are, getting these kids ready and teaching them to play and, hopefully, they can be better people too along the way."
That five-TD scoring blitz all came on passes by Hornets' quarterback Gideon Motes, who came into the contest with a freshman record 27 touchdown passes this season. With the mercy rule in effect for the ninth game in 10 this season, Motes didn't play in the second half. So, he finishes the campaign with 32.
Motes completed 8 of 11 passes for 229 yards, giving him 73 completions out of 104 attempts this season with just two interceptions and 1,798 yards. He also rushed for 33 yards. That ran his rushing total for the season to 254 yards rushing and his total offense to 2,052 yards.
Mytorian Singleton caught three of those TD tosses. He had five catches for 133 yards. Drake Fowler caught two touchdown throws for 98 yards. He also scored on one of Bryant's two pick-sixes. Chelton Murdock had the other.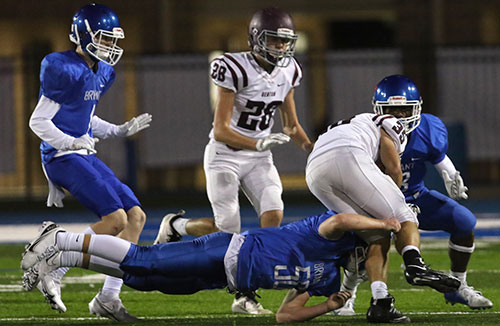 Fowler's 70-yard return of an interception came at the end of Benton's first series in which the Panthers grinded out a first down. With the ball at the Hornets' 34, running back Christopher Barnard was stopped for a loss by A.J. Foreman. On second down, a screen pass from quarterback Peyton McNeely to Colby Howard was snuffed out by Singleton for no game. That set up the interception on third down.
A bad snap sabotaged the Hornets' extra point try.
Benton answered with its lone scoring drive. After a short kickoff, the Panthers picked up 15 yards on a pass interference penalty. Behind the running of McNeely and Barnard, they reached the Hornets' 14. But Bryant's Sebastian Oltmans, making his fourth tackle in as many plays, tracked down McNeely for an 11-yard sack.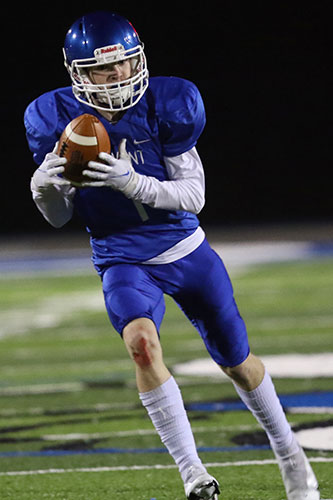 But the Panthers, aided by a holding penalty, got back to the 8 and, from there McNeely found Howard on a slant for the touchdown.
A pass for a two-point conversion fell incomplete so it was 6-6 with 7:17 left in the half.
Enter the Hornets' offense.
That first series took the longest, seven plays to go 65 yards. Jaden Ashford had runs of 10, 7 and 8 yards. Motes delivered a 25-yard keeper. Once they got to the 7, Motes threw a shovel pass to Singleton who raced to the corner for the touchdown.
Ashford ran in a two-point conversion to make it 14-6.
That drive took 1:32 off the clock.
The Panthers, in turn, went three-and-out. Fowler broke up a pass and Foreman pressured a third-down try which fell incomplete.
Punted to their own 42, the Hornets' offense went back to work. A play in, Motes threw to Singleton for a 37-yard touchdown. A two-play drive taking only 32 seconds.
On the ensuing kickoff, the ball fell loose in front of a Benton player and Isaiah Rivera recovered for the Hornets. This time, it took 46 seconds to score. On a fourth-down play, Motes and Fowler hooked up from 34 yards out.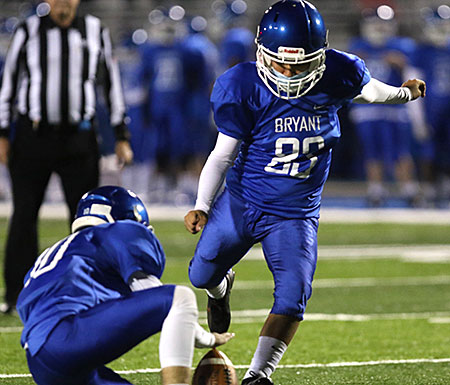 With a stop for a loss by Alex Martin and Oltmans, Benton went three-and-out again. Punted back to their own 21, the Hornets needed just 34 seconds to find paydirt. Singleton hauled in a deep pass and went 69 yards to the house. Jaime Perez added the extra point and it was 35-6 with 1:26 left in the first half.
Singleton intercepted a pass on Benton's second play of the ensuing possession. It took 41 seconds to make it 42-6 and a mercy rule lead. Fowler caught the 64-yard TD strike and Perez was good on the PAT.
Bryant's first-team defense played the first series of the second half. Benton gamely drove from hits 35 to the Bryant 6. A fumble cost them four yards and, with Harold Lynch breaking up a pair of passes, the Panthers faced a fourth-and-goal at the 10. A swing pass was picked off by Murdock at the 16 for the second pick-six.
The Bryant reserves stopped Benton's next drive at the Hornets' 45. Two plays later, trying to keep possession on a third-and-13, quarterback Aiden Hughes swung a pass to Nick West in the flat and West turned it into a 58-yard touchdown.
Christian Chandler's extra point set the final score with 3:36 to go on the running clock.