By Rob Patrick
Photos by Rick Nation
Over the last four years while the Searcy Lions have been winning back-to-back-to-back-to-back[more] Class 6A State soccer championships, the only teams that have been able to beat them have been Little Rock Catholic and Bryant.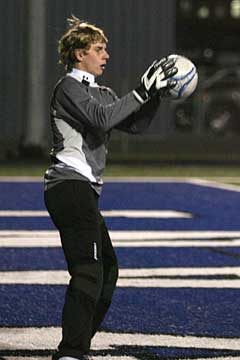 The Hornets made a bid to pull it off again on Thursday night but the Lions snapped a 1-1 tie with about 15 minutes left to play and held on for a 2-1 win.
"We fought to the last second," said Hornets coach Jason Hay.
The contest was scoreless at the half. Searcy broke the ice in the opening minutes of the second half but, on a goal by freshman Bryce Denker, the Hornets tied it. Denker had a couple of other opportunities but rough play in the box kept him from cashing in.
"We played awesome," Hay stated. "We let them get two kind of cheap ones. I thought we fought our butts off, I really did. I thought we played with intensity. I was really, really proud of our effort. I know effort's not going to get you a win but, I think, considering who we were playing . . .
"Our goal is to win a conference championship," he emphasized. "And all these hard pre-conference games we've got scheduled for a reason. We've got to get better and work on it. I thought tonight we played as good as we could. We just came up a little short.
"Searcy's a good team," Hay added. "They're very physical and well coached. They deserved to win. They got us."
Now 2-2-1 on the season, the Hornets will travel to Texarkana for a tournament, opening against either Rogers or De Queen on Friday night at 5.
On Monday, they'll play in throwback uniforms when they renew their rivalry with the Benton Panthers at Bryant Stadium.