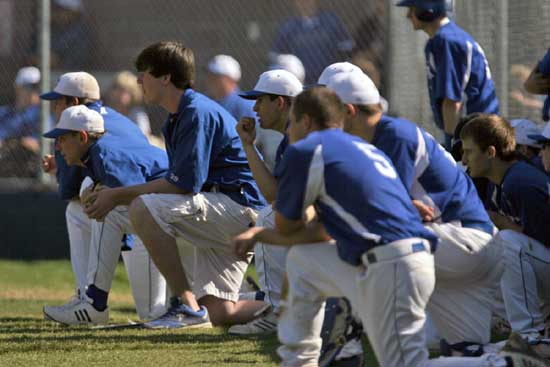 By Rob Patrick
Photos by Rick Nation
The clutch, two-out hitting that marked the Bryant Hornets' first three games — all wins — just[more] wasn't evident enough on Saturday. Lucas Castleberry came through in a pinch with an RBI single in the third and Josh Pultro produced a two-run double in the fourth but the Hornets stranded nine runners including seven in the first three frames in an 8-6 loss to the rival Benton Panthers.
It was the first setback of the season for the Hornets who will take a 3-1 mark into their 7A/6A-Central Conference opener on Tuesday, a doubleheader against the Little Rock Central Tigers at Bryant High School Field.
Benton's Stuart Levy went 3-for-3 with four runs batted in. His two-run single with one out in the top of the sixth snapped a 6-6 tie, making a winner out of right-hander Ashton Roberts who relieved starter Garrison Roy in the fourth inning. Lefty Carson Holloway pitched a 1-2-3 seventh for the save.
The Panthers, from the 6A-South Conference, improved to 5-2 on the season and 3-1 against teams from the 7A/6A-Central, beating Cabot and Russellville as well as Bryant while losing to North Little Rock.
"I'm not disappointed in the effort, just disappointed that we didn't take care of business when we had a chance to score some runs," said Hornets coach Kirk Bock. "We had them on the ropes and we let them off. We just need to do a better job at that.
"Benton did a good job," he added. "They threw strikes, hit the ball hard and put it in play and that's what we needed to see."
The Hornets had spotted the Panthers a run in the top of the opening inning. Brooks Balisterri, who was on base four times and scored all four instances, tripled on the second pitch of the game from Bryant right-hander Caleb Milam. He scored on Roberts' one-out groundout to second. Levy and Holloway had two-out singles but Milam got Matthew Krikorian to fly out to Pultro in center to end the inning with no further damage.
In the bottom of the inning, the Panthers helped the Hornets score twice but it turned into an opportunity to score more. Chris Joiner drew an opening walk then Taylor Brown's sacrifice bunt resulted in a throw to first that pulled Coulton Lee off the bag. With runners at first and second, Tyler Nelson got a sacrifice bunt down that Roy booted, loading the bases with no one out. Clean-up hitter Dylan Cross produced a run with a sacrifice fly to left and when the ball was dropped by Greg Pryor, the sacks remained juiced with no one down.
Roy then walked Landon Pickett to force in the go-ahead run. But Roy rebounded to get Jordan Taylor to ground to third. Krikorian threw to the plate for a force. Pultro then got down 0-2 and, though Roy's next delivery appeared to be wide, it was called a strike for the second out. On the next delivery, the Benton starter induced a tap back to the mound by Evan Jobe that retired the side with the bases still full.
Benton tied it in the third when Balisterri doubled to left, took third on a fly to right by Pryor and scored on Roberts' single in the hole. Nelson, the Bryant shortstop made a diving stop on the ball but made a wild throw to first allowing Roberts to get to second.
Levy was hit by a pitch but Milam got Holloway to tap to Brown at first then ended the inning with a called third strike on Krikorian, leaving it 2-2.
The Hornets regained the advantage in the bottom of the inning but, again, couldn't had more. Levy made a nice play from behind the plate to throw out Cross on a tap up the third-base line for the first out but then Pickett cracked a single up the middle. Taylor followed with a grounder to Lee at first. He tried to get a force on Pickett at second but his throw was late. With two down, Jobe drew a walk to fill the bags again. Castleberry came on to pinch hit for Hurt and, on a 3-1 delivery, pulled a single into left to put the Hornets up 3-2.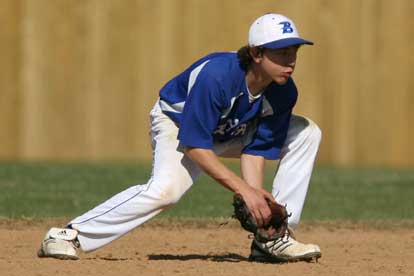 But, with the bases still full, Roy escaped again by fanning Joiner.
Nelson relieved Milam in the fourth and ran into some trouble. After retiring Ryne Besancon, he had two strikes on Roy who pulled the 2-2 pitch into right for a single. A pair of wild pitches allowed courtesy runner Boone Cox to reach third and he scored from there on a single by Taylor Schmidt, tying the game. Schmidt stole second and Balisterri drew a walk. Pryer flew out to left to get the Hornets within an out of getting out of the inning with the game tied. But Roberts slapped a 2-0 delivery into right for an RBI single and, two pitches later, Levy delivered a two-run double to make it 6-3.
Nelson got Holloway to bounce back to the mound to end the inning and, in the bottom of the frame, the Hornets rallied to tie. Roy, up around the 80-pitch mark, issued a four-pitch walk to Brown then got down 2-0 to Nelson before Benton coach Mark Balisterri brought in Roberts. Nelson wound up getting on with a walk. An out later, Pickett mashed a 2-2 deliver down the left-field line that, if it had stayed fair, would've been a three-run homer. As it was, after fouling off a 3-2 pitch, he grounded into a force at second, just beating the return throw to first to avoid an inning-ending doubleplay. So, when Taylor's bouncer to second was booted by Besancon, Brown scored. Pultro was up next and got ahead in the count 2-1 before blistering a shot in the gap in left-center. Pickett scored and Taylor just got to the plate ahead of Pultro getting tagged out trying to turn a double into a triple.
With the game tied 6-6, Nelson worked a quick 1-2-3 top of the fifth. Jobe singled to lead off Bryant's fifth and Ozzie Hurt sacrificed him to second. He stole third but was stranded there as Roberts retired Joiner and Brown.
Taylor, in just his second game after recovering from a pre-season injury, relieved in the sixth and struck out Schmidt. Balisterri followed with a hot one-hopper to Nelson at short that he couldn't handle. Taylor then got Pryor down 0-2 but his next pitch was driven to deep right. Jobe went back and got a glove on it but couldn't hang on. Pryor's double was followed by a walk to Roberts to load the bags for Levy who drove the first pitch he saw to the gap in left-center. Pultro sprinted back and he too got a glove on the ball with a diving attempt only to have it fall at the base of the fence for a two-run single.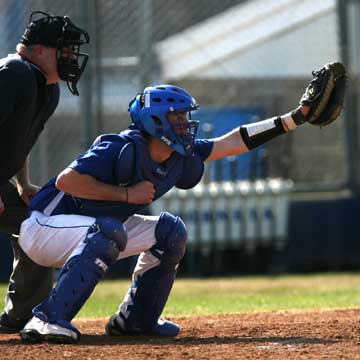 Taylor induced a doubleplay ball from Holloway to end the inning but the damage was done.
In the bottom of the sixth, Cross made a bid to hit one out but it was flagged down at the fence in left by Justin Vincent. Pickett followed with a shot down the line for a double but Roberts got Taylor on a tap to first to keep it 8-6.
Taylor surrendered a lead-off single to Krikorian in the top of the seventh but retired the next three thanks in part to a nice lunging catch in shallow center by Pultro to retire Vincent.
Holloway closed for the Panthers and retired the side on 11 pitches.
"We got Nelson and Taylor some work," noted Bock. "Nelson did a good job, he just wasn't getting ahead so he had to throw a lot of pitches. And Taylor, that's his first time out on the mound. He's just kind of feeling his way.
"But pitching, I thought, was good enough," he concluded. "We should've done a little better job on some balls hit the outfield that we just kind misplayed a little bit. But it wasn't anything to do with the effort. We just didn't get lined up right a couple of times. Things we can fix."
BENTON 8, BRYANT 6
Panthers ab r h bi Hornets ab r h bi
Balisterri, ss 3 4 2 0 Joiner, lf 3 1 1 0
Pryor, lf-cf-2b 4 1 1 0 Brown, 1b-3b 2 2 0 0
Roberts, cf-p 3 1 2 3 Nelson, ss-p 2 0 0 0
Levy, c 3 0 3 4 Daniel, cr 0 0 0 0
Steward, cr 0 0 0 0 Cross, c 3 0 0 1
Cox, cr 0 0 0 0 Daniel, cr 0 0 0 0
Holloway, rf-p 4 0 1 0 Pickett, dh-1b 3 2 2 1
Krikorian, 3b 4 0 1 0 Green, pr 0 0 0 0
Besancon, 2b 3 0 0 0 Taylor, 3b-ss-p 4 1 0 0
Vincent, lf-rf 1 0 0 0 Pultro, cf 4 0 1 2
Roy, p-1b 4 0 1 0 Jobe, rf 3 0 1 0
Cox, cr 0 1 0 0 Hurt, 2b 1 0 0 0
Schmidt, dh 4 1 1 1 Castleberry, ph 1 0 1 1
Lee, 1b 0 0 0 0 Lessenberry, ph 1 0 0 0
Steward, lf-cf 0 0 0 0 Milam, p 0 0 0 0
Totals 33 8 12 8 Totals 27 6 6 5
Benton 101 402 0 — 8
BRYANT 201 300 0 — 6
E—Roy 2, Pryor, Nelson 2, Besancon. DP—Bryant 1. LOB—Benton 7, Bryant 9. 2B—Balisterri, Levy, Pultro, Pryor. 3B—Balisterri. S—Brown, Nelson, Hurt. SF—Cross. SB—Jobe, Schmidt.
Pitching ip r er h bb so
Benton
Roy 3 4 2 3 5 3
Roberts (W) 3 2 0 3 0 0
Holloway (S) 1 0 0 0 0 0
Bryant
Milam 3 2 2 4 0 1
Nelson 2 4 4 4 1 0
Taylor (L) 2 2 1 3 1 1
Roy faced two batters in the fourth.
HBP—Levy (by Milam). WP—Roy, Nelson 2.