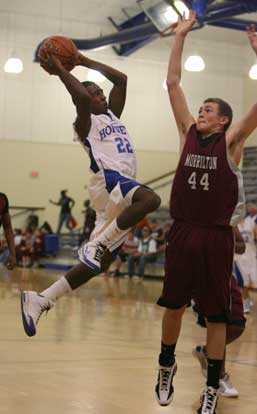 By Rob Patrick
A 12-2 blitz to start the second half helped the Bryant Hornets freshman team open the 2009-10 basketball season with a 47-34 victory in an up-and-down contest against the Morrilton Devil Pups on Monday night.
The Hornets were led by point guard Arron Bell who attacked the basket relentlessly on the way to a game-high 22 points. Riley Hall, Scott Workman and Zach Cambron each added 7 points with Hall leading the team with seven rebounds.
Bryant got the game started with a nice 8-0 run on baskets by Bell, Strodney Davis and Workman then a steal and pull-up jay by Davis.
But Morrilton ratcheted up the defense and trimmed the margin to 8-5 in the final 1:25 of the first quarter.
The Pups continued their run in the second period and eventually built a 13-10 lead. And it could've been a bigger margin had they converted on more than 6 of 19 free throws in the half.
So when Bell hit a pair of free throws at the 1:08 mark and followed a free throw by Kirk Crafton for Morrilton with a driving layup, the Hornets were able to knot it up 14-14 at the half.[more]
Bryant's tell-tale run in the third quarter was sparked by its press. After Workman hit the offensive glass and drew a foul, hitting one of his shot, Bell made a steal in the backcourt and scored then Hall swiped a pass and hit to make it suddenly 19-14.
The Pups called timeout after another turnover but when play resumed, Workman followed a teammate's miss with a bucket to make it 21-14.
Morrilton's Jamar Criswell interrupted with an eight-foot jumper but another driving layup by Bell negated that. Moments later, Bell drove into the lane and canned a floating jumper as he was fouled. He converted the three-point play and Bryant had its first double-digit lead, 26-16.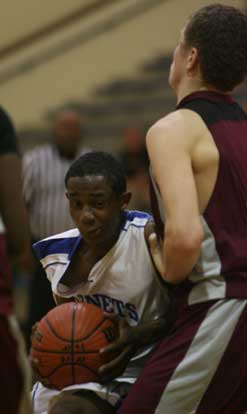 Morrilton answered with a 6-0 run capped by a three-point play from Juwan Trezvant that made it 26-22. And the Devil Pups had a chance to get closer after a Bryant turnover. But Quante Canady missed a shot and, moments later, Bell attacked the hoop and came through with another three-point play. He followed with a steal that sent him to the free-throw line where he knocked down both shots to make it 31-22. Cambron made a steal and Hall cashed in by hitting the offensive glass.
A layup by L.C. Murray had the Pups within 33-24 going into the final period.
Hall fed Cambron in the post for a bucket then combined with Marcus Wilson on a steal only to have Crafton swipe it back. Montrelle Hood hit a layup to get the Pups within 9 but, after a Bryant timeout, Cambron drove to the rack, scored and was fouled. After he connected on the free throw, Hall hit a driving jumper in the lane to extend the margin to 40-26.
The largest lead for the Hornets came when Bell scored inside with 2:32 left, making it 44-28.
"I thought the hustle was there but I thought we played a lot smarter the second half with our shot selection," said Hornets coach Steve Wilson. "And we were the aggressors the second half. I thought when we were not the aggressors, we fouled more and they scored more. I thought we adjusted and hustled in that respect. It's kind of difficult this time of year because it's hard to call plays from the bench when you don't have many in."
Coach Wilson just added players that had been playing on the football team last week so there's been a lot of catch-up going on in Hornets practices.
Bryant is tentatively scheduled to return to action on Thursday against Arkadelphia but due to freshman players moving up to the Badgers' varsity football team for the playoffs, the game may be postponed. After that, the Hornets are set to host the Bryant Invitational Nov. 16-19.
BRYANT 47, MORRILTON 34
Score by quarters
Morrilton 5 9 10 10 — 34
BRYANT 8 6 19 14 — 47
DEVIL PUPS 34
Graskewicz 0-0 0-0 0, Trezvant 3-3 1-1 7, Murray 3-8 1-2 7, Canady 0-2 1-4 1, Crenshaw 0-1 0-2 0, Hood 3-6 4-7 10, Crafton 1-2 1-2 3, Dudley0-0 0-2 0, Criswell 1-4 2-2 4, Payne 0-1 0-0 0, Calvin 1-2 0-0 2, Walls 0-0 0-0 0, Crowder 0-0 0-0 0. Totals 12-29 10-22 34
HORNETS 47
Bell 8-12 6-9 22, Davis 2-5 0-0 4, Workman 3-6 1-2 7, Hall 3-7 1-2 7, Neale 0-2 0-0 0, Wilson 0-4 0-0 0, Cambron 2-4 3-3 7, Hewitt 0-0 0-0 0, Privett 0-0 0-0 0. Totals 18-42 11-16 47.
Three-point field goals: MORRILTON 0-6 (Murray 0-3, Canady 0-1, Hood 0-1, Payne 0-1), BRYANT 0-4 (Wilson 0-2, Hall 0-1, Davis 0-1). Rebounds: MORRILTON 21 (Criswell 5), Bryant 31 (Hall, Cambron 7). Turnovers: BRYANT 19, MORRILTON 20. Team fouls: MORRILTON 16, BRYANT 19. Fouled out: BRYANT, Neale.