Editor's note: This is a regular feature profiling senior athletes at Bryant High School.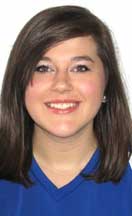 NAME: Alex Boone
PARENTS: Susan Washington and Wade Boone
SIBLINGS: I have a little brother. He's 3. His name is Christopher. My sister is in the 10th grade and her name is Anna. I have two older sisters, Maria and Sarah. Sarah is 25 and Maria is 22.
FAVORITE SUBJECT IN SCHOOL: History.
WHAT DO YOU LIKE TO DO IN YOUR SPARE TIME? Hang out with my boyfriend and my family and friends. Go shopping. I like to swim.
FAVORITE FOOD: Italian.
FAVORITE MUSIC ARTIST OR GROUP: Alternative rock[more]
FAVORITE MOVIE: Hot Rod
FAVORITE TV SHOW: Intervention
WHAT WAS YOUR FAVORITE TOY AS A KID? I had this little stuffed bunny rabbit I carried everywhere. I called it my Jingle Bunny.
WHAT ARE YOUR PLANS AFTER HIGH SCHOOL? I want to go to UALR and major in History.
OTHER THAN YOUR PARENTS, WHO HAS HAD THE BIGGEST INFLUENCE ON YOUR LIFE? My grandparents. I'm more responsible because of the way they taught me. They taught me how to manage my time and just be a well-rounded student.
FAVORITE THING ABOUT VOLLEYBALL: Hitting.
POSITION: Right-side hitter.
WHAT DO YOU FEEL LIKE IS YOUR PRIMARY RESPONSIBILITY ON THE COURT? Putting the ball down, winning the point for the team and progressing the game in our favor.
WHAT DO YOU THINK OF THE SEASON SO FAR? I think it's going really good. The JV needs to have some improvements but I think we'll get there and ultimately have a really good season.
WHEN THE TEAM'S PLAYING WELL, WHAT'S IT DOING? We're working together as a team, talking and just getting it done.
WHAT'S BEEN THE HIGHLIGHT TO THE SEASON SO FAR? Winning against North Little Rock, the number two seed and taking that spot.
WHAT'S IT GOING TO TAKE FOR THE TEAM TO BE SUCCESSFUL IN THE PLAYOFFS? Working together, just communicating on the court and just coming together as a family, as a team.
INDIVIDUALLY, WHAT ABOUT YOUR GAME ARE YOU MOST CONFIDENT ABOUT? I guess hitting line, really working on that.
WHAT DO YOU WORK HARDEST TO IMPROVE? Special hits. We work a lot on specialty hits; running different ones from my position.
AFTER YOU'RE THROUGH PLAYING VOLLEYBALL AT BHS, WHAT DO YOU THINK YOU'LL REMEMBER MOST FONDLY ABOUT IT? Just the people I've played with and the friends I've made.