Editor's note: This is a regular feature profiling senior athletes at Bryant High School.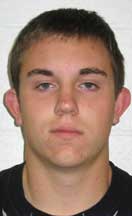 NAME: Avery Pelzel
PARENTS: Dana and Mark Pelzel
SIBLINGS: I have a sister named Miranda. She's 15.
FAVORITE SUBJECT IN SCHOOL: Western Civilization
WHAT DO YOU LIKE TO DO IN YOUR SPARE TIME? Hang out with my friends
FAVORITE FOOD: Barbecue
FAVORITE MUSIC ARTIST OR GROUP: Rock[more]
FAVORITE MOVIE: I really don't have one.
FAVORITE TV SHOW: None
WHAT WAS YOUR FAVORITE TOY AS A KID? I really didn't have one.
WHAT ARE YOUR PLANS AFTER HIGH SCHOOL? My plan is to attend two years at Pulaski Tech then go to a four-year college, UCA or ASU. I'd like to probably be a teacher or an athletic trainer.
OTHER THAN YOUR PARENTS, WHO HAS HAD THE BIGGEST INFLUENCE ON YOUR LIFE? It'd have to be my uncle. He always taught me to make good choices in life and never to do anything stupid.
FAVORITE THING ABOUT FOOTBALL: My favorite thing is working with teammates, being a team. It's always about hard work.
POSITION: I'm an offensive lineman.
WHAT DO YOU FEEL LIKE IS YOUR PRIMARY RESPONSIBILITY ON THE FIELD? Make sure that the quarterback keeps safe, doesn't get sacked and to make sure that the receivers get the ball and the running backs be able to run the ball.
WHAT DO YOU THINK OF THE SEASON SO FAR? I think we're doing really good being back-to-back conference champions for the first time.
WHEN THE TEAM'S DOING WELL, WHAT'S IT DOING? Doing better than it has before.
WHAT'S BEEN THE HIGHLIGHT TO THE SEASON SO FAR? Winning against Conway.
WHAT'S IT GOING TO TAKE FOR THE TEAM TO BE SUCCESSFUL THE REST OF THE SEASON? Brotherhood, teamwork, always.
INDIVIDUALLY, WHAT ABOUT YOUR GAME ARE YOU MOST CONFIDENT ABOUT? To make sure this team gets ready.
WHAT DO YOU WORK HARDEST TO IMPROVE? Making sure we're doing what we're supposed to do, what key elements we need to work on on the o-line.
AFTER YOU'RE THROUGH PLAYING FOOTBALL AT BHS, WHAT DO YOU THINK YOU'LL REMEMBER MOST FONDLY ABOUT IT? My brothers. These guys are like family.