Editor's note: This is a regular feature profiling senior athletes at Bryant High School.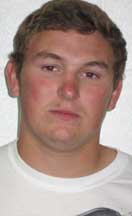 NAME: Cameron Price
PARENTS: Les and Lisa Price
SIBLINGS: I have one brother, Jake Price. He's 13.
FAVORITE SUBJECT IN SCHOOL: Mathematics
WHAT DO YOU LIKE TO DO IN YOUR SPARE TIME? Anything outside
FAVORITE FOOD: Pizza or Mexican
FAVORITE MUSIC ARTIST OR GROUP: I don't really have one.
FAVORITE MOVIE: Dumb and Dumber[more]
FAVORITE TV SHOW: That 70's Show
WHAT WAS YOUR FAVORITE TOY AS A KID? I don't remember. Probably something to do with sports.
WHAT ARE YOUR PLANS AFTER HIGH SCHOOL? I plan to go to the University of Arkansas at Fayetteville and just get a degree in either the physical therapy field or pharmaceutical.
OTHER THAN YOUR PARENTS, WHO HAS HAD THE BIGGEST INFLUENCE ON YOUR LIFE? Probably my grandfather. He's always been there for me, always been very interactive, anything I have, any sporting event or any school event, he's always been there.
FAVORITE THING ABOUT FOOTBALL: The unity within the team.
POSITION: Defensive line
WHAT DO YOU FEEL LIKE IS YOUR PRIMARY RESPONSIBILITY ON THE FIELD? Just not let them run up the middle.
WHAT DO YOU THINK OF THE SEASON SO FAR? I think we've done very well. We had a little slip up (against North Little Rock) but we overcame that and we did a lot better this week.
WHAT'S BEEN THE HIGHLIGHT TO THE SEASON SO FAR? Probably just the fact that, coming into it, nobody thought we were going to be this good and we proved everybody wrong.
WHAT'S IT GOING TO TAKE FOR THE TEAM TO BE SUCCESSFUL THE REST OF THE SEASON? Just continue to execute, the unity like I said and just everybody doing their job.
INDIVIDUALLY, WHAT ABOUT YOUR GAME ARE YOU MOST CONFIDENT ABOUT? Probably just encouraging other players.
WHAT DO YOU WORK HARDEST TO IMPROVE? The technique that the coaches are teaching us.
AFTER YOU'RE THROUGH PLAYING FOOTBALL AT BHS, WHAT DO YOU THINK YOU'LL REMEMBER MOST FONDLY ABOUT IT? Probably just the experience with all my buddies, just growing up and just the love for the Friday night lights.