Editor's note: This is a regular feature profiling senior athletes at Bryant High School.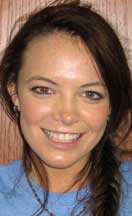 NAME: Caroline Bock
PARENTS: Lillian and Kirk Bock
SIBLINGS: Garrett Bock. His is 19.
FAVORITE SUBJECT IN SCHOOL: English
WHAT DO YOU LIKE TO DO IN YOUR SPARE TIME? I'm a Student Senate officer. I'm the Secretary so I do a lot of leadership stuff and volunteer work.
FAVORITE FOOD: S'mores.
FAVORITE MUSIC ARTIST OR GROUP: Guns N Roses[more]
FAVORITE MOVIE: The Wizard Of Oz
FAVORITE TV SHOW: That 70's Show
WHAT WAS YOUR FAVORITE TOY AS A KID? I had a cat that I liked. It wasn't a toy but I played with it the most.
WHAT ARE YOUR PLANS AFTER HIGH SCHOOL? I want to go to UCA and major in Archeology.
OTHER THAN YOUR PARENTS, WHO HAS HAD THE BIGGEST INFLUENCE ON YOUR LIFE? Probably my friends. They just always encourage me and give me good, positive feedback.
FAVORITE THING ABOUT CROSS COUNTRY: It keeps me in shape and it builds character.
WHAT'S YOUR APPROACH TO A RACE (Strategy/Preparation)? I make sure I drink a lot of water and make sure I'm good and stretched. I try to keep a good pace and then surge in good surge areas, go faster.
WHAT DO YOU THINK OF THE SEASON? We didn't do the best. We didn't do as well as we usually have but I think we ran to our ability and did pretty good.
WHAT'S BEEN THE HIGHLIGHT TO THE SEASON? The highlight of the season was definitely conference because I know we all ran our hardest and, even though we got second place, we all still really did our best.
AFTER YOU'RE THROUGH RUNNING CROSS COUNTRY AT BHS, WHAT DO YOU THINK YOU'LL REMEMBER MOST FONDLY ABOUT IT? Just the friends I've made and the close bonds I have with all the girls.