Editor's note: This is a regular feature profiling senior athletes at Bryant High School.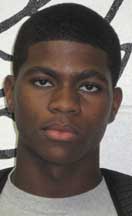 NAME: Charles Henson
PARENTS: Anita Laflora and Charles Henson
SIBLINGS: I have two younger brothers and one little sister. Chase Henson, eighth grade, Bryant Middle School; Chandler Davis, kindergarten; and my little sister Chalarrya Davis, she's pre-K.
FAVORITE SUBJECT IN SCHOOL: English
WHAT DO YOU LIKE TO DO IN YOUR SPARE TIME? Sleep.
FAVORITE FOOD: Pizza.
FAVORITE MUSIC ARTIST OR GROUP: Li'l Wayne.[more]
FAVORITE MOVIE: Friday Night Lights.
FAVORITE TV SHOW: Family Guy.
WHAT WAS YOUR FAVORITE TOY AS A KID? G.I. Joe.
WHAT ARE YOUR PLANS AFTER HIGH SCHOOL? Attend Arkansas State and be a physical therapist.
OTHER THAN YOUR PARENTS, WHO HAS HAD THE BIGGEST INFLUENCE ON YOUR LIFE? Coach (Paul) Calley. He's just taught me as I'm growing up going through the season, how to be responsible and everything.
FAVORITE THING ABOUT FOOTBALL: Winning.
POSITION: Wide receiver.
WHAT DO YOU FEEL LIKE IS YOUR PRIMARY RESPONSIBILITY ON THE FIELD? Catch the ball and block.
WHAT DO YOU THINK OF THE SEASON SO FAR? I'm surprised like how people have been talking. It kind of got to me but I'm really impressed with what we've done.
WHEN THE TEAM'S DOING WELL, WHAT'S IT DOING? You've got to believe. It's heart. Everybody was down on us but I think that's kind of helping us. Everybody was down us and we want to prove them wrong.
WHAT'S BEEN THE HIGHLIGHT TO THE SEASON SO FAR? Beating Conway. Catholic too.
WHAT'S IT GOING TO TAKE FOR THE TEAM TO BE SUCCESSFUL THE REST OF THE SEASON? Keep our head in it, don't give up just because we beat Conway and Catholic, we've still got three more games to go then we've got the playoffs so we've got to just keep our head in it and stay focused.
INDIVIDUALLY, WHAT ABOUT YOUR GAME ARE YOU MOST CONFIDENT ABOUT? Catch the ball and make the most of it when I do get it. I try not to let any balls get to the ground, just catch everything.
WHAT DO YOU WORK HARDEST TO IMPROVE? Catching, the ball machine, everything.
AFTER YOU'RE THROUGH PLAYING FOOTBALL AT BHS, WHAT DO YOU THINK YOU'LL REMEMBER MOST FONDLY ABOUT IT? I'm really glad I'm where I am. Last year, I was a JV player and I didn't think I would get this far. The off-season and hard work helped me get here where I am today.